"Fake it 'til you make it."
It's a piece of advice my mom used to give whenever I'd lost confidence. You could say I was raised with a fake it 'til you make it mentality.
For better or for worse, I've spent my fair share of time doing things I wasn't quite qualified to do. I've bullshitted(?) my way through discussions that I had no business participating in.
And I've put myself way way out there (like that one time when I made a book, and another book, and another one) before I even knew what I was doing.
I think it all comes down to this one piece of advice.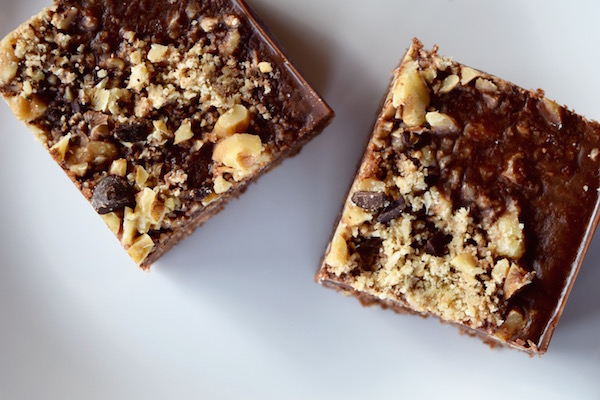 I make a lot of brownies and I think they're the best, each time. Now? I'm saying theeeeeeese are the best brownies I've ever made.
Technically, they were only the second special brownies I'd ever made… and the first ones were an infused Betty Crocker mix like 8 years ago (ohsogross).
I've just never been a brownie person. Even when I was a fat kid, I preferred finer delicacies, like salted butter on pop tarts or an entire package of Oreo fillings to satisfy my fat kid tooth.
So, why did I say they were the best I'd ever made, like I just whip up brownies on the reg?
I was faking it.
But, my oh my, brothers and sisters… We have arrived. When it comes to brownies, I'm calling it. We've finally made it. And guess what, these brownies are faking it too.

These brownies are adapted from a recipe at Fork & Beans that has been haunting me lately (halloween recipe pun!). Last night, I tossed these together as an offering of gratitude to the farmer for being incredible and supportive and delightful and handsome and for chopping and stacking the wood AND making dinner. What a champ.
The joke around the homestead is that I can't cook/bake/food process/grow/stretch anything without taking a picture of it. I silently vowed that these brownies would just be for eating so I could say, "Neener neener. I made these brownies specifically for normal human consumption".
But you know what guys?
I was faking it.
Because these special brownies are magical AND beautiful, and there was just no way that I wasn't going to put these things on a tree stump with good lighting and go to town.
These really special brownies are everything I love in a dessert: super fast, insanely easy, crazy healthy, chocolate, and no bake. They're even (dare I say it?) raw-ish. A word to the wise, macadamia nuts are damned expensive 'round these parts.
But I get organic cashew pieces in bulk for about $5/lb (about $2/cup) so I'd rather sub out the macadamia nuts for more soaked cashews. I order Raw Cacao Powder when there's a big sale going or when I have a coupon burning a hole in my pocket, on and stock up on organic sweeteners (especially Maple) around the holidays when they're marked down for holiday baking time.
Now that you know for sure that you never want to enter a grocery store with me (unless you also love spending a ridiculous amount of time doing price per ounce calculations) it's time to make some…
Raw Cannabis Infused Special Brownies
1. PREP! Line a loaf pan (for fatty brownies) or an 8×8 pan (for thin brownies) with parchment paper. Soak:
1 cup Organic Raw Cashew Pieces
1 cup Macadamia Nuts (or more Cashews)
for at least 2 hours.
2. Combine in food processor until crumbly:
the Soaked Cashews and Macadamia Nuts
3 T Walnuts
3. Add:
1 cup Oat or Almond Flour
½ cup Raw Cacao or Cocoa Powder
3-4 Diglet or Medjool Dates (chopped)
2 T Maple Syrup (or honey or agave)
2 t Coconut Oil
4. Process until ingredients form into a smooth dough.
5. Press the dough into your prepped loaf or 8×8 pan.
6. In a blender, combine ganache ingredients:
2/3 cup Raw Cacao Powder or Cocoa Powder
1/3 cup Maple Syrup, Honey or Agave
¼ Cup Green Monster Oil (cannabis infused coconut oil)
7. Pour Ganache over your "brownie dough" and sprinkle with:
Chopped Cacao Nibs or Chocolate Chips
Chopped Walnut Pieces
8. Chill for 20 minutes, until firm enough to slice. Serve immediately. Store in an airtight container in the freezer for long-term storage.
Serves 12 depending on the strength of your cannabis infused oil. This recipe contains 12 teaspoon servings or 4 Tablespoon servings of infused oil. Please see the post on dosage for more information and always test the strength of your oil before using it in recipes.
I'm sure you're wondering if there's a moral to this blog post about special brownies that would probably just be about special brownies if couch therapy rates fit into the budget of a self-employed writer. Well, since you asked…
When I was young and I thought I couldn't do anything well, that I couldn't focus or commit, that I couldn't get people to see who I really was, that everything I did was sub-par, my mom would tell me to fake it until I made it.
And the shit you're told as a child sinks in deep. It's taken nearly 30 years, but I think I finally understand what she meant by it. Faking it doesn't mean that you have to pretend that you're better than you are, that you know more than you do, or that you can do things you know nothing about until you get to do the things you love and become the person you want to be.
Faking it just means keeping your shit together and moving forward. It just means taking stock of whatever it is that you love and whatever it is that you want in this life and keeping it together.
When haters start to hate and trolls downvote your shit on Reddit… Keep doing your thing. And when you get bored or lose faith or get uncomfortable and insecure… Keep doing your thing.
Faking it doesn't mean you have to nod in agreement when you have no idea about analytics, or smile when you're sad, or talk about how awesome your life is on social media when you really feel like something's not right.
'Faking it' means that there are times when you're responsible for manufacturing your own confidence.
Whatever you have to do to get it or wherever you have to look for it, faking it means finding confidence when that nagging critic in your dome says, "you suck" or "you can't" or "you'll never."
And that's today's life lesson from someone who writes about weed lube and takes three hours to pick out a printer… So how exactly am I going to tie this all together, you ask?
Go make this Really Special Brownie recipe! You may have to fake it (but you definitely won't have to bake it) before you make it.
VOILA! Full circle
I just want to take a quick moment to say thank you to all of you for all of your questions and feedback this year. I absolutely LOVE doing this and I look forward to sharing more and more with you in the years to come.
Much love,
Corinne
[sp_recipe]