For the past few weeks, when I'm not changing diapers or pretending I remember the last time I took a shower, I've been exclusively focused on cannabis gummy recipe development (because life is still pre-tty awesome as a stay at home mom who writes about edibles).
I've made vegan gummies, anti-anxiety-anti-inflammatory-gut-health gummies, and these amazing paleo gummies.
The verdict is in… gummies are the BEST. edible. EVER.
I'll be making hard candy and lollipops next week and my verdict has been known to change, but I can't imagine a homemade edible that is this cute, simple and good for you. I just. can't. even.
I mean, look at these…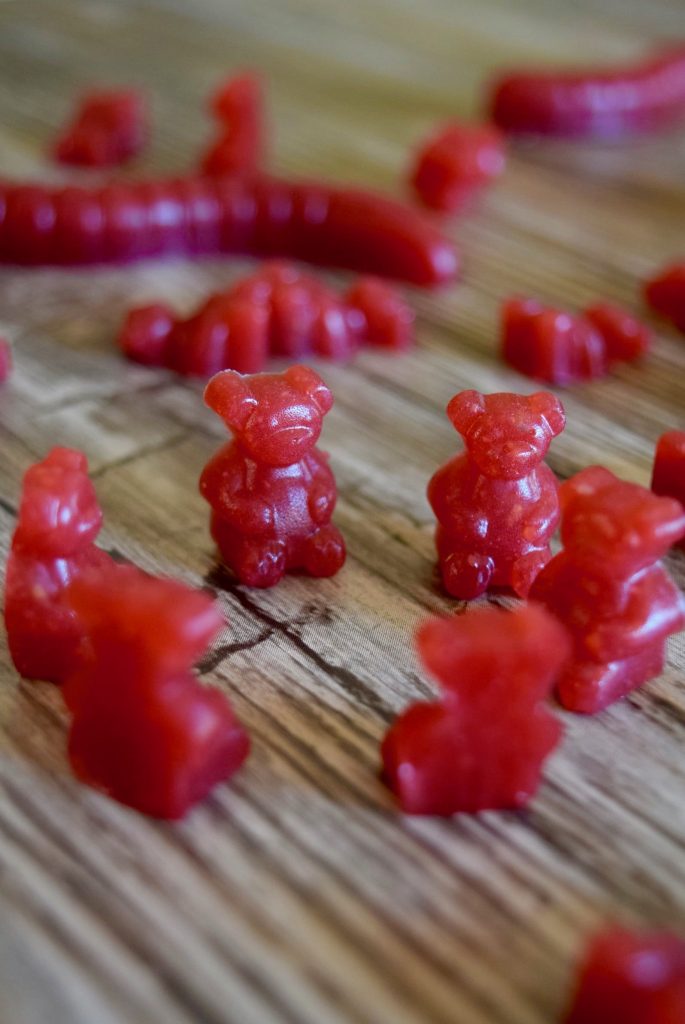 Arggh.. Don't you just want to eat them?
And yeah… I did put them in a little pot gummy bear smoke sesh, because I'm an adult.
Even though all of the cannabis gummies I made "turned out", I wanted to start by posting this paleo cannabis gummy because they're so simple, tasty and (dare I say it?) good for you.
I don't eat a strict paleo diet, but I love these because they're a whole food and I can't imagine a better way to consume cannabis.
I used a berry puree for my base and a little honey for sweetener, but you could definitely use stevia or monk fruit sweetener to cut the sugar down or to make these ketogenic.
You can also substitute the puree and water combo for juice if you want to have a more classic gummy texture or get your sugar high on… but we'll get to all of that in a minute.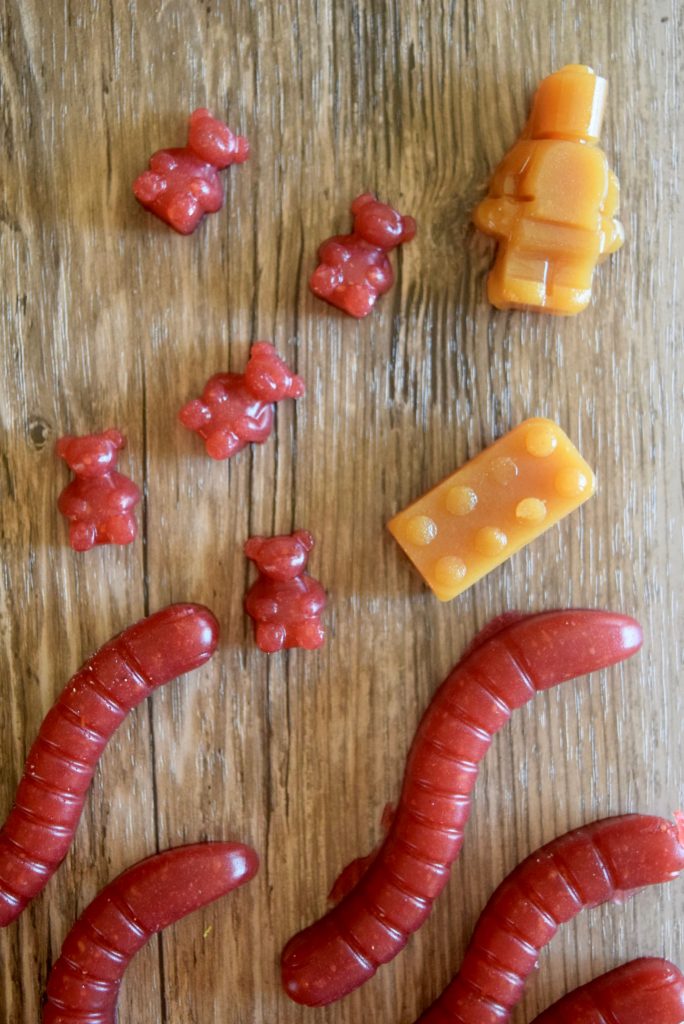 I was barely able to take photos of a few of these before they disappeared. I think one of the reasons these vanished so quickly is that I made them with a very low dose of cannabis tincture.
They tasted fantastic and no one was afraid they would get too high, so testers and family members gravitated back towards the fridge for another gummy every couple of hours or so.
I've been micro-dosing almost exclusively for over a year (4 years now) and I think this is a great opportunity to share some more information about it so you can decide if it's worth a try. If you just want the recipe… scroll on down!
Micro-dosing + Edibles
I was inspired to micro-dose these cannabis gummy bears because of this really good point made by Joe Rogan:
Joe Rogan: "How much should I eat of this pot gummy?"
Budtender: "JUST THE LEG!"
While it's funny, Mr. Rogan's commentary rings so true.
As an cannabis educator who writes about edibles, I hear so many stories about people getting feel-like-I'm-gonna-die high from one pot brownie.
I also hear from people who avoid edibles entirely because they never know what the effects will be and hate the feeling of couch lock, paranoia, and/or brain fog.
While a solid dose of cannabinoids is what some people need in order to alleviate their symptoms enough to feel good or as a doctor recommendation, many people have found better results using cannabis using much less than they think they need to.
Micro-dosing is both an art and an understudied science. It's the best way I've found to manage pain in the long term and stay clearheaded without getting anxious, but figuring out your perfect micro-dose takes patience and experimentation.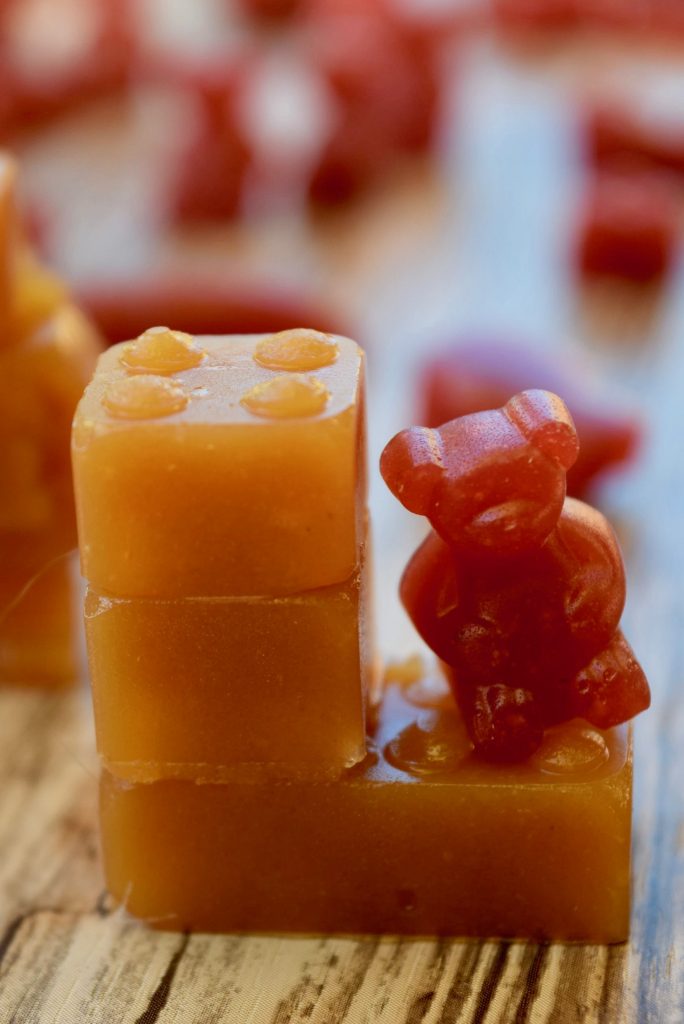 Instead of eating a whole 10-25 mg edible, many have found that using smaller, more regular doses of 2-5mg, balancing ratios, and incorporating raw/acidic cannabinoids makes this plant medicine… well, much more medicinal.
You can find out more about microdosing, ratios and dosage in this post.
I love making low-dose edibles so I can eat enough infused food to feel satisfied without feeling like I could have a meaningful conversation with a dolphin.
These gummies were mellow enough that I could eat at least three big gummy worms over the course of a few hours and be at full function.
If you'd like to be able to eat more or experiment more with micro-dosing, just cut the amount of tincture you add in half or double the rest of the ingredients.
Making Homemade Cannabis Gummies
I made these gummies using an alcohol based cannabis tincture. You could also substitute a 1/2-1 gram of decarboxylated concentrates or hash if you'd like them stronger. Whatever you use, make sure you calculate the dosage first..
I haven't tried this yet, but I'm going to experiment using cannabis coconut oil one of these days and I'll get back to you on whether or not that works. If you've tried it, let us know what works in the comments below.
I used this grass fed gelatin from Amazon. The gelatin makes these simple cannabis gummies a power house of protein, collagen and amino acids.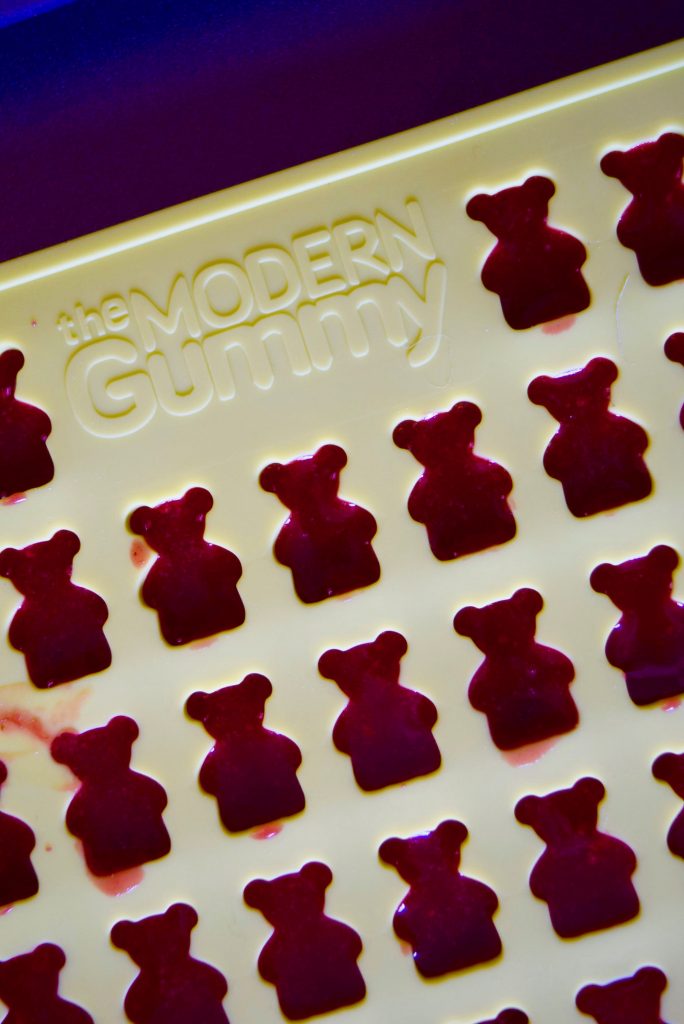 And because I always get asked where these came from, I got this kit by the Modern Gummy and it has lasted me several years of heavy use.
Every time I make cannabis gummies, I do two batches (one with cannabis and one virgin one) and that fills the entire kit. One of these recipes would probably fill two of these gummy bear molds.
But if I could only have one mold, I'd get these cannabis gummies. They each contain a tablespoon which makes them easy to dose. They're also cute and you'll know they have something special in them, which can make life easier.
Paleo Berry Cannabis Gummies
In a saucepan, combine the following ingredients over medium-low heat:
2/3 Cup Pureed Raspberries, Blackberries, Strawberries or Blueberries (if using frozen berries, let them thaw first) [If you have juice and you'd rather use that than the pureed berries, go for it! Just increase the Gelatin by about 1/2 Tablespoon]
1/3 Cup Water
1 Tablespoon Lemon Juice
2 Tablespoons Honey (or maple syrup or other sweetener)
Add:
2-3 tsp Cannabis Tincture (depending on dosage)
Slowly whisk in:
3 Tablespoons Grass Fed Gelatin
Keep whisking until smooth and all ingredients are incorporated. Turn off heat. Using a dropper, fill your silicon mold with your gummy mixture (you could also a pan lined with parchment paper if you're in a pinch).
Allow to cool for about 15-30 minutes in the fridge.
Much love,
Corinne
[sp_recipe]