When I want to make really potent, really healthy edibles or topicals, this cannabis coconut oil is my go-to infusion.
Cannabis coconut oil is the most popular recipe here on Wake + Bake and it's the basis of most of the recipes in Dazed + Infused. Instead of making a bunch of different butters and tinctures, you just make this cannabis infused coconut oil, and plug it in to any of your favorite recipes.
Easy-peasy-lemon-squeezy.
I use this cannabis coconut oil almost every day.
Whether I'm rubbing it into sore muscles or mixing it into a pain relieving CBD salve, baking it into vegan or paleo edibles, tossing a teaspoon into a smoothie or some coffee, or cracking open a jar of weed lube, I seem to find a way to use cannabis coconut oil in new ways all of the time.
In this post, we'll talk about:
why cannabis and coconut oil belong together
how to use this recipe to make CBD oil, CBG oil or a cannabinoid blended oil
what decarboxylation is and why it's the step you can't skip
how lecithin can boost the absorption of cannabinoids and how to incorporate it into your cannabis oil recipes
a simple method for making cannabis coconut oil in a crock pot, with alternatives like the mason jar method and using a Levo 2
And allllll sorts of other fun things. By the time you leave this post, you will be your local expert on cannabis infused coconut oil.
So be prepared to make condescending remarks to all of your friends and neighbors when they bring up edibles, and be sure to scoff when someone hasn't heard of the word "decarboxylate".
You will have earned it.
Why Cannabis Coconut Oil?
Coconut oil is arguably the best oil for creating strong marijuana infusions, topicals and medicinal edibles because it has a high saturated fat content. That theoretically makes it capable of absorbing more THC, CBD, and other Cannabinoids than butter or other types of oil. While butter has a saturated fat of about 60%, coconut oil is about 90% saturated fat.
It's perfect for those on high-fat healing diets for epilepsy, Alzheimer's, and cancer (like the ketogenic diet).
It's also great for vegans, paleo people and… really anyone without a coconut allergy who would like to ingest cannabinoids without smoking or vaping.
It's also really versatile. I spent almost a year of my life trying to put it in every edible I could think of and wrote several books about it… 100's of recipes later, I'm still not bored with this tasty cannabis coconut oil infusion.
If you've never used coconut oil for your edibles recipes (or if you've never tried edibles) make sure to test your oil first. It is strong and it's not fun to overdo it on edibles. Trust me. I had a run in with a cannabis infused grilled cheese that I'll never forget, and I want to help everyone avoid that if possible.
Check out this post on calculating homemade cannabis oil dosage so you can get an accurate-ish idea of how potent your homemade cannabis oil is.
Lecithin + Potent Edibles
Lecithin is a key ingredient in cannabis infused coconut oil. Lecithin helps with absorption of cannabis oil into your intestinal walls and is used as an emulsifier. The small particles in your cannabis oil (or butter) are absorbed more easily, making it more potent and effective.
If you're testing your oil with a cannabinoid tester (like the tCheck) your mgs of cannabinoids won't change after adding lecithin, but you won't have to use as much in order to get the same effects. After incorporating lecithin, I found that I only had to use 1/2 of my typical dose to remain pain free.
I currently use this organic sunflower lecithin.
You can read more about lecithin and edibles in my in-depth post here.
Frequently Asked Questions about Making Cannabis Coconut Oil
Before you send an email or search the comments section, here are the answers to the three most common questions on this post.
Can I use this recipe to make CBD or CBG infused coconut oil? Yes! When I say the word "cannabis", that includes high THC, CBD or CBG plant material so you can make whatever blends and ratios work best for you. I use this recipe to make balanced ratio CBD:THC oil, CBD oil and CBG oil. I also use it to make oil blends that combine all of the different cannabinoids (my personal favorite). If it seems like I'm speaking a different language or if you're having a hard time figuring out your dosage  or a ratio that works for you, you can work with a cannabis coach to find something that's effective for what you're dealing with and kickstart your cannabis and health transformation.
Will it smell up my house/apartment/dorm room? Yes. Decarboxylation and cooking cannabis in the crock pot are smelly endeavors. You can eliminate this smell completely by using a Nova Decarboxylator and using the virtually smell-proof Cannabis Oil in a Mason Jar method.
If I don't have lecithin now, can I make the coconut oil now, order lecithin, and add it later? Yes. If you're chomping at the bit to make edibles but don't have this ingredient on hand, make your oil now and then reheat it and stir your lecithin in.
Should I add water? This is a hotly debated topic in the world of homemade edibles, and I've landed on the side of not adding water. There's a great article and BadKat's CannaPharm that talks more about why water is unnecessary and leads to a less effective cannabis oil. In my experience, it leaves oil tasting bitter and can make your oil go bad quickly. I prefer to do a couple of weed washes if my oil doesn't taste great.
Cannabis Coconut Oil Recipe and Tutorial
STEP 1: DECARBOXYLATION
Always decarboxylate your cannabis before making cannabis infused coconut oil or cannabutter. You can read the full post on decarb to get an in depth look at what's happening when you decarboxylate, but the short and sweet of it is this:
When you heat cannabis at a controlled temperature, the THC-A molecule transforms into the psychoactive and potent molecule THC. If you want edibles and topicals that are effective for pain management, anti-anxiety, nausea, sleep aid, glaucoma or any other medically approved use of THC. 
I use the Nova Decarboxylator every time I decarb because it effectively transforms 100% of THC-A to THC without any loss. Most home decarb methods are unreliable, and can waste as much as 30% of the THC originally present in your material. I did the math and the Nova is a no brainer for me since it saves me at least 1/3 lb cannabis every year and makes my edibles and topicals much more effective.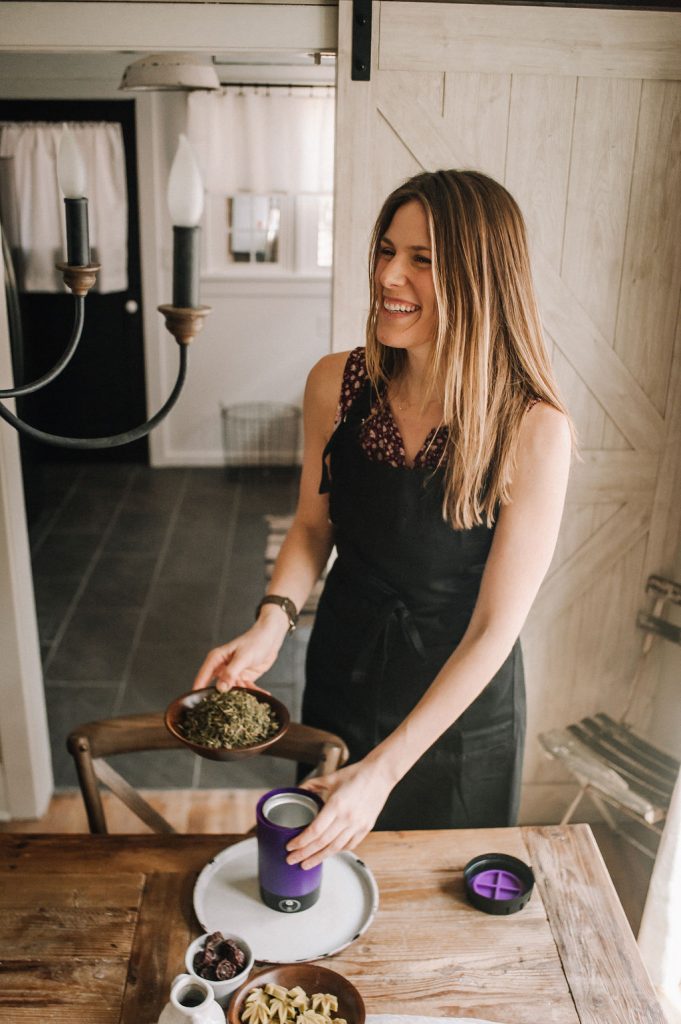 You can read more about the Nova here or read the article on other home decarboxylation methods here.
STEP 2: INFUSE THE COCONUT OIL
1. Combine the following in a crockpot on warm or low (warm is usually sufficient in most crockpots):
1 Cup Coconut Oil [I like the big jug of unrefined Nutiva because I use it a lot and the flavor/scent is really delightful. If you don't like the taste of coconut or you'd like to save some money, the refined stuff is a bit cheaper and doesn't have a tropical smell]
1 teaspoon- 1 Tablespoon Sunflower Lecithin: If you reeeeallly don't like the flavor of lecithin use 1 teaspoon. Otherwise, use 1 Tablespoon per cup.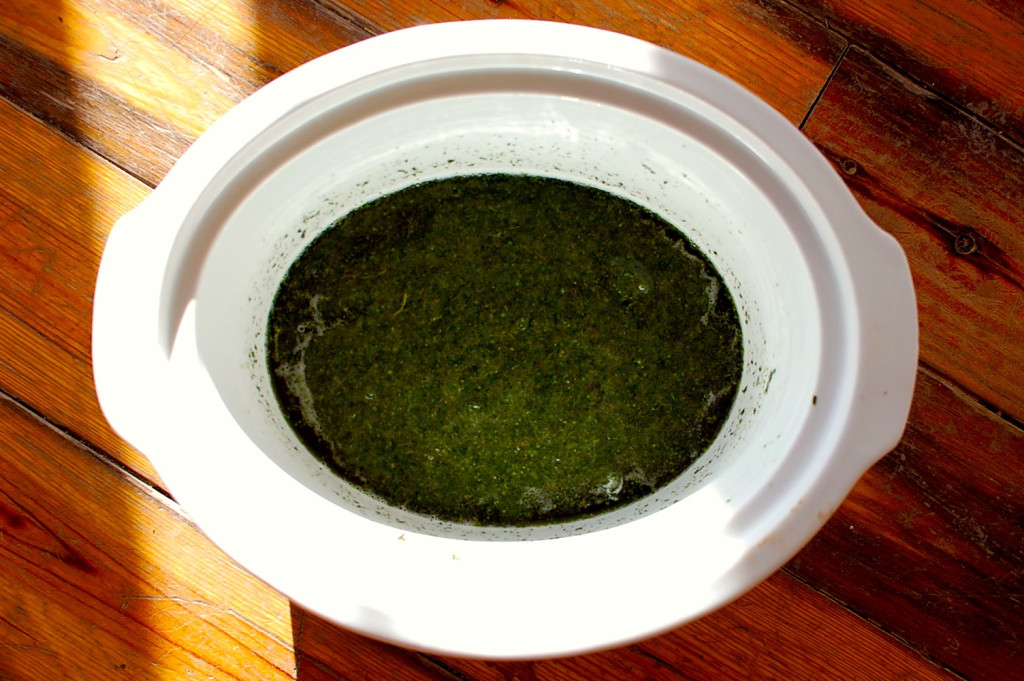 *Try to keep oil near 160° for best results*
For even better (hands off, no worry, and much less clean up) results, try the Levo 2. It decarboxylates, infuses and strains every last drop out of your oil. No babysitting. Very little clean up. And virtually no oil loss. It's one of my favorite gadgets these days.
2. Add:
1 Cup Organic Decarboxylated Cannabis (about 7g or 1/4 oz.) –
[important: At 10% THC this works out to a very light oil great for microdosing at about 14 mg THC per teaspoon (again start with 1/4 teaspoon and slowly – super slowly – work your way up). If you work with stronger cannabis, say 20-30% THC, each teaspoon would be 29mg-42 mg THC per teaspoon. Make sure to take it slow and always get a rough idea of how strong your oil is by doing dosage math.]
Stir every half hour or so.
After 8-12 hours of heating and steeping, turn off the crockpot and allow the oil to cool before moving onto the next step.
Step 3: Strain Your Oil
3. Set up your strainer so it fits snugly in a container. Line with a large piece of cheesecloth.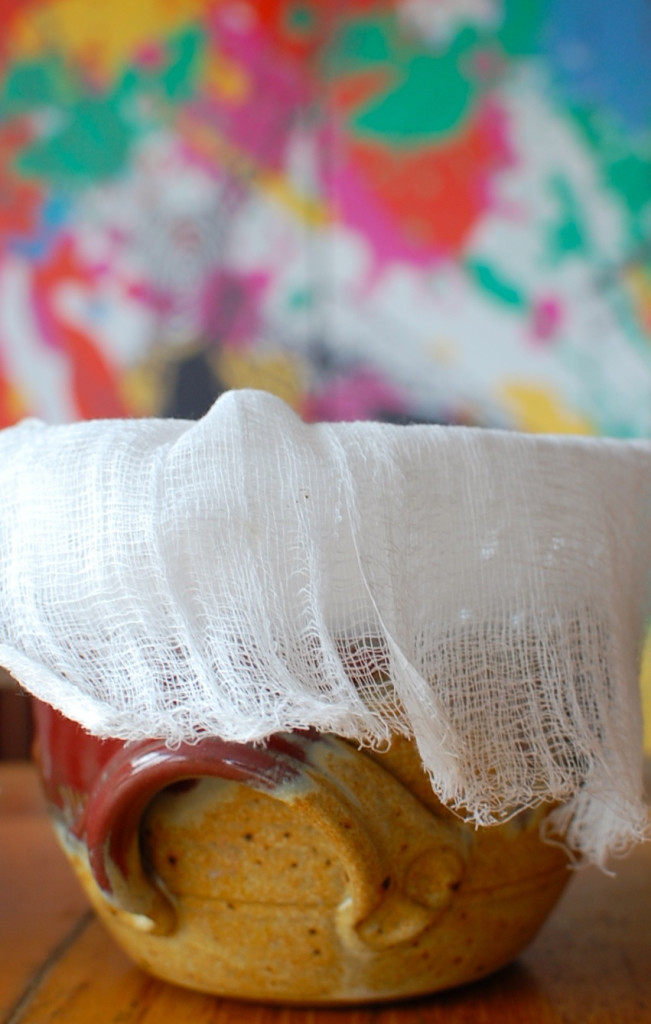 4. Slowly pour plant matter and oil into the strainer.
5. Using a string or twist tie, gather the cheesecloth around the plant matter and secure.
6. Squeeeeeeze  that sh*t. Save this satchel to make High Chai.
7. Pour oil into a pint jar and place in the fridge until cool. Seal with a lid. Store in refrigerator or in a cool, dark place.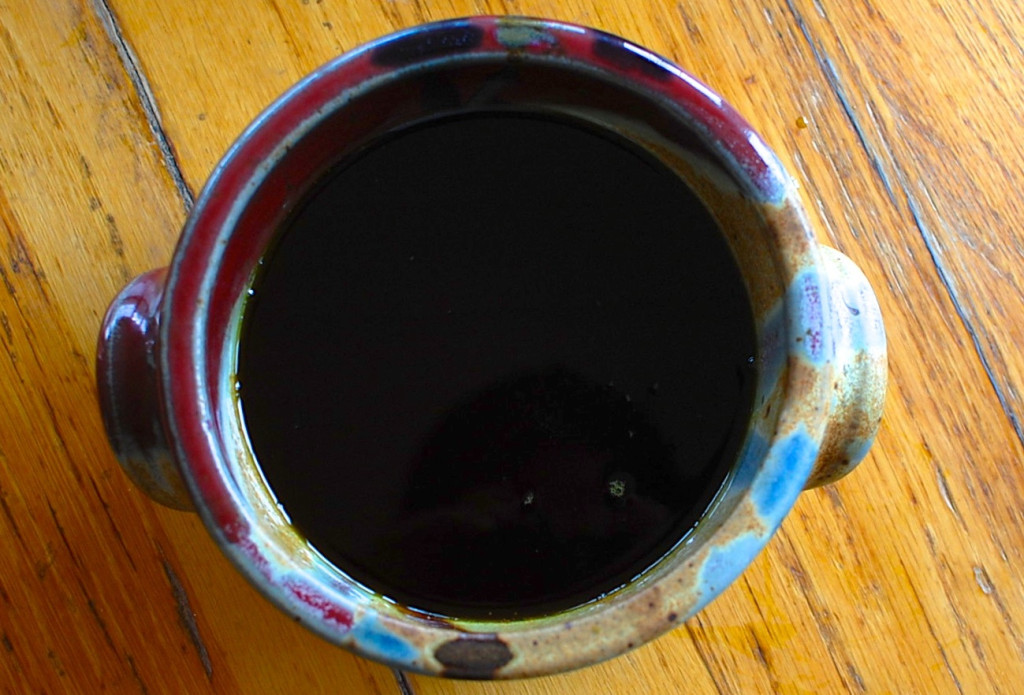 Spread it on toast. Make Dazed + Infused recipes with it. Rub it on your achy body parts.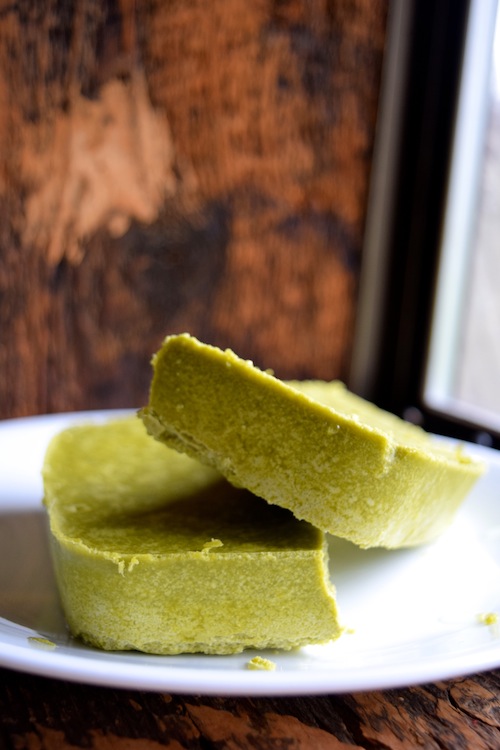 Dosing this Cannabis Infused Coconut Oil
For this recipe, 7 grams of 20% THC plant material in 1 cup of oil yields an oil that has approximately 30mg THC per teaspoon. Use the THC and CBD dosage calculator and adjust the calculations to reflect the percentage of THC and/or CBD is in your starting plant material.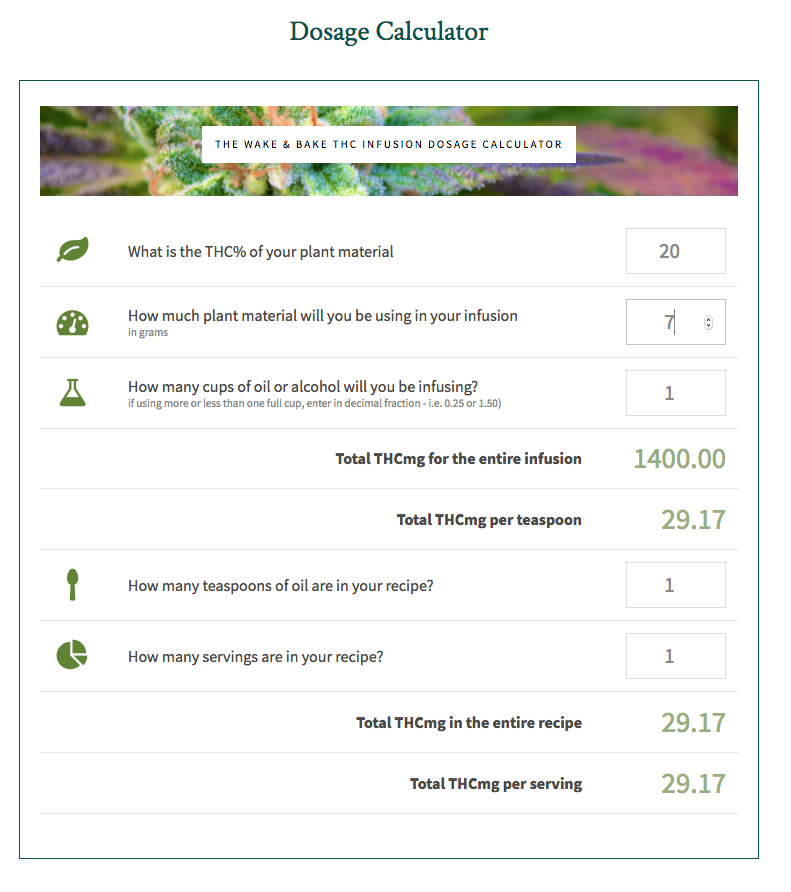 8 Bonus Tips For Making Effective Cannabis Infused Coconut Oil Every Time
Try to use lab tested, organically grown trim or flower whenever possible. I don't want to freak you out, but buying cannabis on the black market is a toxin minefield. Many growers use pesticides and fungicides that are not meant to be used on plants for human consumption. For example, Eagle 20 a popular fungicide is meant to be used on golf courses. When's the last time you thought about eating (or smoking) golf course grass?
If your oil ever begins to smoke, remove from heat immediately and let it cool a bit before beginning the process again with your crockpot on the lowest setting. It'll probably still "work" but you're burning off some of the incredible compounds that evaporate at higher temperatures. If you constantly find yourself overheating your oil in your crockpot or on the stove (guilty), check out the Levo II (it decarboxylates, infuses and is the cleanest infusion device on the planet)
If you don't have a crockpot, you can make cannabis oil in a mason jar.

I've totally abandoned my oven for the Nova t

hese days.

Because I love

the Nova

 and have gotten such good feedback from readers, clients and students, I got discount of $30 off from the folks at Ardent to pass onto you

. You can use the code WAKEANDBAKE to get $30 off a Nova

!

You don't have to finely grind your cannabis no matter what you're cooking in (in my experience, it makes it harder to strain, leaves a bunch of plant material in that makes for a "greener" taste, and doesn't improve potency). However, if you're using buds, you can break them up a bit before you add them to the coconut oil.
You can also make cannabis infused coconut oil using hash and concentrates.
Have fun! Don't fret over your canna-oil when it's in the pot. People on the internet make this much more complicated then it has to be. Not me… but you know… other people on the internet. I was writing a cannabis cookbook and had to overthink it, but you totally don't. This is a simple process and it should be enjoyable, not stressful. Just follow the instructions above, adapt or substitute for what you have on hand and don't be afraid to experiment.
Cannabis Infused Coconut Oil Recipe
One last thing! Here's an easy to print and Pin recipe card just because you guys asked for it… pin and print away!
Thinking about making this recipe? Already a huge fan? We'd love to hear what you're creating with this cannabis infused coconut oil. Let us know in the comments below!
Much love!
Corinne
Disclaimer: This is not intended as medical advice. I'm not a doctor. I'm also not a lawyer and can't defend you if you get busted trying to make this recipe in a state that still considers possession or cultivation of cannabis a criminal act. I don't agree with this law, but I'd never advocate that you break it. Jail would suck. Instead, I strongly advise that you work to change the law in your state or nation by supporting and being active in grassroots organizations that are trying to legalize cannabis in your area (they're everywhere). This recipe is heretofore only intended for people who live in states or countries where medical or recreational use of cannabis is legal, who are 21 and older, of sound mind and who understand that operating heavy machinery (cars, trucks, planes, etc.) under the influence of any intoxicant, including THC rich marijuana, is incredibly dangerous, immature, and wholly stupid. Please don't ever eat and drive. Support public transportation or use the two legs that evolution gave you and walk your sweet ass wherever it is that you need to go.
Summary
Article Name
Cannabis Infused Coconut Oil - Wake & Bake
Description
Using cannabis coconut oil is one of the best options for making homemade edibles. The saturated fat content makes it ideal for extracting THC and other cannabinoids from marijuana.
Author
Publisher Name
Publisher Logo
Thank you for supporting this site with purchases made through links in this article.