NOTE: Even when using decarboxylated cannabis, honey is not the best method for extracting cannabinoids. If you have a bunch of plant material around, you can experiment with this recipe for fun like I did OR you can make Hash Honey (recipe in Dazed + Infused). The most effective way to extract cannabinoids from plant material is either by making cannabis infused oil or cannabis tincture. But again, if you have a bunch of trim laying around, this is still pretty good stuff and some people swear by it.
Last week (or maybe two weeks ago) I shared this delightful CBD Matcha Latte recipe made with Colorado Hemp Honey and it got me thinking… Is it time to make more cannabis-infused honey and finally put this recipe up on this here cannabis recipes blog?
And that question brought up two other questions. Do I have a 2 gallon bucket of my uncle Jerry's honey? And do I have a jar of mystery trim sitting in my baking cabinet?
Yes.
It is TIME for
Cannabis Infused Honey
I'll be the first person to warn you… this cannabis infusion is downright messy.
It's honey. It's fun. It's worth the mess IMHO.
Despite my best efforts, my hands always get covered in pot honey (because I can't help but squeeze the cheesecloth out with my own two hands) and I end up leaving sticky fingerprints all over everything.
And I always end up licking my sticky fingers.
That ends up making for highdeas like, "I should put more of this in my tea." Which leads to other highdeas like, "I should put more of this in my tea." Which leads to other highdeas like, "I should put this in everyone's tea."
This time around, did I stick my sticky fingers into my warm tea because I didn't want to waste a drop of this stuff? No. I'm not an animal. Maybe. Yes.
I remember reading something by some troll on the interwebs about how marijuana infused honey wouldn't get you stoned and that it was a waste of time.
I'm here to tell you that that's wasn't true in my experience. It may not be as strong as coconut oil or tinctures, but as long as you use decarboxylated cannabis, you heat it up for long enough and stir it up every now and again, this cannabis infused honey can work.
How do I know this? Because I just did it.
Case closed.
I went low (less than 180°F) and slow on this cannabis honey tincture and since I was shooting a video tutorial, I ended up leaving it in the crockpot for several days. However, I tested it after 12 hours and the perfect microdose for me was about 1/2-1 teaspoon, so you may not have to leave it for as long as I did.
Cannabis Infused Honey in the Magical Butter
You can use this recipe for the magical butter to make infused honey as well. I made my first batch in the magical butter and it came out great. The only downside was that I had to use a lot of material to get it up to the min fill line. I think I ended up making about three cups of infused honey (which lasted well over a year).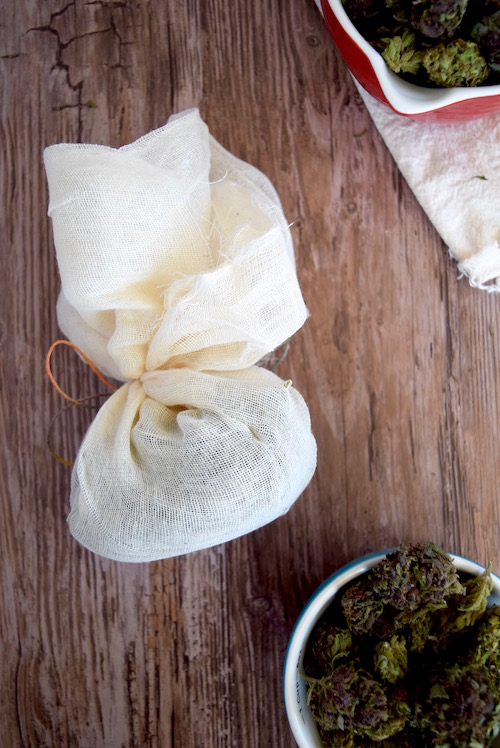 While I love the MB machine for most things, it doesn't handle small batches well. The next best thing, in terms of convenience, is the mason jar method.
Does Making CannaHoney in a Jar Smell?
This mason jar method for infusing honey with marijuana is simple and… wait for it… it doesn't smell! While decarboxylating can be a tricky smell to navigate, making cannabis honey and oil using the crock pot mason jar method is virtually smell proof.
Cannabis Infused Lavender Honey
You can easily infuse your cannabis honey with any herb you'd like , including lavender. Just put a small amount in your cannabis satchel. The first time I made cannabis infused honey, I added a few teaspoons of dried lavender and it was delightful.
I went herb free on this batch because I'm using it for a special tonic that I can't wait to share with you (!!!!!) and I wanted to try a few different things. But I highly recommend trying herbs to enhance the flavor of your marijuana infused honey.
Marijuana Infused Honey Recipe
Method:

1. In a piece of cheesecloth about 10″ x 10″, wrap:
15 grams decarboxylated cannabis
2. In a quart jar, combine:
2 cups local honey
1-2 tablespoons non-gmo sunflower lecithin
your cannabis satchel
3. Place lid on the quart jar and line a crockpot with a hand towel or dishrag.
4. Fill crockpot with water and turn on low. Place honey jar in crockpot.
5. Once the honey is warm, periodically shake the jar and check the lid to make sure pressure isn't building. If it is, burp the jar and tighten the lid again.
6. After 8 hours (or up to a few days if you're the forgetful type), use a pair of tongs to remove the cannabis satchel from the honey and squeeze as much out as you can using the tongs. Odds are, there will still be some honey up in there. You have two options, make some extra strength high chai or squeeze it out with your hands and make some honey finger sweetened chamomile tea. Player's choice.
7. Store in the fridge or in a cool dark place.
Okay! Now that your life will be forever sticky, I'm sure you have questions, comments, thoughts and feelings. Lay them on me!
Much love,
Corinne
[sp_recipe]