Whether you're totally new to Cannabis or you're looking for ways to cut down or quit smoking altogether, the choices can seem a little daunting, confusing, and overwhelming.
But when it comes to Cannabis tinctures, there's not another Cannabis ingestion method that is more simple, easy, and clear.
Tinctures are quickly becoming a more popular alternative to smoking (which is fine occasionally, but can irritate the lungs and throat, among other things) or edibles (which can be tricky to dose and unpredictable).
And since it's 2020 and you can order high CBG and CBD flower on the internet, you can now make non-intoxicating Cannabis tinctures or easily create your own blends to achieve certain effects.
Like all things Cannabis, tinctures can deliver so much more than just THC and the benefits of other cannabinoids are definitely worth exploring.
What are the benefits of using Cannabis tinctures over other ingestion methods?
How do you make them?
And how do you use them?
Easy Cannabis Tincture Recipes
Tinctures are commonly used as a convenient delivery system for medicinal herbs because when you use a tincture under the tongue (sublingually), plant compounds are absorbed quickly into the blood stream.
For this reason, taking Cannabis in the form of tinctures makes it easier to dose than Cannabis coconut oil or cannabutter based edibles that are high in THC.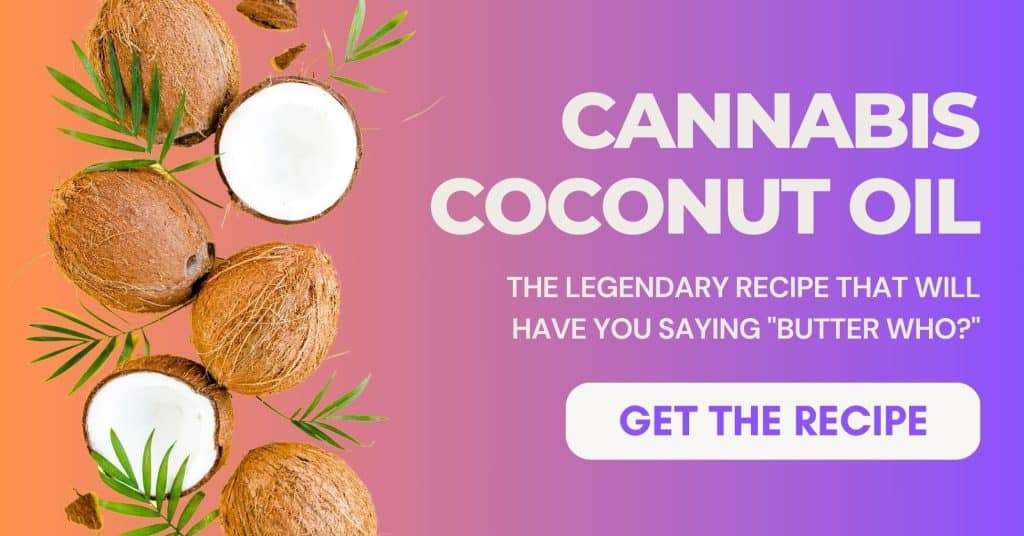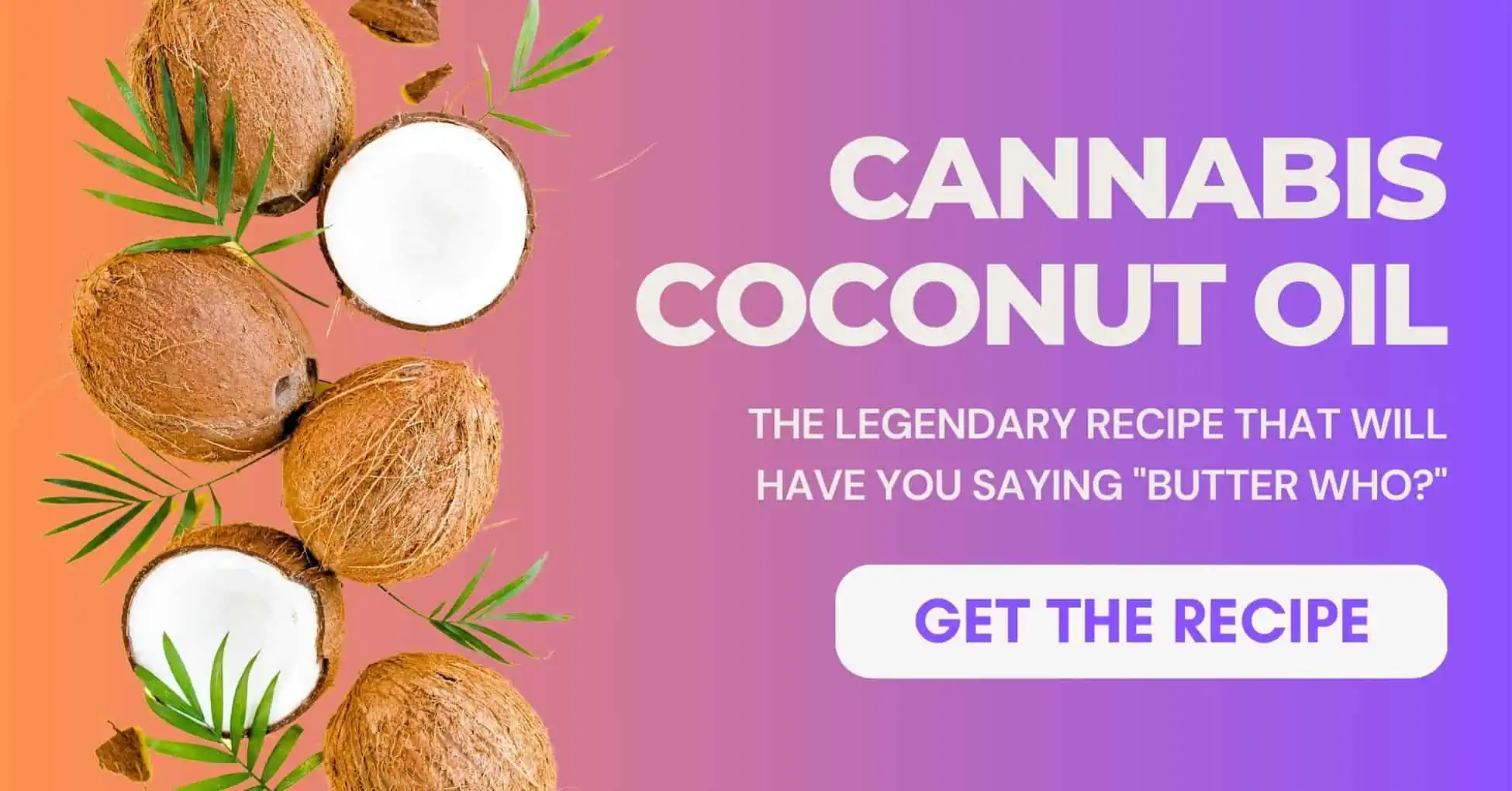 Tinctures provide a faster delivery of all of the compounds in Cannabis, so whether you're using CBD, CBG, or THC dominant plant material, you can feel the effects quickly and adjust your dosage as necessary.
The effects of tinctures come on 15-30 minutes after you take a dose and can last for up to 4 hours.
The effects also mellow out a lot faster than edibles, so even if you do take too much of a high THC tincture, it doesn't linger (and possibly ruin your day) like fat-based edibles can.
On that note, tinctures are a lot harder to take too much of since they're not in the form of something that tastes really good.
Take it from someone who has eaten one too many cookies, pancakes, and a marijuana grilled cheese sandwich. It's easy to overdo it when you infuse your favorite foods with high THC Cannabis.
Tinctures are also very customizable.
You can go further than incorporating CBG and CBD into your tinctures by using other herbs to improve the flavor and to enhance the effects that you're looking for.
If you want a relaxing anti-anxiety Cannabis tincture, add some lavender and chamomile. If you're looking for something with pain relieving anti-inflammatory power, add some turmeric and ginger (recipe in the Wake + Bake Cookbook).
Are you getting excited about Cannabis tinctures yet?
This guide includes an overview of weed tinctures and covers three different tincture mediums: pure grain alcohol (a.k.a. Green Dragon or PGA), vodka or brandy, and a non-alcoholic MCT "tincture" (an infused oil held under the tongue like a tincture).
Benefits of Cannabis Tinctures
If you're trying to figure out if tinctures are worth making. I have 5 reasons to give them a shot.
You can read more about the benefits of making your own tinctures as part of our ingestion method series:
5 Benefits of Cannabis Tinctures
Cannabis Tincture Recipe #1 – Green Dragon: Pure Grain Alcohol Marijuana 
Green Dragon tinctures are made with Everclear, aka PGA or pure grain alcohol. The high alcohol content is incredibly strong and makes it a great medium for Cannabis infusion.
If the intense taste of high proof booze is an issue for you or if you've given up alcohol, keep on scrolling because I've got an MCT oil "tincture" for you.
This tincture is intense and makes the strongest tincture I've made to date. You can use other alcohol, but know that you'll likely be leaving a lot of cannabinoids behind.
The green dragon tincture is perfect for making strong candies, gummies, lollypops, etc. because it's easy to incorporate small amounts with decent potency without changing the consistency of the mixture.
It's nice to mix your green dragon tincture with something sweet (I use honey) if you're just going to take it sublingually (under the tongue).
You can also evaporate some of the alcohol off to make the tincture even stronger. Just leave the cover off and keep it in a well ventilated area until tincture reaches desired flavor and potency.
Cannabis Tincture #2 – Vodka or Brandy 
These alcohol based tinctures are much more mellow than the green dragon tincture because they don't extract all of the cannabinoids from your plant material.
I know that in some states, Everclear is illegal, so this is a good alternative if you can't get your hands on the hard stuff.
These don't turn out as strong as the green dragon tincture, but they're still nice.
The cannabinoids are still in the raffinate (that's the fancy word for the Cannabis leftover from infusion), so you can experiment with using the leftover plant material to get more bang for your buck.
You can use any high quality vodka or brandy for these tinctures. I just happened to have some local organic stuff on hand and they turned out great.
I haven't tried any other brands, so if you prefer something, let everyone know in the comments below.
I prefer the flavor of brandy Cannabis tincture over the green dragon any day of the week even though it's not as strong.
Remember that everything that doesn't get extracted is still in your leftover plant material. Very soon I'll be testing out making into a tea or (if it's brandy) infusing it into a hot apple cider. Let me know if you try something else.
Cannabis Tincture #3 – Non-Alcoholic Cannabis "Tincture"
UPDATE 2020: The folks at ardent did some testing and found that Vegetable Glycerine does not effectively extract cannabinoids, so I've updated this post with the non alcoholic "tincture" recipe that I use now.
You can find that recipe here: Cannabis MCT Oil "tincture" Recipe
It's an infused MCT oil, so it's not technically a tincture, but it's perfect for putting in dropper bottles and using it sublingually. Many Cannabis companies are calling their infused MCT oils, tinctures.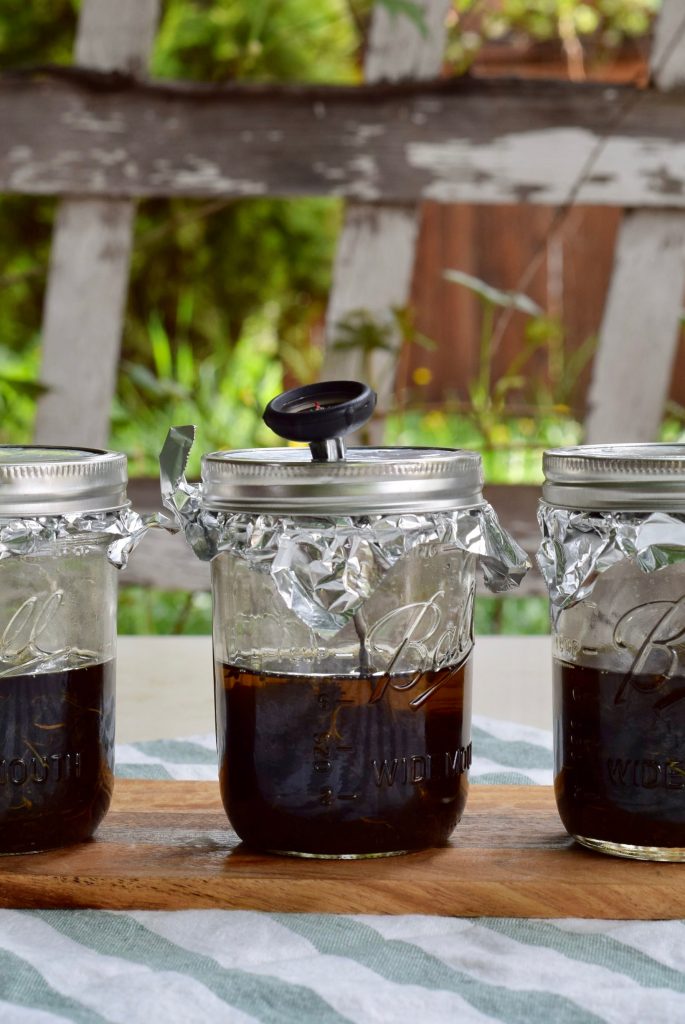 If you love your VG tinctures, by all means. I've made some strong VG tinctures in the past from cooking for a very long time, but this is what Ardent's research says:
"Compare that to VG, which pulled less than 6% of the THC from the decarbed flower, infusing 1 gram of the same strain of decarbed flower into 1 ounce of VG." – from Truth Hunters: Propylene Glycol vs. Vegetable glycerin
For a non alcoholic "tincture" you can make Cannabis infused MCT oil and take it sublingually. Read that post to learn more about the benefits of MCT tinctures and how to make them.
I use this "tincture" most often because it's so versatile and great for on the go use. It's really palatable and convenient, and a dropper in my morning coffee is one of my favorite ways to start the day if I need to medicate.
I bring a bottle of this everywhere and introduce it to people who are curious about edibles, but don't know where to start. If you're a new patient or you're making a tincture for one, this is a great introduction. I have a hard time holding alcohol under my tongue (because I'm a big baby), so this is great for sublingual dosing of the weak-tongued.
How to Use a Cannabis Tincture – Sublingual Dosing
I've mentioned the term "sublingual" a few times during this post and I feel like I should probably cover wtf that means.
In short, it just means that you administer the tincture under your tongue and hold it there as it absorbs into the membrane beneath the tongue.
It's a very fast and accurate way to administer tinctures.
Here's a good in-depth (and super nerdy) explanation from Wikipedia
In a nutshell, sublingual dosing means holding a dose of your tincture under your tongue for as long as you can before swallowing or spitting it out (if you're very sensitive to edibles).
If you do this and spit out the tincture when you're done, compounds like THC wont be broken down by the liver. That breakdown is what makes edibles so much more intoxicating.
Will you have awkward conversations with a checkout person in a whole foods as you mumble "I chust chook a chinchure" with your chin up in the air?
You betcha.
Worth the effects? Totally.
Do You Need to Decarboxylate Before Making Tinctures?
Yes!
If you want a high THC, CBD, or CBG content in your tinctures (as opposed to a high THCA, CBDa, or CBGa content), make sure to decarboxylate your plant material before beginning to steep your tinctures.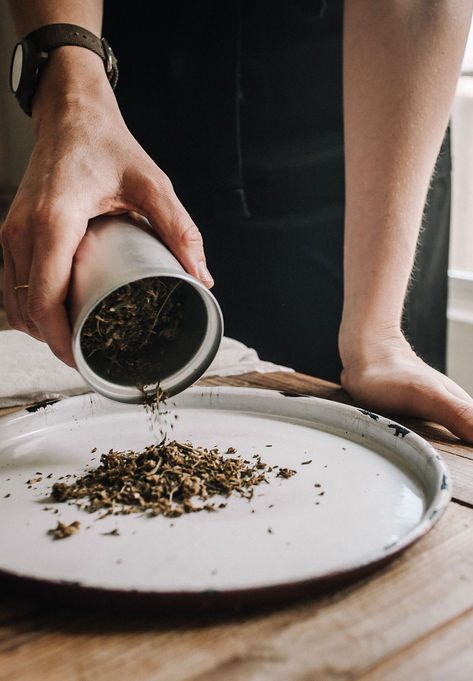 For more info in this necessary step, check out the Wake + Bake post about decarboxylation here.
I use an Ardent FX to decarboxylate my Cannabis because it effectively transforms over 98% of the THCa to THC without any THC loss. You can read more about that here.
How To Make Cannabis Tinctures
We're finally here! Now that we've learned a little about the different tinctures and how to administer them, it's time to learn how to create a batch in your very own kitchen.
Cannabis Tincture Recipe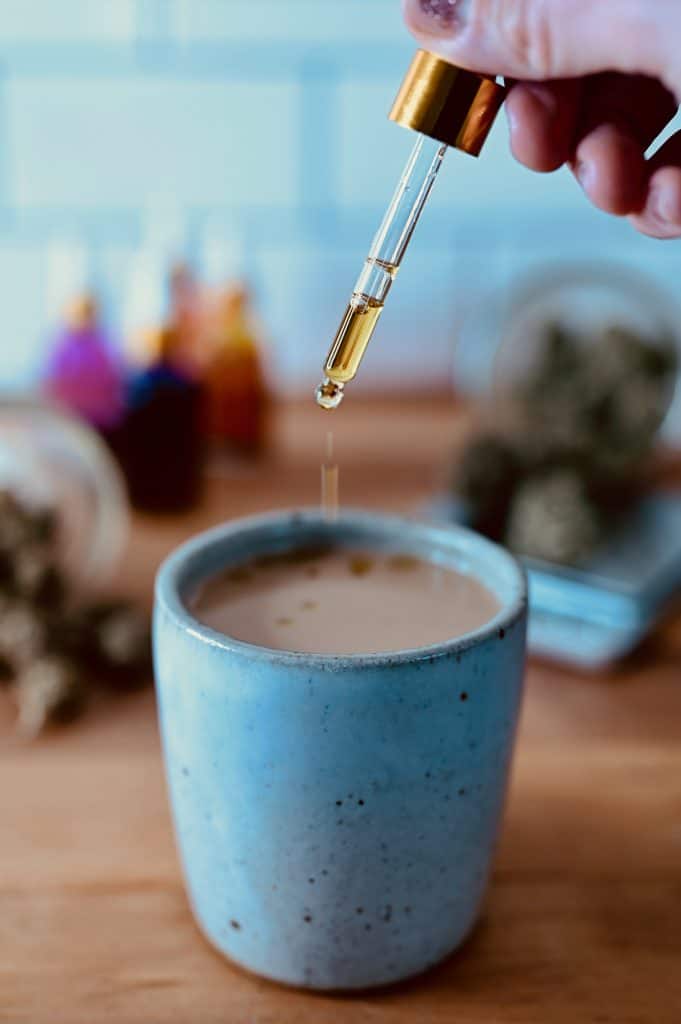 Equipment
Quart Jar and lid

Paper bag (optional)

Strainer

Dropper bottles
Ingredients
1

oz

Decarboxylated Cannabis (28g)

2

Cups

Everclear, Moonshine, Vodka, or Brandy
Instructions
Fill a quart jar with your decarboxylated Cannabis and add your alcohol of choice.

Cover the jar with a lid and shake vigorously.

Place in a dark cupboard or in a paper bag on a shelf to steep.

Shake the mixture vigorously again before straining. If steeping for longer, shake every couple of days.

Steep for anywhere from 2 days to several months. Test periodically to determine if the tincture is at your desired strength.

Strain out the plant material. (Save the "raffinate" for a rainy day)!

Pour into dropper bottles.

Make sure to calculate your dosage and label your finished product.
1. Fill a quart jar with:
1 oz (28g) decarboxylated Cannabis
(to adjust strength see calculating tincture dosage below)
2. Add:
 2 Cups Everclear, Moonshine, Vodka, or Brandy (go here if making a non-alcoholic tincture)
3. Cover with a lid and shake vigorously. Place in a dark cupboard or in a paper bag on a shelf.
4. Shake the mixture vigorously again before straining. If steeping for longer, shake every couple of days.
5. Steep for anywhere from 2 days to several months. Test periodically to determine if the tincture is at your desired strength.
6. Strain out plant material. Save the "raffinate" for a rainy day.
7. Pour into dropper bottles.
8. Make sure to calculate your dosage and label your finished product.
Note on length: Some people say that longer tinctures are better and more medicinal, but new research is showing that you don't need to leave your tincture for weeks or months on end to extract most of the cannabinoids from your plant material.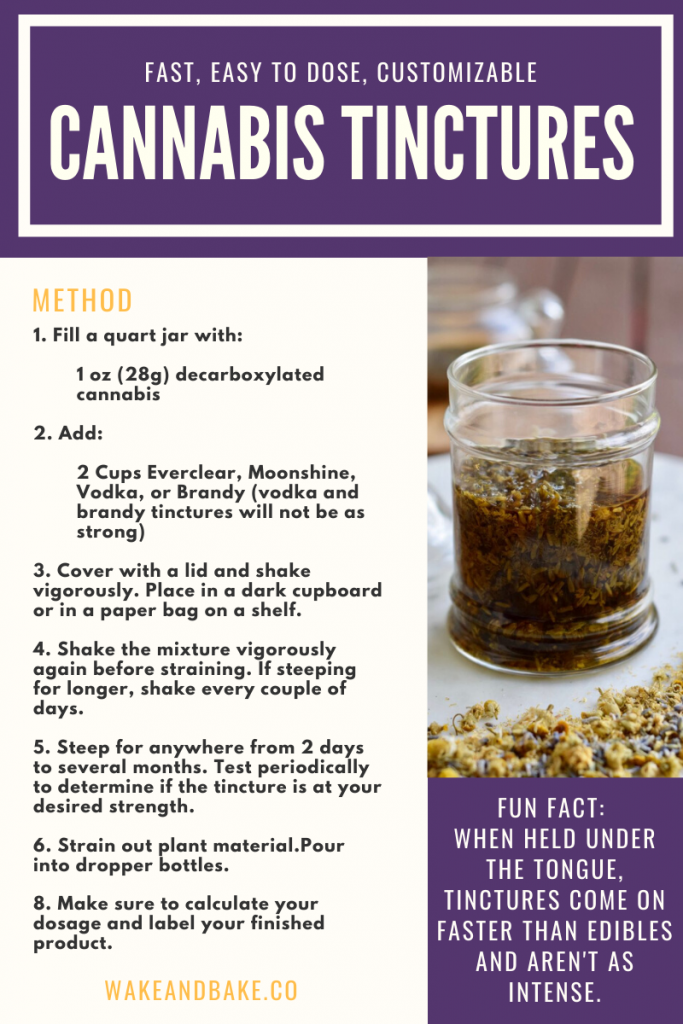 [2020 UPDATE] The Heat Steep Technique + Ice Dragon Tincture Recipe
When I originally wrote this post, I shared a method for heating your tincture for a quicker result.
I've done this in the past in a closed mason jar in a crockpot. Do not do it over the stove or with an open container, because it could be dangerous (read: explosive) or cause fumes. 
I burped the lid a bunch and kept the windows open and the temp low. In my experience, it made a really fast and potent tincture that tasted excellent.
Since then, we've had access to lab results from Ardent that say there's no need to heat a tincture and that good results can be achieved in as little as 3 hours.
They got over an 80% infusion rate at room temperature in 3 hours and speculate that using the ice dragon technique could yield even better results.
It's a heck of a lot safer and way faster than using the old, popular methods.
It's currently my favorite way to make alcohol based tinctures.
If you sign up for my newsletter, I'll share any new data that comes out (plus you'll get more healthy Cannabis recipes).
Calculating Cannabis Tincture Dosage
Calculating the dosage of your tinctures and edibles is now easier than ever.
Just head over to the Wake + Bake Dosage Calculator (below) and plug in your percentages and the amount of alcohol or MCT oil you use.
At 1 oz (28 grams) of 10% high THC plant material in 2 cups of alcohol, works out to about 29.17mg teaspoon (5 ml) an average dropper contains.
Most average size droppers contain between 1/8-1/4 teaspoons in each dropper, so you have to check your dropper to see how much each dropper contains.
Mine was 1/4 teaspoon, so it came out to about 7.25 mg per dropper.
Let Me Know…
What's your favorite tincture method and medium? Do you have something really technical and informative to share with other tincture enthusiasts? Do you have questions about the process?
Leave a comment below!
We can't get respond to everyone in the comments (especially about your infusion's dosage, alternative ingredients, or different techniques), but – as long as you're kind and not a robot – we'll post it for you so another reader can dive in.
With love,
Corinne
Are you a total Cannabis nerd like me? Have you ever considered turning it into a career? Learn more here!
Disclaimer: This is not intended as medical advice. I'm not a doctor. I'm also not a lawyer and can't defend you if you get busted trying to make this recipe in a state that still considers possession or cultivation of Cannabis a criminal act. I don't agree with this law, but I'd never advocate that you break it. Jail would suck. Instead, I strongly advise that you work to change the law in your state or nation by supporting and being active in grassroots organizations that are trying to legalize Cannabis in your area (they're everywhere). This recipe is heretofore only intended as educational  information for people who live in states or countries where medical or recreational use of Cannabis is legal, who are 21 and older, of sound mind and who understand that operating heavy machinery (cars, trucks, planes, etc.) under the influence of any intoxicant, including high THC Cannabis, is incredibly dangerous, immature, and wholly stupid. Please don't ever eat anything intoxicating and drive. Support public transportation or use the two legs that evolution gave you and walk your sweet ass wherever it is that you need to go.
Links:
http://www.theweedblog.com/the-most-underrated-of-all-marijuana-products-weed-tinctures/
http://eatyourcannabis.com/cannabis-tinctures/?age-verified=0158ac1f99