I picked the most requested recipe that I've gotten this week and it was to vegan-ify those cannabis gummies we made last week. Done and done.
Making Homemade Vegan Cannabis Gummies
Before we start, I have a few notes. Admittedly, I'm no longer a strict vegan, so these might not matter to those of you who are vegans, but I feel like I should share anyhow.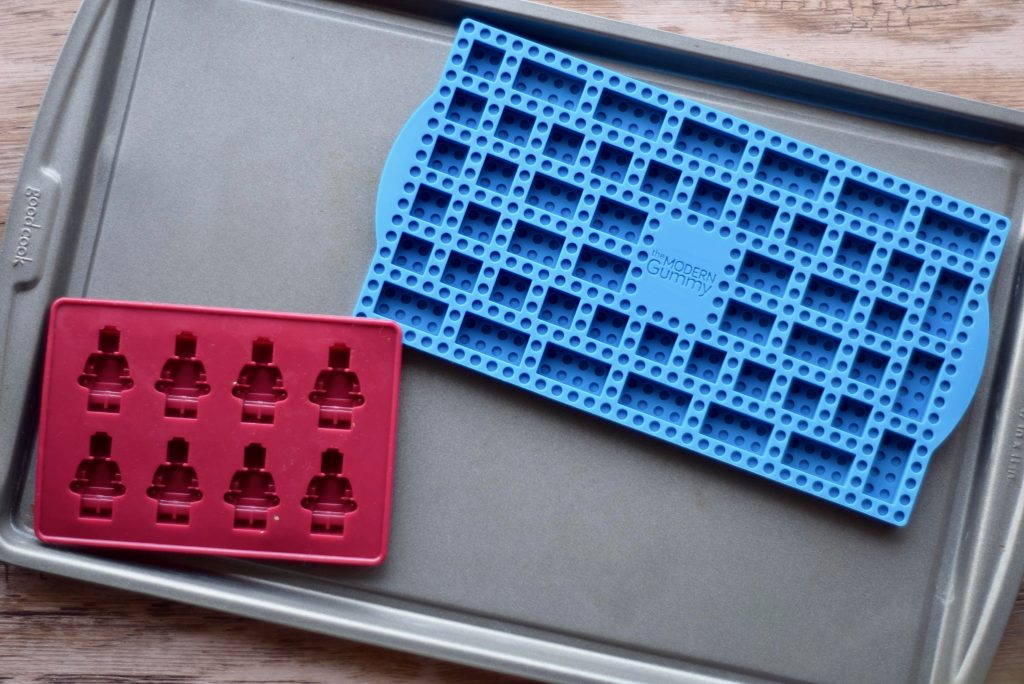 A note on flavor: IMHO, this recipe requires a strongly flavored fruit juice. Organic Tart Cherry Juice concentrate works great for these because not only is it super tasty and a bit sour, it's also anti-inflammatory, an aid to sports recovery, and it helps fight insomnia (odd but true). Make sure to add water to taste. Grape is also very delicious and reminds me of throwback lunch box fruit snacks. The first few times I made these, they tasted like agar because I was using way too much. It makes for a firmer bear/LEGO/robot, but it's not worth it in terms of flavor.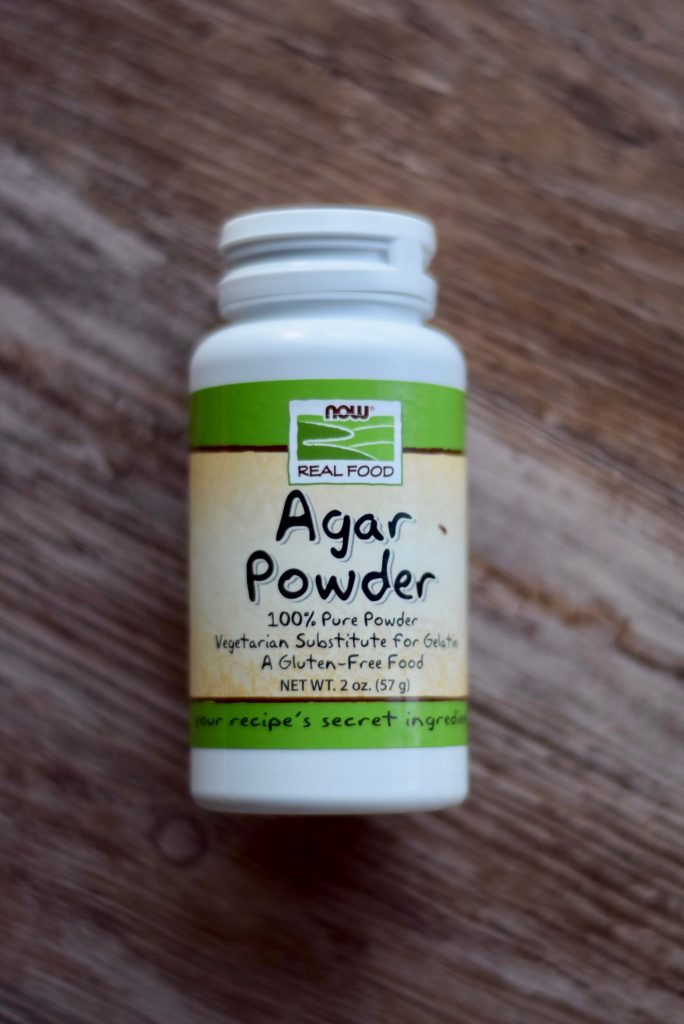 A note on texture: These pass for gummies, and they're as easy to make as gummies, but they reminded me more of a fruit snack. They're not stretchy or jiggly like the grass-fed gummies, but that's to be expected. I remember letting all sorts of things pass as "cheese" when I was a vegan without blinking an eye, so if you're here because you follow a strict vegan diet- cashews are cheese, flax is eggs and these are gummies. Ta dah!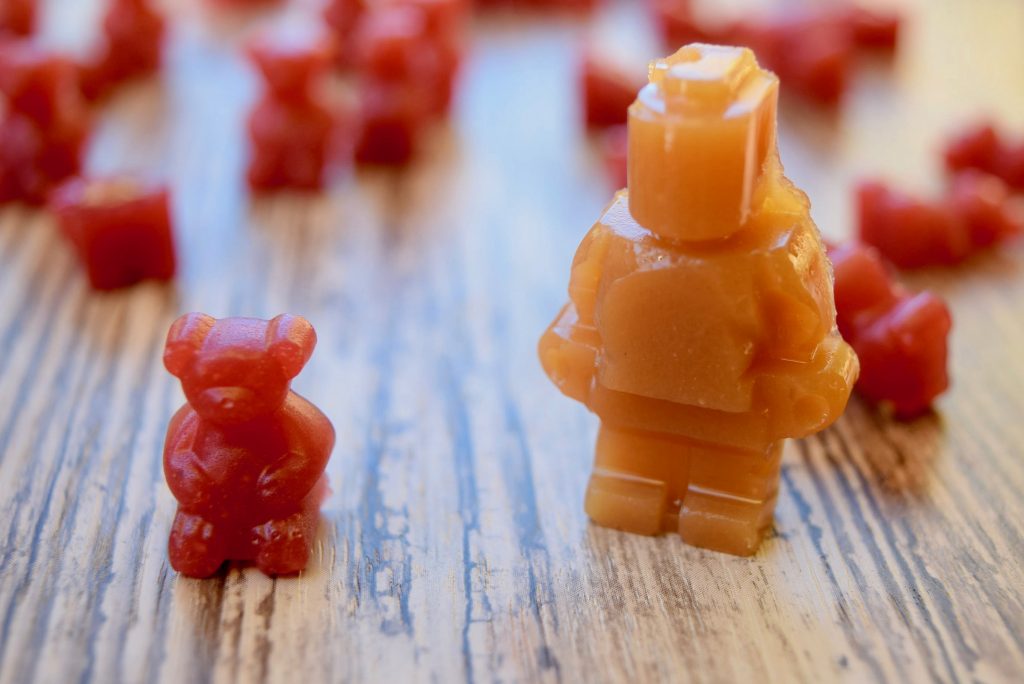 And… If you accidentally let them dry out on the countertop, they shrink down and have the texture of Lucky Charms marshmallows. Also odd but true.
Fun fact… Agar is the main ingredient of a fad diet in Asia. Apparently, when you eat flakes or powder, they triple in size and absorb a bunch of water which makes people feel fuller. You can also see the next note about why agar probably causes weight loss.
And this last note is super important so I'm going to make it bold: I didn't read this until just now, but it turns out that Agar shouldn't be used by people with digestive issues. It's considered a mild laxative (not too big a deal when you're just eating a few gummies or you're on an Asian fad diet), and it can irritate the stomach. I wouldn't eat these every day, or pound a whole jar of them, but I didn't have any notable issues while testing them and I'm pretty sensitive. Avoid these if you have IBS or serious digestive problems and try the paleo gummies instead.
Vegan Weed Gummy Recipe
*Just like the last gummy recipe, these are micro-dosed, so add more cannabis tincture if you'd like to make stronger gummies (or you can head to that recipe and learn all about the almighty micro-dose). These can also be made with honey tincture (not vegan), but I don't think they'd work with cannabis coconut oil.
Method
In a saucepan, combine the following ingredients over medium-low heat:
1 Cup Strongly Flavored Organic Fruit Juice (I like this one and this one)
1 Tablespoon Lemon Juice
2 Tablespoons Maple Syrup (optional, to taste)
Add:
2-3 tsp Cannabis Tincture (Green Dragon, Vodka/Brandy or Vegetable Glycerine all work)
Slowly whisk in:
1 Tablespoon Agar Powder
Keep whisking until smooth and all ingredients are incorporated. Turn off heat. Using a dropper, fill your silicon mold with your gummy mixture (you could also a pan lined with parchment paper if you're in a pinch).
Allow to cool for about 5 minutes in the freezer or 20 in the fridge.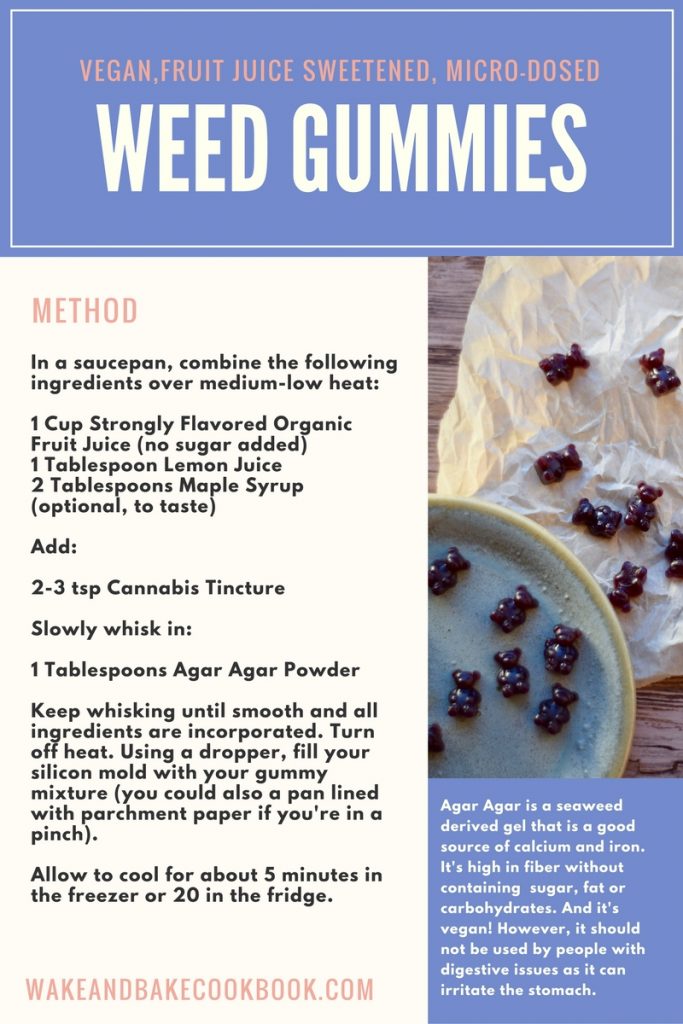 Much love,
Corinne
[sp_recipe]