After many long years of being off Wake + Bake full-time, I wanted to come back to this community with a bang (I hope you didn't forget that puns are part of the deal here 🎇).
At our comeback meeting last week, we tossed around a couple of ideas, and when I said the word "Firecrackers", it was almost as if all of the air had been sucked out of the room and had been replaced with pure joy.
Then the stories started coming out about this edible. They ranged from hilarious ("I ate a firecracker and got on an airplane…") and harrowing ("Then my husband ate a firecracker and got on the same airplane…").
It was clear that this must be the first edibles recipe that we shared with all of you.
But don't be fooled. These aren't your mama's firecrackers.
They're not the shwag-infused firecrackers that you hastily made in your first apartment. They're not the undosable firecrackers that you made because you had some ABV laying around and the internet told you to.
This Firecrackers recipe is an upleveled, easy-to-dose, healthier version of the classic edible that may take the cake as your favorite edibles recipe of all time.
They're so simple to make and include things that are probably already in your kitchen, especially if you've got leftovers from this summer's smores.
Even though they're simple and fast, they're the recipe that I'll be bringing to my next potluck (move over cannabis-infused marshmallows) because they're so. damn. delicious.
I won't lie. After developing this recipe, I laughed too hard at 30 Rock re-runs, had an ultra-productive solo dance party, and did yoga with the dog. I was reminded of the beauty of experimenting with new edibles and how they can feed your soul as well as your body.
Welcome back, Wake + Bakers… welcome back.
Edibles Recipes: What are Weed Firecrackers?
Firecrackers have a long history in the world of edibles, and – aside from weed brownies – are the thing we hear most often when people talk about their first cooking with cannabis experience.
There are many variations of Firecracker recipes. Some are savory. Some are sweet.
But most of them involve using raw cannabis plant material, mixed with peanut butter, and spread on some kind of cracker.
Before we knew much about decarboxylation, the cracker/nut butter combo was wrapped in tinfoil and baked in the oven.
This left firecrackers an un-dosable mess.
You could be consuming any amount of activated cannabinoids which led to both the hilarious and harrowing stories mentioned above.
So many people report that their experience with this edible recipe is less than ideal because it often led to an uncomfortable dose of activated THC.
That's why we decided to bring the firecracker into the modern world and incorporate everything we know about making and dosing edibles into this recipe.
Cannabis Recipe: The New and Improved Firecracker Edibles Recipe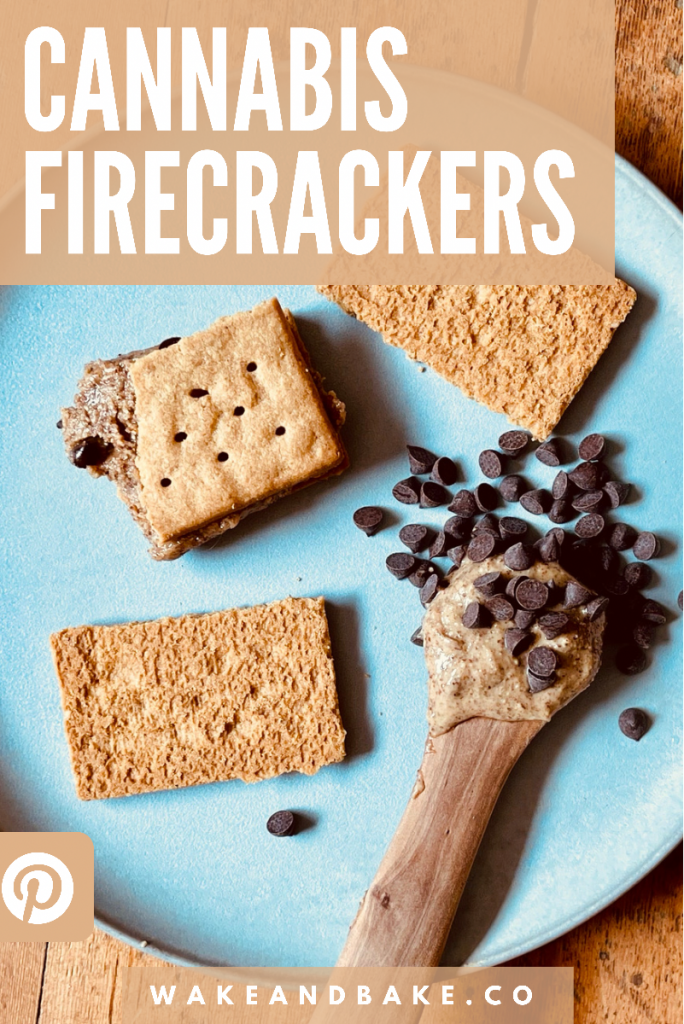 Over the past 8 years, after studying cannabis and how it works within our human biology, I've realized that we can dial things in so much more than we ever thought we could.
What we're starting to discover is that we have a lot of control over the type of medicine that we make and how it affects us. We're living in an era that has moved beyond Cheech and Chong and into the realm of what I like to call the Magical School Bus Era (I'll be your Ms.Frizzle).
In the children's TV show, The Magic School Bus, Ms. Frizzle took you inside of something (like the human body), showed you how it worked and invited you to experience it for yourself. And today, that's what we're going to do.

If we start to think about the way this plant medicine interacts with our bodies, we can make edibles that are more predictable.
And one way we do that is by utilizing all of the compounds that this plant naturally creates and then adjusting their ratios to give us a fuller spectrum of cannabinoids that do different things in the body.
After all of these years, we're coming to find that the body responds to THC, CBD, and CBG differently.
Many readers have told us that combining those cannabinoids in different ratios has greatly improved their experience with cannabis.
If you haven't already, check out this nerdy but must-read post on blending cannabinoids.
If you've never heard of CBG, you can learn more about that here.
If you haven't dipped your toe into balanced ratios, I'm going to invite you, Ms. Frizzle-style, to experiment with this recipe.
The foundation of this Firecrackers recipe comes from infusing your own oil or using lab-tested cannabis or CBD oil that you trust.
You can use either Cannabis MCT Oil, Cannabis Infused Coconut Oil or Cannabutter for this recipe. You can also use decarboxylated flower without infusing into an oil. Just make sure to do your edibles dosage math first.
That being said, I'll never invite you to overcomplicate something that's working for you.
If you have an oil or butter that feels good, no matter what cannabinoids may or may not be in it, get your butt in the kitchen and do the darn thing.
Weed Firecracker Recipe
Ingredients
2 tablespoons nut butter (I used almond)
1/4 tsp 1:1:1 cannabis coconut oil (I used an oil that contained 5mg of CBD, CBG, and THC)*
Maple syrup to taste
Pinch salt
Pinch cinnamon
1/2 tsp mini chocolate chips (optional.)
1 graham cracker (I used gluten-free. You can also use vegan graham crackers or what you have on hand.)
Method
Mix all ingredients and spread on graham crackers.
If desired, wrap in tinfoil and bake in the oven. Serve warm.
*Note: You can also use cannabis coconut oil, butter or ground up decarboxylated cannabis plant material without infusing in oil. For this recipe, I like the flavor of a balanced ratio cannabis coconut oil. Using decarboxylated plant material will result in a grittier texture and you may want to add more maple syrup, chocolate chips, and cinnamon to improve the flavor. No matter what you use, calculate your dosage math before making these so you don't have any surprises.
Coming back to Wake + Bake and remembering how much fun it is to play with weed food has already been such a blessing, and I'm so grateful that you've all stuck with this community as things have morphed, changed, and grown.
Remember that you can always comment below or email [email protected] with questions, comments, and feedback.
We LOVE hearing from you!
Xo,
CT