CBD is quite the buzzword these days. CBD is popping up everywhere from gas stations to health food stores and yoga studios.
If you're like me, your bullshit meter probably goes off the charts when you hear people start spouting off all of the benefits of a product you can buy in a truck stop.
With the news coming out about the potency and ingredients in some of these products, it makes it even more challenging to know who to trust and what to buy.
That being said, I want to make something clear. I LOVE that the farm bill opened up the US to a large scale CBD market where CBD products can be bought and sold like the effective herbal supplements they are.
I personally hope that the market stays open and free so it can continue to be a place where small businesses can thrive.
I love that the market is open enough that companies like the big-hearted and high-quality Satva Botanicals exists (because the woman behind that company puts more love, energy, and quality into her products than I ever could at home).
But – and it's a baby's got back sized BUT – until there are added protections for consumers, there will be widespread quality and misinformation issues that some companies will take advantage of.
Turns out companies are selling products that don't have CBD in them at all, including ingredients and chemicals that are pretty sketchy, and using CBD isolate under different names to confuse the crap out of people (nano CBD and CBD crystalline by any other name are still isolates).
So what do you do?
Change the world?

Stop taking CBD altogether?

Invest money in high-quality CBD from companies you know you can trust?
Sure. You can do any of those things.
OR you can get in that kitchen and get to work.
That's what I thought. Let's do this.
Why Make Homemade CBD Oil?
CBD is sold as a supplement, meaning that there are no regulations on quality control or how the CBD is processed. There's no baseline standard for potency or dosage.
When you're purchasing CBD from a store, it's difficult to know exactly what you're buying.
Full-spectrum?
Isolate?
Organic?
Pesticide-free?
Is it derived from industrial hemp, hemp, or cannabis?
How much money are you spending per dosage?
THERE'S GOT TO BE A BETTER WAY!
Well, now there is. It took me a long time to find organic CBD flower that you can buy in all 50 states but now that we've got that settled, you can make your own CBD oil for as little as $150/year (depending on your dosage… see below)
In today's post, I'm breaking down all of the benefits of making your own CBD oil and then I'll show you how to do it step-by-step.
It's going to be a long one, so let's dive in…
Benefits of Homemade CBD Oil
If you're already taking CBD oil, you know about the benefits you're getting from incorporating CBD into your life. I take CBD oil every day and it is a gamechanger.
[If you want to know more about the overall benefits of CBD, you can check out that link]
If you're considering homemade CBD oil, there are 3 huge reasons I'd give you a nudge in that direction:
It tastes better (like 1000% better)

– If you've ever tasted full spectrum CBD oil, you know that it tastes… well… nutty and bitter. Homemade CBD oil tastes so much better. It's great for making edibles that you'll actually enjoy. You're much more likely to eat something that tastes good, so making tasty oil leads to more consistency in dosing… Let's be real, you're not going to

forget

to eat a cookie.

You can control the ingredients – As I mentioned above, there's almost 0 regulation when it comes to ingredients in CBD products, so with my students and clients I'm adamant about going DIY on this one unless you have a product you can trust (for me, that's Sacred Smoke Herbals

)

The big one: it saves money –

How much money can it save you, you ask? As a matter of fact, you can save a shiz ton… Check it out…
Saving Money with DIY CBD Oil
If you've followed Wake + Bake over the years, you know what a cheapskate I am.
Case in point: I used to drive to three different places to get the lowest price on soup. I wish I was joking.
CBD Oil can be a hefty investment.
While I'm all for investing in health and wellbeing if there's a way to do it cheaply, easily and fun-ly, why not do that instead?
Even when buying larger bottles of CBD oil to keep costs down, I was spending at least $80 per month for 25mg/day.
So when I did the dosage math on this particular batch of CBD oil made with trim, I almost fainted.
At a conservative estimate at 10% CBD, the ½ lb of trim I processed yielded approximately 22,600 mg of CBD.
That's a year's supply of 60mg of CBD oil every day for an entire year.
Check it out.
Here's what it cost me to make it:
½ lb trim from Sacred Smoke CBD – $149

Giant tub of Coconut Oil from Costco $15-ish?

Magical Butter – $189

Nova Decarboxylator – $210
Total – $563 for a yearly supply of CBD oil
The only thing you have to buy the next time you make CBD oil is the coconut oil and the CBD flower.
Pretty dope, right!?
After I did the math, I felt like the Mother Theresa of CBD oil.
I ran around giving it out like crazy and started devising my plan to release CBD chocolates out into the world.
(They melted in my car, so that plan is currently on hold.)
Homemade CBD Oil Tutorial + Recipe
You made it! You're either a champion scroller or you're now fully convinced that making your own CBD oil is what's up.
Let's break it down into steps.
Step 1: Order CBD Flower or Trim
For those of you who have been waiting on this recipe for the past several months, this was what took so freaking long. Finding a reputable high quality organically grown CBD flower company that had their shit together felt like looking for a unicorn.
I finally got connected with the folks over at Sacred Smoke Herbals and they were amazing. They answered the 10,000 questions I ask before testing a product and have some of the most incredible CBD and CBG flower I've ever seen. (Use WAKEANDBAKE for 15% off!)
You can also make smaller – higher quality batches – by ordering their flower by the gram or by the ounce.
Their flower is lab tested and comes with a full printout on the cannabinoids present, so it's much easier to do dosage math when you work with their flower as opposed to their trim.
Step 2: Decarboxylate CBD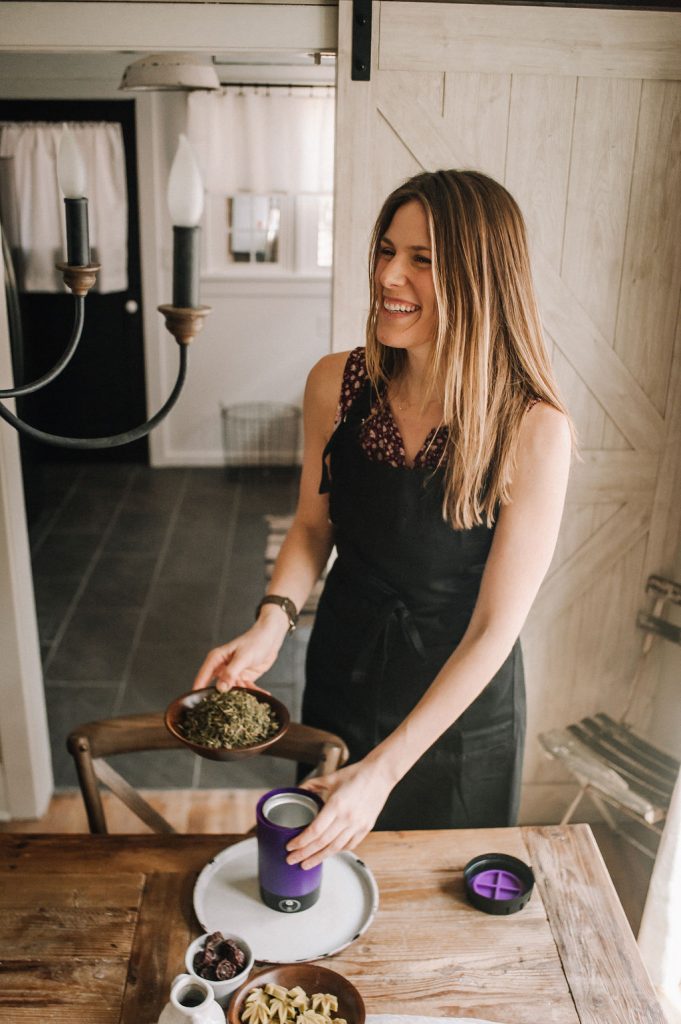 This was the question I got most about creating homemade CBD oil.
Do you need to decarboxylate when making CBD Oil?
The short answer is Y.E.S.
You NEED to decarboxylate your plant material in order to turn CBDa into the much more widely studied and arguably more effective CBD.
I go into detail about decarboxylating CBD here, or you can follow the instructions below.
Spoiler alert from the post above: I haven't come across any solid data with testing that would allow me to recommend a specific time/temperature/method for CBD decarboxylation using homespun methods. Until we get that data and can test it, I recommend what I do in my own kitchen.
In the Wake + Bake kitchen, I "double decarb" using my Nova.
I used to have one little purple workhorse, and would wait patiently for my activated plant material one ounce at a time. Now that I'm making CBD oil for all of my friends and family (and soon the world at large), I have two.
As far as the effectiveness of the decarboxylation process in the Nova goes, Ardent Cannabis has done a lot of independent lab testing on their own device and other methods.
I also asked Cannabis Coach Jackie Barlow who runs CocoCanna Superfoods to weigh in. She's had her infusions using the Nova lab tested and has verified that she gets complete decarboxylation from the device.
You can learn more about the Nova here.
Step 3: Infuse Your CBD Oil
While this can be done with many different types of oil, my favorite for potency and flavor is coconut oil. Sub out olive, avocado, MCT, or ghee/butter if you're not a coconut fan or have an allergy.
For the infusion step, I use my Magical Butter MB2 for CBD oil every single time because…
well, I'm a single mom with two businesses who'd rather be doing yoga or going hiking than hovering over a crockpot or making sure my infusion isn't getting too hot… that's why.
It's fast. It's easy. It makes big batches so I can process a lot of CBD all at once. I don't have to think about time and temp.
MB2 for the win!
You get all of the warranties from Magical Butter and Ardent Cannabis while supporting the work we're doing at Wake + Bake directly.
Double win!
CBD Oil Recipe
Calculating Your CBD Oil Dosage
As I mentioned above, my infusions yielded a total of over 22,000mg CBD.
Using the Wake+Bake Dosage Calculator, you can break that down to get the desired dose in each teaspoon. [The calculator currently says THC dosage, but the calculations work the same for CBD]
I used 1 oz (28 grams) for every 2 cups of coconut oil which yielded approximately 30mg CBD per teaspoon.
Next time, I'll use flower from Sacred Smoke Herbals so I have a better idea of the amount of CBD going into my infusion.
Using Your DIY CBD Oil
You can use this oil in any of the edibles recipes on Wake + Bake or in Dazed + Infused that call for cannabis-infused coconut oil.
From my easy cannabis salve to cannabanana bread to weed lube, you can swap this CBD oil recipe in place of the classic THC versions.
Homemade CBD Oil and Drug Testing
Since this creates a full-spectrum CBD oil, there are small amounts of THC-a that decarboxylate into THC when you heat up the plant material.
If you're eligible for drug testing, taking homemade CBD oil internally can lead to a positive test.
Ready to make your own DIY CBD oil?
This post has been a few months in the making so thank you for sending in all your amazing CBD questions to help me get this post into the world.
If you gave the recipe a try, let me know what you think in the comments below!
[sp_recipe]