2020 UPDATE: While this is a very popular post of Wake and Bake, the recipe has improved since I first made a baby with it in 2015. This "Love Butter Weed Lube" version is thick, whipped and some people love it, but others have reported that it can be harder to apply and store.
Some people swear by it. Others end up with a hard chunk that is decidedly unsexy. Because results weren't consistent with different ingredient sources, I went back to the kitchen to see how we could make something better for everyone.
SO… If you love this recipe and you're back for more, I wanted to leave it up. Otherwise, if you're new to enhancing your sexual experience or have been recommended topical cannabis use by your doctor, I want to pass on the new and improved:
It is easier, faster and more consistent. You can also use it to make edibles, as a sublingual spray or put it in your coffee.
I know what you're thinking, "put weed lube in my coffee?" and the answer is yes. If you want to make this recipe, feel free. But if you want the best I've tested so far, check out the new weed lube recipe.
Homemade THC Lube
This whole cannabis lube thing started when I received a call from a wonderful woman who wanted to ask some questions about some of the baking temperatures in Wake & Bake. One thing led to another and she eventually asked if I'd ever used cannabis coconut oil on my lady parts.
Foria had just been released. Articles were popping up with titles like: 8 Things to Know About Getting Your Vagina High [The Frisky] and I Tried That Cannabis Lube and Got High as a Horney Kite [Cosmo] and even I Got My Pussy Stoned with Weed Lube [You're the best, Vice]. I was like, "Whhaaaaaaaaaaaaaaat? I want some of that."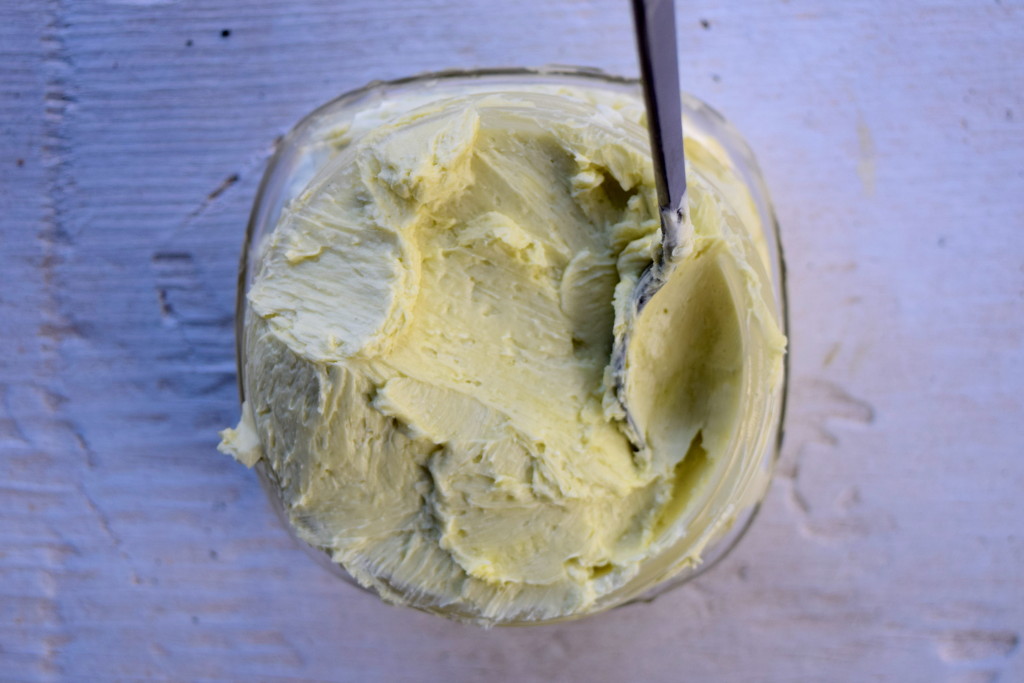 Then I saw that Foria was only available in California and that it costs $88/bottle (for 30 servings), and I was like "Whaaaaaaaaaaat? Maybe I'll make my own someday."
And then I pretty much forgot all about it until an awesome lady who picked up my cookbook called and dared me to try the canna oil as lube.
20 minutes later, something magical was happening.
So I'll start out this post by saying that if you already have some cannabis coconut oil, you already have cannabis lube.
Just go to town.
You'll feel it more if it's the only form of marijuana that you're using at the time, but you'll notice a difference either way. There you have it! Voila! Weed lube!
But…
I couldn't just stop there. I had to take this weed lube thing to the next level and make something that was slick, and long-lasting with some aromatherapy tossed in for the hell of it.
See the recipe down below!
If you're itching to upgrade to an MB machine, use this link. I recommend the MB2 if you regularly make batches of oil that are over 2 cups and if you make a variety of products like tinctures, salves and oils… You can read my review here.
What does homemade weed lube feel like?
This "Love Butter" can be used as cannabis lube, massage oil or as a pain-relieving salve. It's whipped, so it has an incredible texture to it and it melts quickly in your palm creating a slippery surface that doesn't need to be re-applied constantly.
It takes about 15-45 minutes to start really feeling it, so you can do a little prep by applying it to yourself ahead of time, or you can get your lover to give you a massage while you wait for it to take effect.
If you're wondering what using Weed Lube feels like, make sure to subscribe and tune into the Pioneering Cannabis episode coming out next week with Sex and Cannabis Coach Ashley Manta (aka Cannasexual)
Can weed lube get you high?
One of the most popular questions I get asked is… can your vagina get high from using weed lube?
Maybe.
Depending on your weight, the amount you use, and whether there is THC in your homemade weed lube, you may experience psychoactive effects. I've never felt high from using weed lube, but there have been reports. Like most things cannabis, a lot depends on you and the product you use.
The reality is that we don't have any science that can tell us either way on this one and I won't discount people's personal experiences. Let me know in the comments below if you've ever felt high after using weed lube. I'd love to hear about it!
Can you add other essential oils to the weed lube?
Absolutely. We loved Ylang Ylang essential oil. Feel free to experiment with what works best for you, keeping in mind any sort of essential oil that shouldn't be used internally (for example, cinnamon).
How can homemade weed lube be applied?
Applying homemade weed lube is simple. You can rub it in your hands and then apply it wherever you want.
I suggest leaving it in the refrigerator to keep it cool. About half an hour before you're ready to get busy, spoon a bit out and get it all up in there. It will take about 15-20 minutes before you begin to feel the effects and about 30-45 to feel the full extent of the weed lube's power, so give yourself ample time to relax enjoy the time with your partner or yourself before diving in.
You'll notice increased blood flow and sensitivity to the places you've applied the homemade weed lube.
If you generally have issues with pain or discomfort during sex (tightness, insensitivity or underwhelming experiences in general), I really suggest trying this therapeutically and see if it doesn't change your relationship with sexual relations.
As far as dosage goes, I try to start with 30mg and take it from there.
Can men also use this homemade weed lube?
The consensus is that yes, men can absolutely use this homemade weed lube but men may not get consistent results across the board the way women do. MedMen explains that there's no hard and fast evidence on what exactly weed lube does for the body, though men should experience increased blood flow.
Ashley Manta of Cannasexual said that because the tissue is different, "you'd have to dip a penis into a jar of infused oil for 20 minutes theoretically, but I'm not even sure if that would do it."
However, some men have expressed feeling less sensitivity with weed lube (which may be what you're looking for!) while other men rave about it.
What strains are the best for homemade weed lube?
As with all things cannabis, the only way to know is through testing. I'm sure you've heard that some people prefer one strain for migraines and joint pain, yet another group of people will say the same strain made it worse. Strain preference is so personal, that I couldn't recommend a "best strain" that would work for everyone.
I haven't really noticed a difference between strains, but prefer using a 1:1 ratio of THC and CBD.
Is homemade marijuana lube safe to use with condoms?
Since this recipe does contain coconut oil, it may not be compatible with all condoms.
Why not just take an edible or eat the coconut oil?
You could, but weed lube is more localized, meaning that you'll specifically feel the effects in the location that you put it on.
Also, some people experience the effects differently. Smoking may give you one feeling, another with edibles, and yet another with lube.
Why is my cannabis lube not smooth like in the picture?
You may have over whipped it or you might need more oil.
Using too much cocoa butter can also be the culprit.
Even if your weed lube is completely solid, you can still salvage it by reheating it or leaving it at room temperature until it softens. Then you can spoon some into your hands and melt it from there.
If your weed lube isn't thickening up, try refrigerating it for 10-15 minutes and then whipping it again.
How to use this Weed Lube for Topical Pain Management
So, I mentioned that this lube is also a great massage oil and pain-relieving salve and I wanted to talk about the wonders of topical treatments. Using cannabis topically is a great way to relieve pain without experiencing any of the psychoactive effects of marijuana.
Another fun fact? You can use marijuana on your skin as localized pain relief without testing positive on a drug test (but apparently, you can test positive if you have cuts, wounds, burns or get it into your mouth or into your vajayjay). You can always quit your job and train to become a cannabis coach like the rest of us who wanted to avoid drug testing 😉
Topical treatments are my favorite way to treat pain in my lower back and shoulders. I love that I can just rub it on and be pain free and clear headed all day.
To use this weed lube for topical pain management, just rub it on the affected area until you feel relief. Apply throughout the day as needed.
I know you've got questions… Lay 'em on me in the comments below or in the Wake and Bake Facebook Group.
Much Love,
Corinne
*Disclaimer: Keep out of reach of children, pets and unstable adults. Do not operate heavy machinery under the influence of any intoxicant, including marijuana. This is not intended to treat or cure anything. I'm not a doctor. It's just lube. This recipe is intended for medical marijuana patients and for those who live in states where cannabis has been legalized. Please support legalization efforts in your state and/or nation.
[sp_recipe]