I just want to take a second to thank all of you who have sent emails helping me locate lost posts from the deleted site. You guys are seriously the best. I've got almost all of them back together and will be posting them as I have time to update the site. I also have so much new stuff to share (a decarboxylation tutorial, 3 types of cannabis tinctures, an amazing marijuana salve,  the NEW and improved DIY Sprayable Weed Lube (like Foria).
Before the Wake & Bake site got deleted, this was far and away the most popular new post, which is not at all shocking.
This stuff is like gold in our house (used it this morning) and the very first time we tested this batch that you see in these here photographs, the farmer and I created our first baby nugget.
So be careful… This weed lube is baby makin' good.
So we made this stuff, tested it (the way you test this kind of thing) and I ran away to Thailand by myself a couple of weeks later without a clue.
Peeing on a pregnancy test in Thailand…
in a run down hostel by yourself…
on a street lined with lady boy prostitutes…
and realizing that you made a baby testing weed lube?
Priceless.
I'm not sure if it's fitting that my formal internet pregnancy announcement is going on this weed lube post, but it feels so right. Much like this weed lube.
So, without further ado…
Homemade Weed Lube
This whole cannabis lube thing started when I received a call from a wonderful woman who wanted to ask some questions about some of the baking temperatures in Wake & Bake. One thing led to another and she eventually asked if I'd ever used cannabis coconut oil on my lady parts.
Foria had just been released, and all over the internet, articles were popping up with titles like: 8 Things to Know About Getting Your Vagina High [The Frisky] and I Tried That Cannabis Lube and Got High as a Horney Kite [Cosmo] and even I Got My Pussy Stoned with Weed Lube [You're the best, Vice]. I was like, "Whhaaaaaaaaaaaaaaat? I want some of that."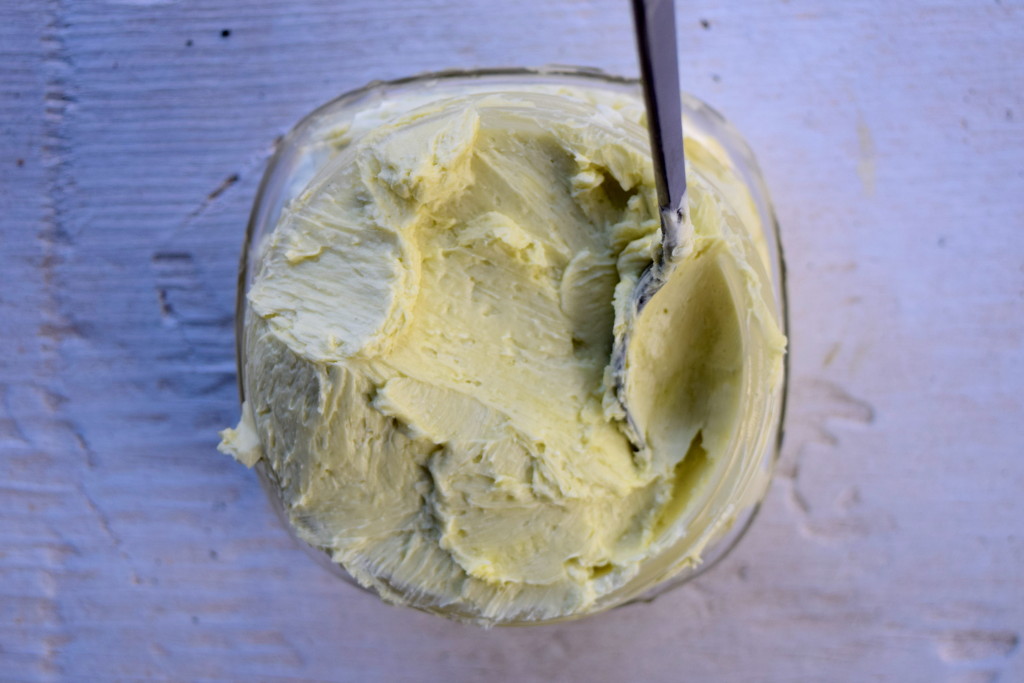 Then I saw that Foria was only available in California, and that it costs $88/bottle (for 30 servings), and I was like "Whaaaaaaaaaaat? Maybe I'll make my own someday."
And then I pretty much forgot all about it.
Then, this awesome lady called me (because if you have the first edition of the cookbook, you've got my number), and dared me to use my canna oil as lube. She said, "I dare you" and I did it because I'm not chicken. About 20 minutes later, something magical was happening.
So I'll start out this post by saying that if you already have some cannabis coconut oil, you already have cannabis lube. Just go to town. You'll feel it more if it's the only form of marijuana that you're using at the time, but you'll notice a difference either way. There you have it! Voila! Weed lube! But… 
I couldn't just stop there. I had to take this weed lube thing to the next level and make something that was edible, slick, and long-lasting with some aromatherapy tossed in for the hell of it.
Nailed it.
This "Love Butter" can be used as cannabis lube, massage oil or as a pain-relieving salve. It's whipped, so it has an incredible texture to it and it melts quickly in your palm creating a slippery surface that doesn't need to be re-applied constantly.
It takes about 10-30 minutes to start really feeling it, so you can do a little prep by applying it to yourself ahead of time, or you can get your lover to give you a massage while you wait for it to take effect.
If you're wondering what using Weed Lube feels like, the ladies at Vice and Cosmo are much less shy about talking about their lady bits on the internet than I am, so go there for more detailed experiences with weed lube.
But… ahem… Ladies… I will say that your vagina can in fact get high. If you have issues with your lady parts (pain during sex, tightness, insensitivity or underwhelming experiences in general), I really suggest trying this therapeutically and see if it doesn't change your relationship with sexual relations.
I'll also say that, on the recreational side, it's just an incredible experience. And by the by, this stuff is also a nice, muscle relaxing massage oil… but I'll get to that later.
I made a big batch of this cannabis lube in my Levo so I could experiment with different essential oils and techniques. Out of the big batch, here's what we really loved:
Most loved essential oil: Ylang Ylang.
Best technique: Whipping it after it cooled a bit.
Best application: Keep it in the fridge. About a half hour before "grownup time", spoon a bit out and… this may sound weird… but get it all up in there. Hang out/make out for at least 15-20 before starting "grownup time" and reapply as needed during "grownup time". This technique really increases sensitivity in your hidden places.
Whew! I am such a puritan that I almost didn't make it through that.
Weed Lube Recipe
1. In a Crockpot or MB Machine, combine:
2 Cups Unrefined Shea Butter or Cocoa Butter (both are edible, Cocoa Butter tastes better… also, these Cocoa Butter Wafers are much easier to work with and are cheaper for some reason…)
1/2 Cup Sunflower or Grapeseed Oil (can also use Jojoba, but it's not edible in large amounts)
2. If using a crockpot, keep it on warm/low for 1-2 hours, stirring occasionally.
2b. If using a Levo, set it to 180° button and the 2 Hr Butter button, and walk away.
3. Pour the oil into a large mixing bowl (or into a couple of smaller mixing bowls if you'd like to try using different essential oils). Add:
4. When it begins to solidify, get out your beaters and whip the weed lube until it's smooth and luscious (yes… fucking luscious).
5. Spoon your amazing homemade weed lube into shallow glass jars or 4 oz salve tins. Label and store in the fridge, out of reach of children and pets. Not intended for use with condoms as the oil can degrade the latex and cause condoms to break. 
Note: You can make a smaller batch of this in a double boiler on the stove or in your crockpot. The recipe is simple and easy to divide if you don't want to use a lot of material trying out weed lube.
If you're itching to upgrade to an MB machine, you can get $30 off by following this link and using the code wakeandbake. I recommend the MB2 if you regularly make batches of oil that are over 2 cups and if you make a variety of products like tinctures, salves and oils… but I'll get to that later too [update: I actually finally got to that!].
Using this Weed Lube for Topical Pain Management
So, I mentioned that this lube is also a great massage oil and pain-relieving salve and I wanted to talk about the wonders of topical treatments. Using cannabis topically is a great way to relieve pain without experiencing any of the psychoactive effects of marijuana. Another fun fact? You can use marijuana on your skin as localized pain relief without testing positive on a drug test (but apparently, you can test positive if you have cuts, wounds, burns or get it into your mouth or into your vajayjay). You can always quit your job and write a cannabis cookbook like the rest of us who wanted to avoid drug testing 😉
Topical treatments are my favorite way to treat pain in my lower back and shoulders. I love that I can just rub it on and be pain free and clear headed all day.
To use this weed lube for topical pain management, just rub it on the affected area until you feel relief. Apply throughout the day as needed.
I know you've got questions… Lay 'em on me…
Much Love,
Corinne
*Disclaimer: Keep out of reach of children, pets and unstable adults. Do not operate heavy machinery under the influence of any intoxicant, including marijuana. This is not intended to treat or cure anything. I'm not a doctor. It's just lube. This recipe is intended for medical marijuana patients and for those who live in states where cannabis has been legalized. Please support legalization efforts in your state and/or nation.
Thank you for supporting this site with purchases made through links in this article.