The edibles world is abuzz with the word "lecithin." You'll see it in oil tutorials and recipes all over the web. It's becoming one of the most important ingredients that marijuana chefs and home cooks are using to take their weed food to the next level.
But…
What is this lecithin, and what does it do?
Why would you use lecithin in Cannabis Oil?
How much lecithin should you use in your edibles?
What kind of lecithin should you use and where can you get it?
Today, we'll tackle these questions and more. This tutorial is also available in the Wake + Bake cookbook, so if you're more of a hard copy kind of guy or gal…you can check that whole thing out.
Next Level: Sunflower Lecithin in Edibles
In a minute, it's going to get real technical, but before that – let's go over the basics.
What is Lecithin?
When added to Cannabis coconut oil (or hash butter), lecithin increases absorption of THC and other cannabinoids into your cell membranes and speeds up the process. It doesn't technically make your oil "more potent."
It does makes your oil more effective, so a 100mg dose will still be 100mgs, but the effects will come on faster and will feel stronger. This way, you can use less oil in your recipes (great for conserving your ganja) or use the same amount (great for stronger edibles). Player's choice.
Need help dosing your edibles? Check out the Wake + Bake dosage calculator.
Is Lecithin Bad for You?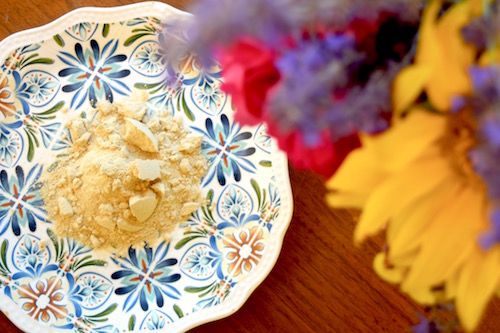 Lecithin has gotten a bad wrap because of its use in processed foods, pesticides, chemicals, and drugs, and most hippies see the word "lecithin" and go running for the hills. It's usually used in the form of Soy Lecithin, which has been shown to be mostly genetically modified.
But lecithin has an interesting effect on your health. If you have the time, I'd suggest you check out all of the amazing things that lecithin does in your body.
If you're in a hurry, a few highlights:
It aids in the immune system by coating our red blood cells and providing protection against the invasion of viruses, bacteria, etc.
It's a solvent for cholesterol, triglycerides, and gnarly fats. It prevents hardening of the arteries, stroke, and other heart issues.
It improves memory, helping brain cells develop, and aiding in the transmission of nerve impulses in the brain.
And sooooo much more
Since lecithin already plays a major role in the absorption of nutrients into the cells, it's no wonder that adding lecithin would aid in the absorption of THC and other cannabinoids.
If you're already lecithin deficient, which I suspect many of us may be (especially after the Great Fat Scare of the 1990's), our cell membranes are relatively hardened, and it's tough to get anything through.
If you're exposed to heavy metals, pollutants, hard drugs/pharmaceuticals, food additives, pesticides, etc., your cell membranes are even tougher.
Adding lecithin to your diet (and to your edibles) can be a great way to increase nutrient absorption and help to get your cell membranes to loosen up.
I know what you're thinking, hippie: "I'm not going to put GMO Soy Lecithin in my body temple just because you're telling me that my body temple likes it." Totally! I'm with you.
Check out the Sunflower vs. Soy section below and know that these days, there are finally organic and non-GMO options for people like us.
How Lecithin & THC Work Together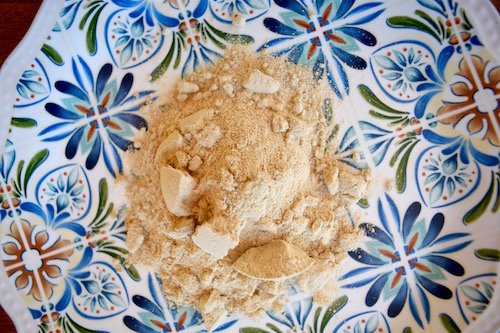 Here's an interesting and science-y way to look at what's happening with lecithin in Cannabis oil from the folks at THC Geek:
"Since lecithin contains phospholipids, the process of encapsulating the THC, and making it water-soluble and absorbable, can be completed prior to ingestion. This liposomal encapsulation process that lecithin facilitates, makes edibles especially potent, since the micelles that it creates serve as a disguise for the THC resin inside the body, allowing it to be absorbed more readily.
As if that were not enough to merit consideration, lecithin also serves as a surfactant (a compound that lowers surface tension), helping distribute the THC throughout the body more quickly."

Sunflower Lecithin vs. Soy Lecithin….Granules vs. Powdered vs. Liquid vs. Gel Caps
In the past, I avoided putting lecithin in Cannabis oil because I thought one of the only sources was Soy Lecithin, which (unless otherwise labeled) is known to be almost completely composed of GMO soy (which is gnarly for many reasons). I could only find organic Soy Lecithin in mega bulk, so I gave up on it.
But when I was working on the second edition of the Wake + Bake cookbook, I found out that sunflower lecithin is a great alternative. Since 2020, I have only used this Organic Sunflower Lecithin. It's marketed for lactating, but it's organic and hexane-free!
The sunflower lecithin gel caps were the only thing I could find at first, and they technically probably worked, but they were a pain in the ass to cut open and gave the oil a very gel-capped taste/smell until the oil sat in the fridge for about a week. They were also much more expensive.
I recommend using liquid, granules, or powder.
Ratio for Lecithin in Cannabis Oil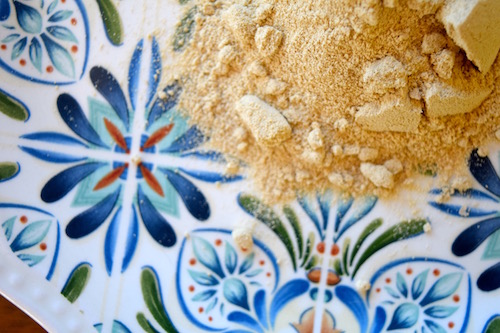 This part's easy…for every cup of oil you use, use 1 Tablespoon of Sunflower Lecithin granules or liquid.
For example…
1 Cup Coconut Oil
1 Tablespoon Sunflower Lecithin
7-14 Grams Cannabis Trim or Dried Buds
You can incorporate lecithin into a Cannabis coconut oil recipe or the hash butter method.
Much Love,
Corinne
For Special Brownie Points: Have you used lecithin in Cannabis oil before? What kind did you use? Did you notice any difference?