[Update: The Nova has been discontinued and replaced with the improved Ardent Mini. One of the big differences is that you can decarboxylate weed, infuse and even bake in the Mini. Ardent also released the larger Ardent FX which is perfect for doing bigger batches.]
Who has two thumbs, a big jar of cannabis to play with and is obsessed with all things decarboxylation?
This girl!
I'm sure I've mentioned this a few times before, but I'm going to go ahead and just repeat it.
Decarboxylating weed is one of the most important techniques for getting effective and potent edibles, every time, no matter what you're making (edibles, tinctures, topicals, etc.).
I'm learning more and more about decarboxylation every day. You can read more about the science behind decarboxylation in these posts:
Since starting this blog in 2013, the science behind decarboxylation has been the single most important piece of information I've learned about working with this plant medicine.
I've been decarboxylating in my oven for many years. But today I want to share some info about a product that I'm really excited about.
I've recently noticed that a lot of you end up here after Googling "decarboxylation machine" and I had one reader ask me if I'd ever tried the Nova decarboxylation machine from Ardent Cannabis. Since I make more edibles and cannabis topicals than ever these days, I wanted to see if having a decarboxylation machine is really worth it in the long run.
I mean, why buy something that I can do in my oven? Right?
What I found out was surprising.
It was so surprising that I'm vowing right now that I'll never ever ever decarb in anything but in a decarboxylation machine like the Nova again. Why? Keep reading…
What is a Decarboxylation Machine?
[I wrote a detailed post on decarboxylating cannabis a while back, but this post will contain some more up to date data than that last one.]
The process and reasons behind decarboxylation are relatively simple, but because cannabis is still just coming out of the closet, baking your cannabis before cooking with it seems mysterious. It's like some kind of hippie alchemy or marijuana urban legend.
But it's more science-d up than those things and it's one of the keys to creating effective edibles and tinctures.
Decarboxylating cannabis uses heat to convert THCA into THC by removing a thing called a "carboxyl group" from the compound.

You want to do this if you want a psychoactive experience (to get high) because THC is psychoactive, while THCA is not

.

It also turns CBDa into CBD using the same process.
While THCa and CBDa have their own benefits, the decarbed compounds THC and CBD have been more widely researched, are more powerful and are more desirable for most people.
There are a lot of myths about the process of decarboxylation and I was so excited to read this post from Ardent Cannabis that really lays it down and corrects some of the misconceptions about temperatures and methods.
It's really awesome that people are getting the data together and giving us new resources to draw from to make better and better medicine with less plant material.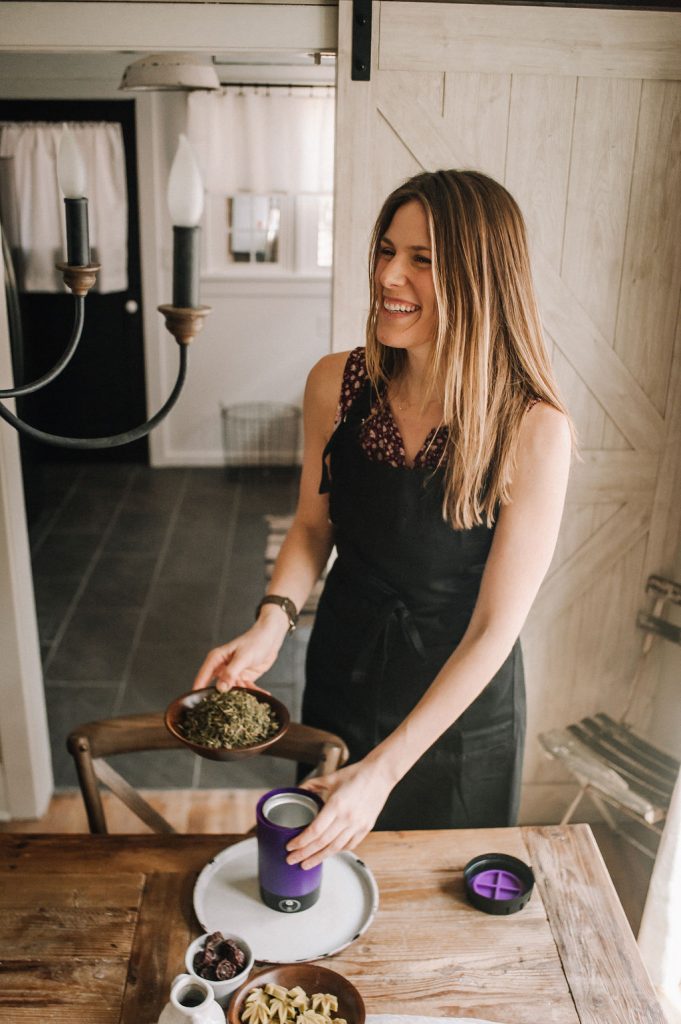 It's even more awesome that they created this little purple dream machine that completely decarbs your material every single time. Why is that so awesome? Well, the data shows that…
Decarboxylation without a Decarboxylation Machine can cause THC Loss and Incomplete Decarb
One of the things that I started to notice from decarbing material in different ovens over the past couple of years was that the same materials created batches of oils that had different potencies.
Since I'm still waiting for an inexpensive and reliable home test kit to come onto the market (fingers crossed), I have no idea how much THC was in different batches and have to use the human guinea pig test along with doing calculations on the edibles dosage calculator.
At any rate, I had a feeling that when I made the oven switch 6 months ago and a year before that, something had changed even though my decarb method hadn't.
Ardent's testing showed exactly how much I was potentially missing out on due to oven temp fluctuations and changing ovens due to moving. I was shocked. I was also shocked when I found out that my toaster oven would have done a better job.
Check this out…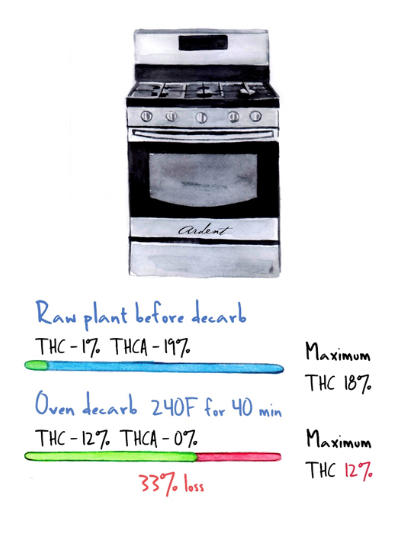 Oven decarbing can cost you a 33% loss of THC.

A decarb in the toaster oven will lose about 16%.
Can anybody say "no bueno"?
While decarboxylation in an oven or toaster oven is definitely better than skipping the decarb process entirely, you're definitely not getting the most out of your plant material.
Is Your Decarboxylation Method Costing You Money?
I use material left over from my home grow, so I can always just make/eat/massage in a little more THC. Cannabis flows freely from my backyard and I'm lucky in that way. But that hasn't always been the case, and when I lived in the prohibition states, every bud was precious to me… and it was really really expensive.
So I started doing a little math. Say you're somewhere on the east coast or the midwest where an ounce can run around $300.  If you decarboxylate in the oven, you're losing over $100.
After learning all of this and coming to grips with how expensive and wasteful it is to decarboxylate in the oven, I'm totally on board with the idea of transforming all of the cannabinoids in your bud into their active form.
Decarboxylation in the Nova… 0% loss. 100% THC conversion.
Okay… It might say that in some lab findings, but does it really work? Will you really notice the difference?
Well, It totally works. Wanna know how I know?
I experimented by eating two nugs that were the same weight of the same variety of cannabis. One was oven decarbed and the other was nova decarbed. I tested it on different days after eating similar things, at the same time of day and here's what happened…
I definitely felt the effects of THC after eating both of the nugs. It took about the same amount of time (30 minutes) for me to begin feeling really effective pain relief. The one that was decarbed with the Nova had a noticeably stronger effect and pain relief lasted for about 2 hours longer.
After using the Nova decarboxylated material for a week and figuring out my new dose, I was able to cut my dose in HALF.
Yes, half.
How The Nova Works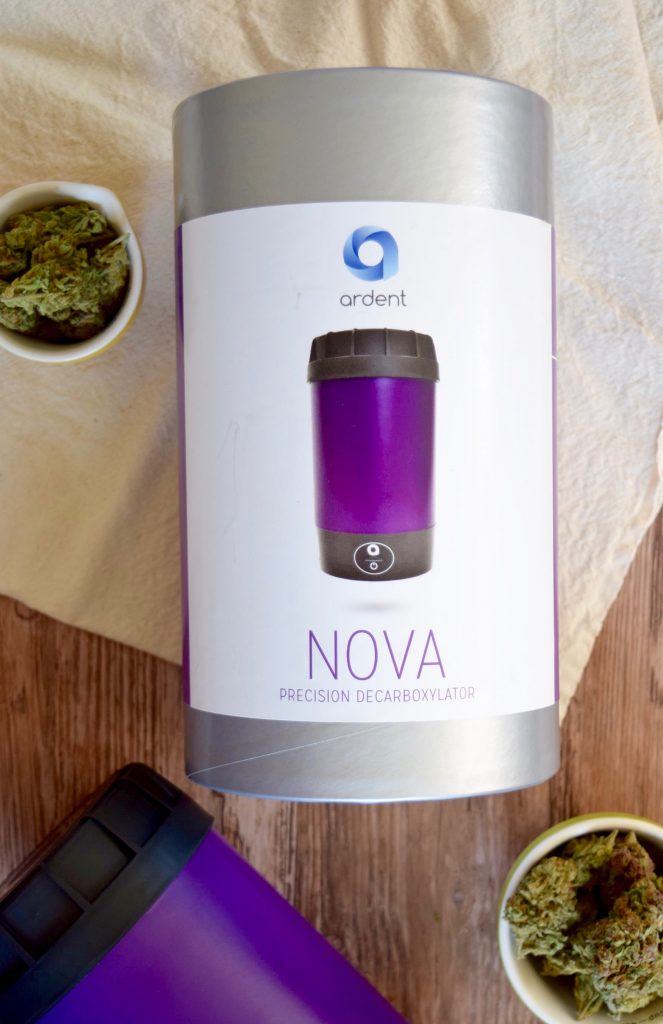 The Nova is possibly the simplest device on the planet. You put your bud or trim in the machine, cover it with the silicon lid and then seal it with a plastic lid. Plug it in and hit the power button. It turns green when your bud is fully decarboxylated.
Benefits of Using the Nova Decarboxylator
If you've read any of my other reviews, like this one about the Magical Butter Machine, you know that I love pros and cons lists. So, let's do this!
Less Smell: This is one of the biggest pros outside of the stuff we've already covered. The Nova is airtight and doesn't smell at all, which makes it a discreet cannabis kitchen device. When I decarb in my oven it fills my house with the distinct aroma of toasting weed. Not so with the Nova. I completely forgot that I was decarboxylating a batch several times throughout the process because I couldn't smell it.
Flavor: Remember when I ate one bud that was oven decarbed and one that was Nova decarbed? The Nova bud tasted less bitter and more fruity. Oils and tinctures seem to have a more delicate flavor as well.
Full decarb saves money: If you use less cannabis, you spend less money.
Use less cannabis: Again… If you use less cannabis, you use less cannabis.
Keeps more terpenes and cannabinoids in tact: With the Nova, you don't risk temperature fluctuations that could annihilate every single terpene and cannabinoid in your plant material. 
The Nova is Cleaner: My previous method always left me scraping the kief off of my pan with a plastic card. Not sure if it's the surface material or the level of heat, but I haven't had an issue with this in the Nova. You can just clean it with warm soapy water and rinse it right out.
One Button Operation: Push a button. Forget it. It's foolproof to operate, which is incredible because you're making medicine. Anyone can use this decarboxylator in virtually any condition.
[NEW] You Can Infuse Directly in the Device: With the new infusion sleeve, you can make infusions directly in the Nova, meaning it's the only device you really need. There's a limit to how much you can decarb and infuse in the device (see comments below), but it's a perfect all in one for most home cannabis cooks.
Cons
So, using the Nova for decarb will definitely save you money/cannabis, and it's really easy to use, but there are a couple of downsides.
Small Capacity: The Nova only does small batches of an ounce or less. It's totally fine for most projects, but I hope they'll make a bigger one for making large batches of homemade CBD oil.
It Costs Money: The Nova retails at $210 (you can get it here with FREE SHIPPING). So here's what I'll say about cost… If you make brownies once a year for Superbowl Sunday, it's not for you. Slap your plant material in a toaster oven and call it good.
BUT if you make tinctures, candies, or capsules regularly, I'd consider it essential.
If you decarboxylate more than a couple of ounces a year and you want to make sure you're not losing money and THC/CBD every time, then it's absolutely worth it for you. If you're looking for an amazing gift for a relative that uses cannabis therapeutically, then the Nova is absolutely for them too. 
For Special Brownie Points
So, it's past my word count and my bedtime, but I'd love to turn it over to you guys. Have you used one of these? What are your thoughts? Have you made any cool recipes in the nova or done any experiments? Share your results in the comments below. 
Much love,
Corinne