Ever since I gave up food blogging (about a week ago), it feels like a part of me is missing. Am I an incomplete person without food porn? Maybe. Is that sad? Yes. Will I post this cannabis salve instead just so I can curb the food porn itch? Obviously. Can't stop. Won't stop. Want to stop. Help me. Is there a support group for recovering food photographers? I hope so.
Am I asking way too many questions in this post? Fo sho.
But is this cannabis salve worth it? Totally… keep on going for the recipe.
Pain Relieving Cannabis Salve
Luckily for all of you and for the internet at large, I have a ridiculous backlog of stuff that I haven't posted yet. When I say the word ridiculous, I mean that in the had-to-upgrade-my-external-hard-drive kind of ridiculous.
I was going through my old photos while the babe was asleep and I realized that I could probably do a post every day for the next year and not run out of recipes.
Will I do that? Maybe. It sounds like a great beginning to a romantic comedy.
Are there people who read this blog who are not down with me and my blog stunting? Hell no. Even if there were, I'd just delete their comments. You're in my world naow.
All nonsense aside, this salve is incredible for muscle pain relief and dry itchy skin. You just massage it in and wait about 20-40 minutes for the magic to happen. If you want the magic to happen more quickly and deeply, massage it in, wait about 10 minutes and soak in a hot bath for about 20 minutes.
Cannabis Coconut Oil + Olive Oil + Beeswax = A Simple Cannabis Salve
I'm not a huge fan of solid salves that are more wax than anything else. Most of the cannabis salve recipes out there make a firm end result. And that's totally fine, but it's not what I like to use. I wanted to make a cannabis salve that is non-greasy, easy to use at any temperature, is great for the skin and has a good absorption rate. This salve ended up being the perfect ratio for those qualities.
I guess technically it falls somewhere in between a salve and and ointment, but I'm just not into that second word, so we're going with salve.
It's balanced with more cannabis coconut oil than beeswax and a smidge of olive oil so it has a smoother texture and it absorbs easily. The beeswax makes the salve non-greasy and has skin protectant, healing and slightly anti-inflammatory properties. If you'd like to switch up the ratios to make a custom cannabis salve, I found this article about beeswax proportions to be very helpful.
You can add essential oils of your choice or infuse the salve with some calendula or other herbs.
Tips & FAQ
I get my salve making supplies (and most of my herbs) from Amazon if I can't find them locally. Beeswax Pastilles are easier to work with than the gigantic and expensive blocks of beeswax I've found nearby.
Beeswax is pretty delightful in general, but is not technically vegan. If you'd like to make a vegan cannabis salve, just substitute cocoa butter or shea butter for the beeswax.
This is a great way to use a batch of weed oil that doesn't turn out quite right.
Store this cannabis salve in a dark cool place. It stores forever, but if it melts and solidifies, the texture changes a lot.
If you'd like to calculate the thc in this recipe, check out the Calculating Your THC Dosage post. I'm working on a thc dosage calculator, but until then, you can learn how to get a general idea of the THC in your cannabis salve and other edibles.
Easy Cannabis Salve Recipe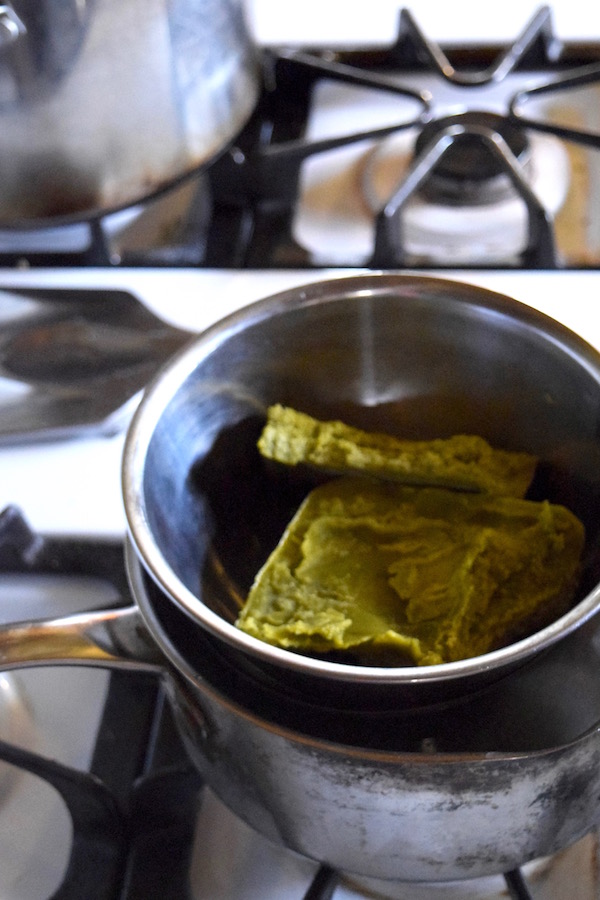 1. In a double boiler or makeshift double boiler over high heat, melt:
2. Add:
1/4 cup organic olive oil (I use this one or Napa Valley Naturals)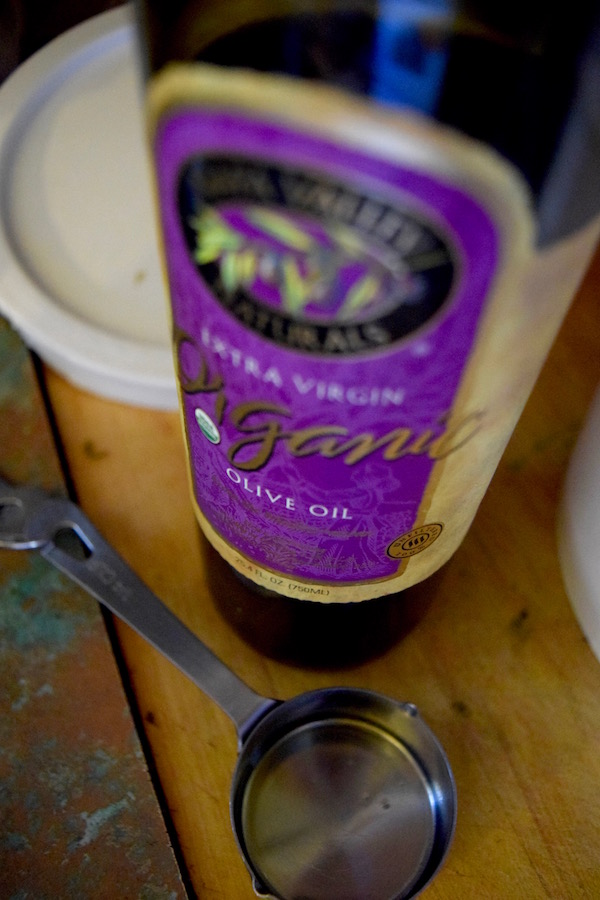 3. Add: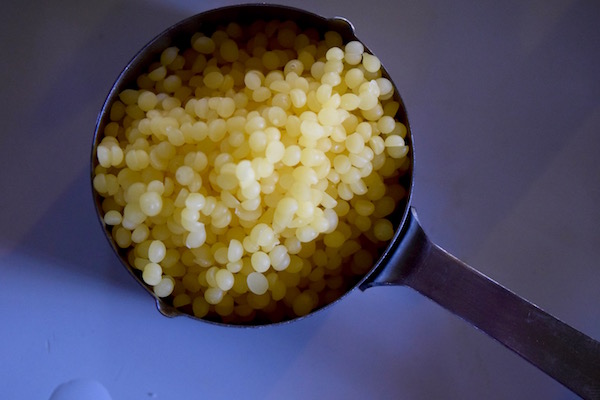 4. Whisk occasionally until beeswax is melted. Add essential oils (optional- I like tea tree and peppermint)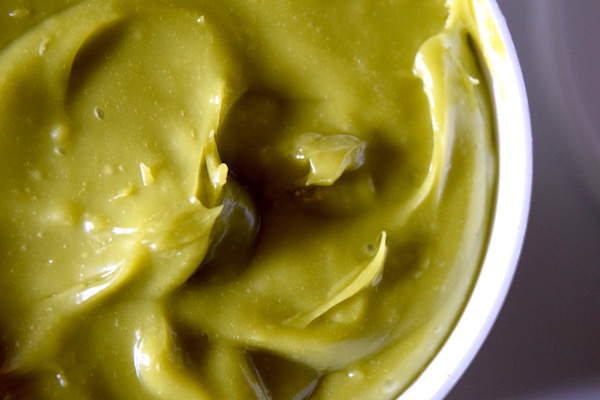 5. Pour Into a medium mixing bowl and allow it to cool and solidify partially.
6. Whip the salve for a minute or so and transfer into salve containers. Cool, cover and store.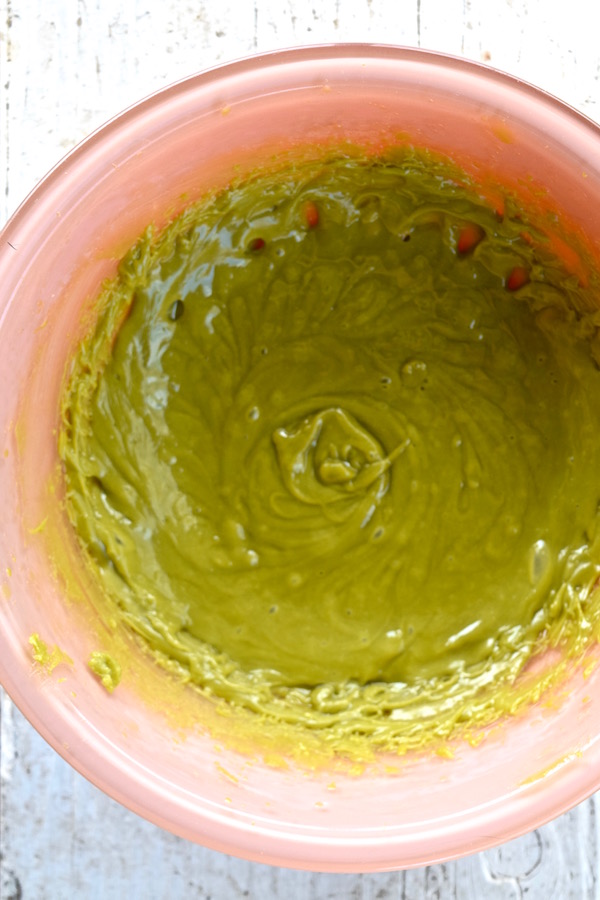 Holla in the comments section if you have questions or if you'd like to share your experience with this weed salve.
Much love,
Corinne
Disclaimer: This is not intended as medical advice. I'm not a doctor. I'm also not a lawyer and can't defend you if you get busted trying to make this recipe in a state that still considers possession or cultivation of cannabis a criminal act. I don't agree with this law, but I'd never advocate that you break it. Jail would suck. Instead, I strongly advise that you work to change the law in your state or nation by supporting and being active in grassroots organizations that are trying to legalize cannabis in your area (they're everywhere). This recipe is heretoforth only intended for people who live in states or countries where medical or recreational use of cannabis is legal, who are 21 and older, of sound mind and who understand that operating heavy machinery (cars, trucks, planes, etc.) under the influence of any intoxicant, including marijuana, is incredibly dangerous, immature, and wholly stupid. Please don't ever eat and drive. Support public transportation or use the two legs that evolution gave you and walk your sweet ass wherever it is that you need to go.
//
[sp_recipe]