When you Google "cannabis podcast," you'll be overwhelmed by hundreds and hundreds of them. I should know. My podcast app told me that I listened to over 32 days of podcasts in 2022, and most of that was about our favorite plant.
Thirty-two DAYS! That's a lot of listening.
Now, were all these weed podcasts good?
No.
So, instead of you having to weed through the bad ones, today I'll share my favorite cannabis podcasts in five different categories.
What is the Best Cannabis Podcast to Listen to Today?
1. The Wake and Bake Podcast – The Best of the Best!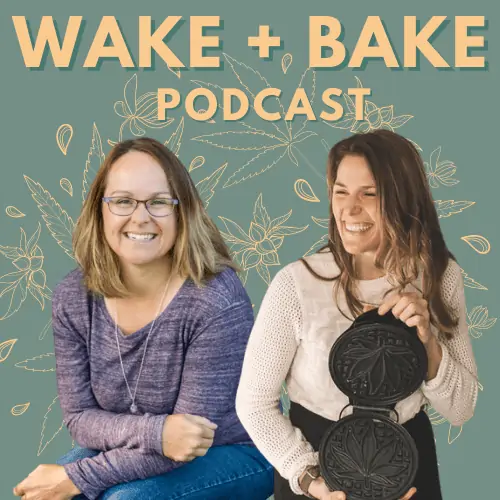 If you're looking for a cannabis podcast that teaches you about the science and the stories behind cannabis (and is a hoot to listen to!) The Wake and Bake Podcast should be first on your list.
Okay, I may be a little biased, being the co-host and all, but let me explain.
Corinne Tobias (founder of Wake and Bake) and I are both Cannabis Coaches and educators. We have a combined total of over 15 years of working in this industry, learning about cannabis, and teaching others about its magic.
In our new cannabis podcast, we're diving into some of the more nerdy sides of the plant while not forgetting all the lives it impacts daily.
But don't take my word for it! One review says, "I'm super excited about this podcast! I've listened to them all twice now! Thank you, ladies, for doing this!"
Each episode is filled with easy-to-understand information, covering healthy cannabis use, new research and developments, working in cannabis, and more.
The Best Wake and Bake Episodes:
And for those who prefer to watch rather than listen, all of our episodes are available on YouTube along with your favorite podcast app.
The Wake and Bake podcast will make you laugh, teach you something new, and it will remind you why you love this plant so much in the first place.
Here's what our listeners say:

"I can't tell you how over the moon I am with your podcast. I'm sharing with all my like-minded folks. It's exactly what I've been looking for. I've listened to your Is Cannabis Psychedelic? episode at least three times now. Much love."
"Your podcasts are so awesome and fun!"
"You ladies rock! I cannot wait to hear more super nerdy science. I, too, am surprised to have become a science nerd!"
2. Bite Me: The Show About Edibles – The Best Weed Podcast for Canna-Chefs
When I first found the Wake + Bake site in 2017, I felt like I'd discovered a goldmine. Corinne combined my two loves of cooking and cannabis and threw in a side dish of funny jokes. I was in love, and I fell down the Wake and Bake rabbit hole.
That's how I felt when I started listening to Bite Me: The Show About Edibles. I listened to one episode, and suddenly I was dozens deep.
Marge has a way of making you feel like you're hanging in the kitchen with her. She peppers the podcast with fun stories and anecdotes, and she has a superb on-air voice!
This cannabis podcast covers everything from making simple cannabutter to fancy recipes like Sweet Potato Rounds with Herbed Ricotta and Walnuts. 
She has a variety of guests who cover a huge library of topics. That means you can fall down the rabbit hole with me. Here are my recommendations for where to start
Start your Bite Me listening experience with these episodes:
3. Great Moments In Weed History – The Best Cannabis Podcast for History-Buffs
If you love history, you're in luck. Cannabis has been around for thousands of years, and that means there are a lot of stories to tell.
That's where Great Moments in Weed History come in. Co-hosts Abdullah Saeed and David Bienenstock dive deep into the fascinating 10,000+ year relationship between humanity and cannabis.

Each episode highlights a different cultural hero like Maya Angelou, Damian Marley, and Jack Herer and their relationship to the plant.
One thing that sets this podcast apart is that the hosts used to be involved in corporate cannabis, so they have that lens, but this podcast is dedicated to talking about the plant, the people, and the community.
My favorite Great Moments in Weed History episodes are:
4. Curious about Cannabis – The Best Cannabis Podcast for Science Nerds (and Wannabe Nerds!)
I have to admit I didn't care much for science for most of my life. It wasn't until I learned about how and why cannabis works that a switch flipped in my brain. Suddenly I needed to know absolutely everything about how and why this plant works.
That obsession led to listening to a lot of the Curious About Cannabis podcast.
Host Jason Wilson is a cannabis educator extraordinaire. He is trained as a science educator and is one of the best people I know to teach the world about the nerdy side of cannabis.
If you want to go more than surface-deep on cannabis, you're in luck! Jason has a huge backlog of episodes for you to enjoy.
My top Curious About Cannabis Picks are:
5. The Periodic Effects Podcast – The Best Marijuana Podcast for Science and Business
When I started training at the Cannabis Coaching Institute, I consumed the backlog of this podcast as quickly as I could. The host, Wayne Schwind, has interviewed hundreds of cannabis scientists and business owners.
One of the things I like about Wayne is that he doesn't pretend to be the expert on all these topics.
He is a small cannabis edibles business owner himself. So when he asks business questions, he hopes the answer will help him and his audience.
And, although he is a trained scientist, he doesn't come to the plant from a botanical background. So when he interviews scientists, he's able to get them to explain things in a way that everyday people can understand.
His science-based episodes are my favorite, especially the ones with Emma Chasen. She is an excellent cannabis science educator and a must-listen for anyone new to this plant.
Check out these Periodic Effects episodes first:
#50 and #51 Cannabis Science 101: From Newbie to Novice with Emma Chasen (in two parts)

#160 Healing the Mind & Body with Cannabis with Dr. Dustin Sulak (We LOVE Dr. Sulak at the Cannabis Coaching Institute)
#288 How to Buy Weed: The Only Strategy You Need
Our Top Three Picks for Best Podcast of 2023
Here's a quick summary of our top three picks:
The Wake and Bake Podcast — best of the best
Bite Me: The Show About Edibles – The Best Weed Podcast for Canna-Chefs
Great Moments In Weed History – The Best Cannabis Podcast for History Buffs
Maybe all this podcast talk has you thinking about creating your own cannabis podcast. Learn all about how to get paid to write and talk about cannabis in the Cannabis Careers 101 Free Class!
Related Articles