Finding the perfect gift for the cannabis enthusiast on your list can be a bit challenging. It's not like Best Buy is stocked to the gills with the newest in cannabis gadgetry. Heck… in most states, you still can't legally grab your dope loving granny a dime bag to stuff in her stocking. Here are some of the coolest products I've seen in cannabis online this year (2015). Some of them I own, some of them are on my "when I'm Oprah rich" list, and some of them I'm buying for my friends and family this year.
The Joker
Novelty items like Spliffgami!, Giant Stash Pillows and High Socks are all affordable ways to share some holiday love with your favorite stoners. But, let's be for reals… the only reason this section is in here is so I could use "smoker" and "midnight toker" as the next two sections. I'm not a huge pot novelty fan, but there are some things in this category that I personally own and totally love.
The Pipe Mug
I used to have three of these beautiful durable Pipe Mugs from Zang Products. Two of them have "wandered off" recently and I don't blame whoever took them. They're awesome… (plus, I used to steal from Claire's in the mall, so it's probably karma)… I'm crossing my fingers that Santa brings me replacements this year, because it is so much fun to bust out the pipe mug set whenever someone stops by for coffee. For those of you who prefer to use concentrates, someone finally invented these beautiful glass Rig Mugs for your Wake & Bake adventures.
The Toker Poker
The farmer is the kind of guy who will use anything to clean out a bowl. Stems, all of my bobby pins, our nice trim scissors. He don't give a fuck… So when I brought a Toker Poker home last year, I had no idea how it would be received. He loved it! And while he eventually lost it, it lasted a lot longer than most small items that the farmer owns. I'll be getting him a few more this year.
Custom Shwag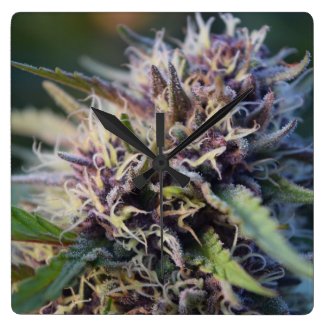 Every year, I make a ton of my holiday gifts on Zazzle. I make my loved ones business cards, wrapping paper, and custom onesies for the babe (she looks too damn cute in her "westside for life" one).
I'm always so surprised at all of the things you can make on there.
This year… I'm going dishtowels, aprons and clocks! Why? Because Zazzle is putting on a clock sale today (coupon code: crazyweekend) and dishtowels and aprons are my joint. These clocks are 65% off making them something like 12 bucks. Cray.
If you like these weed photos but don't want to become your friend group's resident clock nerd, there's a ton of other, more normal stuff, that you can customize on the site. Check out Wake & Bake stuff on Zazzle and let me know if you have any requests for other things you'd like me to slap some weed porn on 😉
The Smoker
If your local head shop is still selling glass from the 70's and you'd like to impress your loved ones with something new to pass around, here are some of the coolest pipes I've seen this year:
Theseus Bubbler Hybrid Spoon
The inginuity of this piece really speaks for itself once you see it in action. The Theseus is part bubbler and part spoon which makes it totally awesome. Check out the ginormous video below to see how it works. It's what I'm getting the farmer for the holidays this year so I'll give you guys an update as soon as we get to try it out.
Pyptek
This virtually indestructible pipe from Pyptek combines the durability of a metal piece with the quality of glass. I have a mid-sized one and I'd love to gift their chillum style pipe that would be perfect for bringing along on hikes. But it really doesn't get any more baller than smoking out of the Titan (hint: it's the giant one). I also love that they have a couple of colors that are suitable to my lady like tendencies without being ridiculously girly. That purple is illll.
Oceantokes
I can't even describe how much I love Oceantokes. It's the most simple pipe on my list and (you got me) it's not technically glass. It all started with one shell turned pipe on a California beach and is now a phenomenon that I seem to be seeing everywhere. These days, the shells come from the shores of Indonesia and are fitted with a small screen. If you're looking for a gift for your favorite sustainable stoner, you can't get less wasteful and more awesome than this delightful, beautiful and unique piece.
The Midnight Toker
A vaporizer is a must give to anyone who wants to puff discreetly or for your super health conscious hippie aunt.
Magic Flight Launch Box
I LOVE my magic flight launch box vaporizer. It's cute, portable, uber discreet, it's made out of wood and it has a precious quote about love etched into it for a little added hippie flare. If you're looking for a stylie flower vaporizer for on the go… this one is it.
It's easy to clean, really affordable and the customer service is absolutely excellent. You can also get some really sweet accessories that turn it into a great social smoking piece.
The Volcano Digital Vaporizer
The Volcano is the very first vaporizer I'd ever used (back in 2005ish… i think). It was an incredible experience back then, and it's still one of the best vaporizors on the market. It's large and in charge, so if you're looking for a resident vaporizer or you need to heavily medicate without destroying your lungs, the volcano is your girl.
The Vapexhale Cloud EVO
This is one of the highest rated vaporizers on the market. The EVO from Vapexhale is considered a desktop vape, so it's not super portable, but it's not as bulky as the volcano.
This model was crowdfunded and has an excellent, attractive design and apparently the smoothest toke in the biz. After reading tons of reviews and doing a bunch of research, this is on my personal wish list this year.
They also have a sweet cyber Monday deal going this week, so now is a good time to grab one.
The Grower
Heat Mats
We got these heat mats to use for cloning and for starting our regular organic veggie seedlings. They are HUGE! Which is awesome if you have more than a couple of trays going at one time and you don't have a ton of outlets.
Felco Pruners
These are just… it. If you're shopping for someone who does a lot of pruning on large greenhouse or outdoor plants, they will supremely love these Felco F2 Pruners. They're "the gold standard of pruners" according to the top review on Amazon. Agreed.
The Eater
Ah yes… Edibles. Weed food. Stoner sustenance. Pothead provisions… If someone you know loves edibles, giving them the gift of homemade ones will save them a boatload of money, allow them to create healthy edibles recipes, and will make them really really love you.
Magical Butter Machine
I talk about this gadget all of the time, so if you read this here blog, it's probably no big surprise that I think you should give it to someone that you really really like. It's also probably no big surprise to you that I also want to help you score $30 off the best holiday gift any edibles lover could ask for. Use the coupon code wakeandbake!
NutriBullet
The Nutribullet comes in handy time and time again. One of my favorite ways to consume cannabis is by infusing smoothies or lattes with cannabis honey and this handy little gadget is absolutely necessary.
I hope you're all having a delightful holiday season and would love to know what you're getting your favorite cannathusiasts this year… Lemme know in the comments below 🙂
Much love,
Corinne
Thank you for supporting this site with purchases made through links in this article.
As always,
standard disclosures apply
Our Disclaimer: We are not doctors, lawyers, nutritionists, pharmacists, etc. This website, blog and all its contents are for informational purposes only and contain only the opinions of the author. We make no claims as to it's accuracy. Please consult a doctor before making any changes to your health. FDA Disclaimer: These statements have not been evaluated by the Food and Drug Administration. These products are not intended to diagnose, treat, cure or prevent any disease. Plants Everyday, Inc. assumes no responsibility for the improper use of and self-diagnosis and/or treatment using these products.