Well, I've changed my mind once again…
Remember when I said these were the best pot brownies? And then I was all like, "Nuh uh… THESE are the best weed brownies"?
Well, now that we're moving into month of the flippy floppy libra, I'm going to have to turncoat again and declare that THEEEEESE are the BEST weed brownies in the WORLD.
This Paleo Vegan Weed Brownie Wins!
While I love the other two recipes, the brownie bites from Wake & Bake are too sugar-filled for me, and the raw weed brownies could not be eaten warm out of the oven (!) and… there was no batter whisk (!!). I love healthy things, but what's the point of life if there is no batter whisk or warm brownies?
When I used to talk to the press and do interviews while promoting Wake & Bake, I was always asked about weed brownies and my response was pretty lame. I was so whatever about brownies.
I didn't have an opinion and I really thought that the whole weed brownie thing was a dying trend now that we have tons of amazing new ways to ingest cannabis.
Pot brownies are just soooooo prohibition.
I'm not sure why I then became so obsessed with finding the perfect healthy weed brownie recipe, but here I am. 3 years later, over 1 million blog views, and I was still testing weed brownie recipes. It was worth the wait, because these. are. perfect.
These fudgy weed brownies are sweetened with just a bit of maple syrup or honey so they won't leave you with a sugar high or stomach ache. They're filled with protein and healthy fat and nutrient superfood cacao (cocoa is fine if that's what you have on hand). They're also delicious.
A pan of these vanished when some friends came to visit this summer and I made two more that month. I rarely make a recipe more than twice a year because I'm always testing new things, but I'm hooked.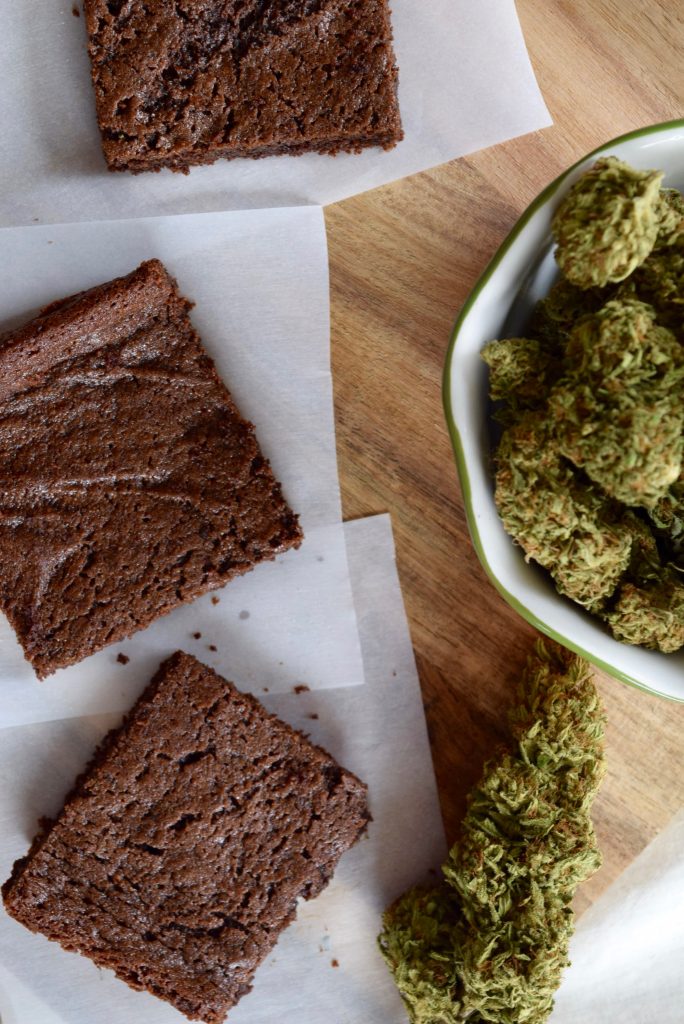 Did I mention that these take almost no time to make? And they only require one mixing bowl, one whisk and one baking pan, so clean up takes 2 minutes? And that they're healthy and delicious? See…
WORLD'S BEST WEED BROWNIE
The recipe contains 6 tsp doses of cannabis and makes 6 big weed brownies, but you can add another tablespoon of oil to make 9 servings or to up the potency if you're using oil that isn't as strong.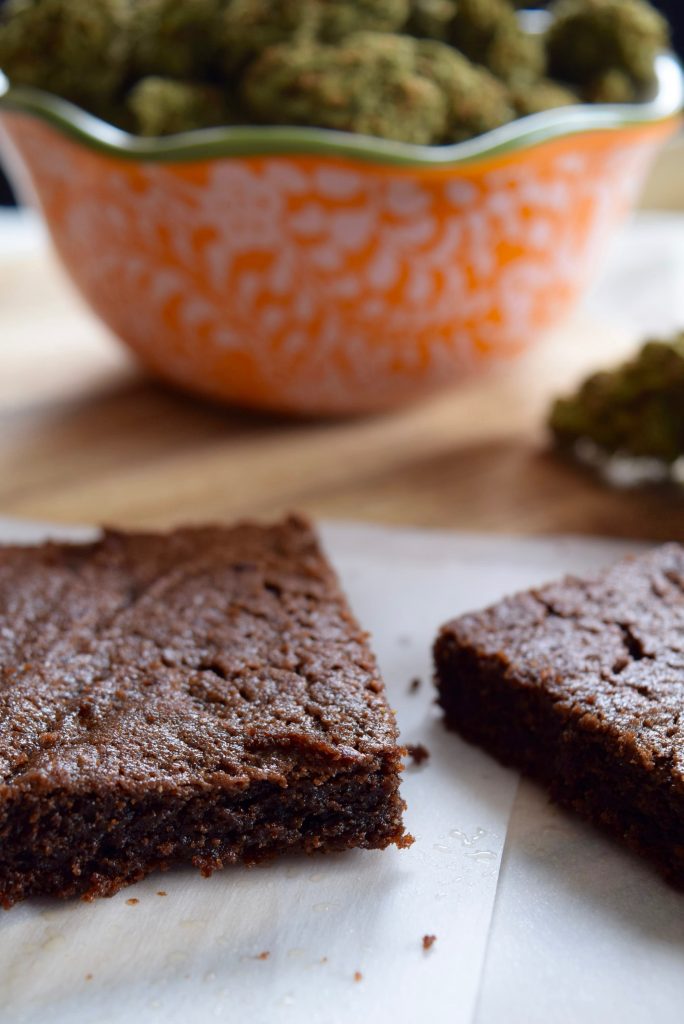 Ingredients
1 cup sunflower seed butter (or almond or peanut butter)
1/3 cup maple syrup or honey
1 egg or flax egg (vegan)
2 tbsp cannabis infused coconut oil or hash butter
1 tsp vanilla
1/3 cup raw cocao powder
1/2 tsp baking soda
Method
Preheat oven to 325° F. Line an 8×8 inch pan with parchment paper.
In a large mixing bowl, beat together sunflower seed butter, maple syrup, egg/flax egg, cannabis infused coconut oil, and vanilla.
Whisk in cocao powder and baking soda.
Spread batter evenly in baking pan.
Bake for about 20 minutes. Brownie wil be firm and spring back when you poke it with your finger.
I also wanted to point out that I'm posting the recipe in this easy to print cute little recipe card at the end, because you guys asked for that. Let me know how it works or if you want to see something different. I'm here for you.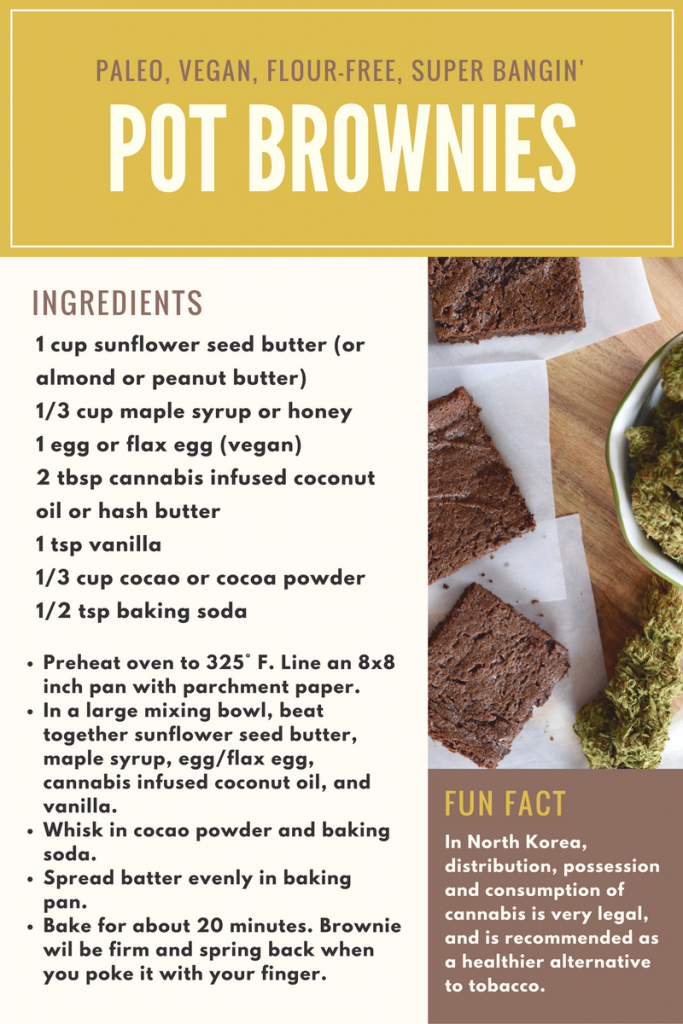 Make these and your idea of pot brownies will forever be changed. Let me know how it went in the comments below!
Much love,
Corinne
[sp_recipe]