I'm going to give it to you straight. This is a hard blog post to write. Today I want to share the nitty gritty, behind-the-scenes stuff happening with Wake + Bake and in my little world for the past few years.
It hasn't been pretty, and I wanted you all to know what it's been like over the past decade to help you remember that you can do anything and that cannabis can help.
I'm also sharing this to let you know that even though I've been mostly MIA for a few years, I'm still so grateful that you're part of this community, and I'm here to support you and have even more fun with you over the next decade of Wake + Baking (more about that in a minute).
If you've been here a while, you may have noticed that Wake + Bake has had many web issues that occurred in downtime, links not working, and a cruddy user experience over the past few years. And for that, I'm sorry.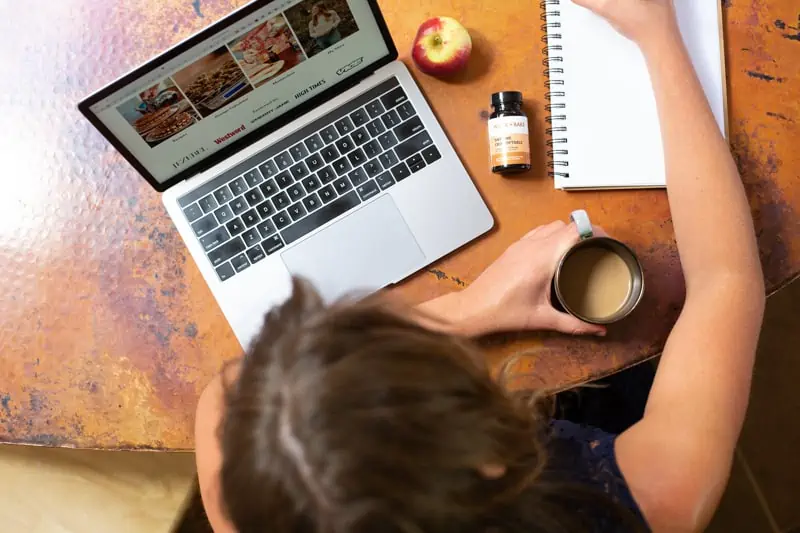 Over the years, as a tech-challenged blogger, I've been working with different web companies to keep Wake + Bake online. I have web developer horror stories, yes I do. I have web developer horror stories, how about you?
Until I got together with Brian at Cannabizsites, things have been a mess around here.
As you can see, the new site is up and running and has been improved in every way.
[Side note: I highly recommend that if you have a cannabis or CBD website or want to start one, you check out hempsites.co for an affordable, done-for-you site in less than 72 hours. I teamed up with Brian to make sure no one has to live the web development horrors mentioned above]
Tech gremlins and web trolls aside, I've been quieter than usual because things went down in my personal life that changed things here at Wake + Bake.
It's still hard to write about, but after my husband died in 2019, I didn't want to write edibles recipe blogs or share things with hundreds of thousands of people.
I wanted (and needed) to hide.
In the years since the Farmer passed, I got tossed into three cross-country moves (one of them during the pandemic) combined with a long and continuing grieving process, all while raising my daughter Alice as a solo parent.
During that time, I moved back to Colorado so I could work on farms and pick peaches for a month solid. I also opened up a small independent bookstore in my little town.
In short, it's been a lot. Every time I tried to come back into the internet world, I didn't feel ready and retreated to rebuild our life IRL.
But even though I've been living in a cave for the past few years, it hasn't all been doom and gloom.
If you've experienced next-level loss, you know the level of empathy, growth, and appreciation for this life that comes from it. After three years, I created a home and plugged into a community that Alice and I love.
I've also had a lot of first-hand experience with how cannabis and psychedelics can impact PTSD and grief (and I hope to write more about that soon if you're interested in it).
But, in hiding, I also dropped the ball often.
I have yet to respond to comments and messages regularly. I've promised posts and recipes that never ended up here. And I just haven't been as engaged in this beautiful community as I once was.
I say this not to make an excuse for why things haven't been as supportive or valuable here as they were when Wake + Bake first started back in 2013 but to let you know that I know things can be better.
I'll be honest; when I sat down with my people last month, I seriously considered letting Wake + Bake go.
It's had a good ten years, and there are so many projects and things going on in our world that I was curious to know if managing a blog was something I wanted to do anymore.
But then I remembered why I started Wake + Bake in the first place.
Wake + Bake has always been about more than just cannabis. It's always been about you.
Answering your questions
Creating a community you can thrive in
Sharing information and recipes you can use
Helping you have a blast while going through the sometimes sticky and confusing healing process that likely brought you to cannabis in the first place
So before I scrapped Wake + Bake, I thought about you and what you've told us you need.
Then I sat down with my people and compiled a list of all the things you've asked for (and asked about).
I decided that if we were going to move forward, we would do things differently from here on out.
I want to make sure that you can plug into this platform and learn what you want to know so you can use hemp in a healthy, easy, affordable, and fun way!
Here are the significant updates:
New Weekly Edibles Recipes and Cannabis Science Posts (written by a Certified Cannabis Coach or Educator)
While dealing with everything I mentioned above, things have been sporadic on this blog, but I never want to leave you hanging again.
From here on out, I'll be posting alongside my colleagues who trained at the Cannabis Coaching Institute, and we'll be sharing the latest and greatest in edibles recipes, cannabis news and science, and more!
If you haven't already, sign up for our newsletter for weekly updates.
A New Cannabis Podcast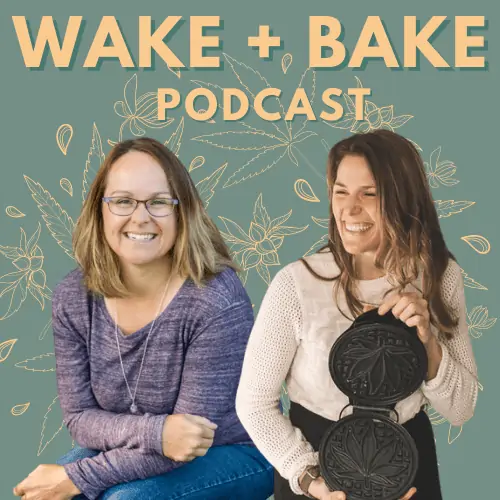 If you love to learn on the go, the Wake + Bake Podcast just launched! Andrea Meharg (the lead cannabis science educator at the Cannabis Coaching Institute) and I got together to create the most fun, and informative podcast about hemp and cannabis that we wish existed when we first started.
Our first episode is about what we wish we had known when we started using cannabis. It's a great one to share with people who are curious about using cannabis for health.
You can listen to our first episode here. (remember to share and subscribe!)
Wake + Bake Hemp Co.
Full disclosure: I have trust issues. I have a hard time buying or recommending a CBD product unless I've asked 1000 questions about where it was grown, how it was processed, what ingredients, and who's running things.
That's why I wanted to ensure you had access to effective CBD products that you don't have to research until the cows come home. After some quality and customer service issues with companies I've recommended, I realized that it was time to take things into my own hands.
I got together with some Colorado ladies to create a new line of natural and organic CBD products that can be incorporated into recipes or taken in manageable doses (all hail soft gels).
Wake + Bake Hemp Co. is women-owned and operated, and every batch has a QR code that will take you directly to the COA so you can see lab results quickly and easily. We've got some rad stuff over there for you and your family (there's even a Wake + Bark CBD oil for your furry family members).
Visit Wake + Bake Hemp Co. and use the code WAKEANDBAKE for 10% off your first purchase.
What do you want to see in the next ten years?
If you've been here for a while, you know that Wake + Bake has always been community and reader driven. I want to give you what you need and research your questions, so you don't have to.
Do you want a low-cost monthly group so we can all get together and jam (book club, meditation circle, cannabis cooking class)? Do you want more ebooks and courses? Do you want to know more about a particular topic?
I love hearing from you! Drop me a line at [email protected] or leave a comment below and let me know what you want to see next.
With love,
Corinne