One of my favorite sayings lately is "if you're going through hell don't stop."
It pops into my mind. I've heard it in a song. And it's something that I tell myself when I feel like life sucks too much to get out of bed or to do the work I love so much.
At first, I took this saying as an invitation to keep going and going and going (like a hippie version of the energizer bunny).
Now, I'm starting to see it as something different.
Yes. If you're going through hell don't stop… don't stop enjoying life, connecting with people you love, and being creative.
Don't stop learning, growing and healing. Those things are necessary if you want to make it to the other side of whatever hell you're in.
I know many of you are going through things in your life that are challenging – or even unthinkable.
And if you're like me, cannabis is such an incredible tool for getting present, actively loving the people who are most important and to staying focused on why you're here.
When I spend a morning whipping up some cannabis-infused caramel sauce, and the afternoon enjoying the effects of it, it reminds me why I send you recipes and talk about cannabis for most of my waking life.
Because cannabis can help you get through hell.
It can heal you on a physiological level. It can help you become aware of -and process- emotions more effectively. And it can help you connect to who you really are, so you don't lose sight of yourself and what you love – even when you're going through some shit.
And yes, you have to know how to use it in a way that works for you and what you're dealing with.
If you're dealing with PTSD, anxiety or chronic pain, it's a little more nuanced than just smoking a big fatty and rolling with it. Whether it's high CBD strains, microdosing or experimenting with different ratios and ingestion methods – healing with cannabis is a journey.
I'll be writing more about all of that in the future. But for right now, I wanted to share this beautiful, delicious, and simple cannabis caramel sauce.
Making
Cannabis Caramel Sauce
This recipe is vegan and paleo friendly and I infused mine lightly so I could take a 4mg microdose of a 1:1 ratio strain. When I woke up this morning, I wasn't planning on spending most of my day making, testing and photographing this magical sauce, but I'm so glad I did. And I'm sure you will too.
I hope this sauce brings you so much joy and helps you shift your perspective when things get sticky (caramel pun intended).
N
otes about making this marijuana caramel sauce:
This recipe requires lots of stirring and time over the stove, but it's well worth the effort and if you're patient, it will turn out beautifully. A couple of other things-
Coconut sugar scorches easily and will taste burnt if you don't take your time with it and it gets too hot so make sure you're prepared to hang over the stove and stir for about 20 minutes.

Because of the nature of caramel, this recipe can be challenging to dose with precision. It sticks to everything and it can be difficult to be completely precise. Always start low and go slow and make sure you account for how many utensils you lick while you're making it.

I heard you can make this recipe using 3/4 maple syrup as a substitute for the coconut sugar if that's what you have on hand. I've never tried this, but I'd love to know if you do!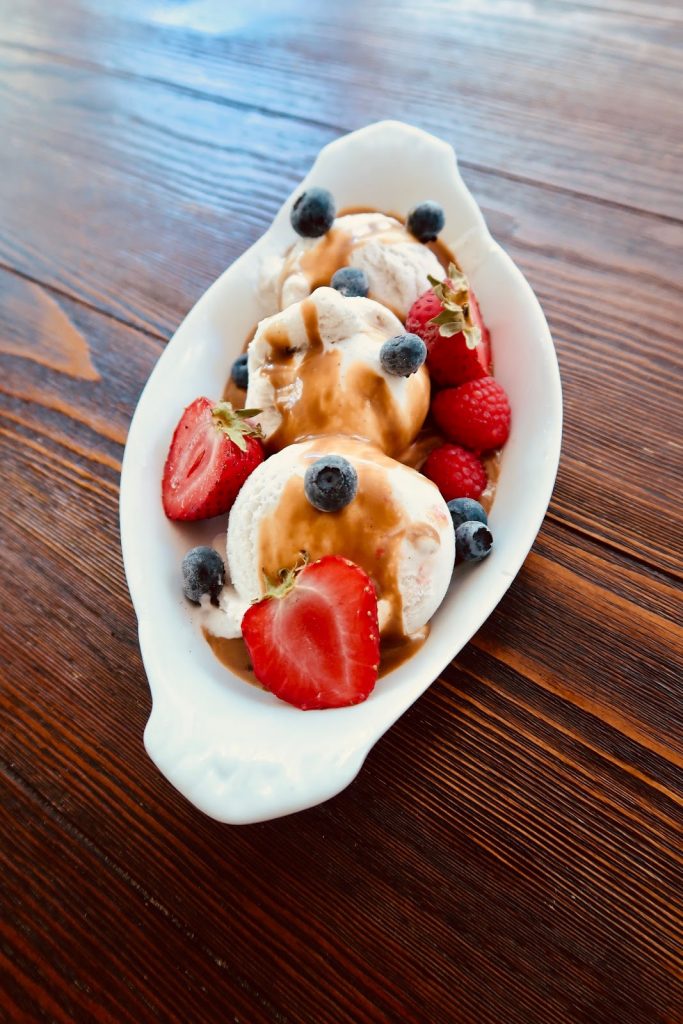 Cannabis Caramel Sauce Recipe
In a medium saucepan place:
½ cup Coconut sugar
1 – 14 oz can Full Fat Coconut Milk
Stir until combined.
Place this pot over medium heat. Bring to a simmer. This may take some time, depending on your stove, but stay there and keep stirring every couple of minutes .

Once the saucepan with the sugar begins to bubble, continue to stir the bottom and scrape the sides down.

Allow caramel to bubble while stirring regularly for 15-25 minutes depending on how thick you would like your sauce to be. Remember it will thicken as it cools.

Remove the pot from the heat. Allow it to cool to see if it's the consistency you're looking for. If you'd like it to be thicker, put it back on the heat and give it a little more time.

Add:
1/2 tsp Vanilla extract
2 tsp Cannabis-infused coconut oil
Sprinkle of salt (to taste – optional)
Whisk a few times as the sauce continues to cool to make sure the oil doesn't separate.
9. Once cool, scrape the contents of the pot into a heat safe jar.
Uses for Cannabis Infused Caramel Sauce
Poured over ice cream (I highly recommend Luna & Larry's Coconut Bliss if you can find it).

As a dip for berries

In Cannabis Infused Popsicles (I'm making a version of these with this caramel and some sugar-free fudge sauce tomorrow and I'll post that asap)
Marijuana Caramel Sauce Dosage Info
This recipe was made using cannabis-infused coconut oil. The plant material used was about 6% THC and 6% CBD. I used 7grams of plant material to infuse 1 cup of oil. It yielded 420mg of each cannabinoid per cup and about 9 per teaspoon. The recipe uses 2 teaspoons of the oil and yields 4 servings. Making each 1/4 cup serving about 4 mgs of both THC and CBD.
Because this recipe is very sweet, I couldn't eat an entire dose and will adjust the recipe to make it stronger next time. Ideally, I'd make each tablespoon a 4-5mg dose.
Your cannabis' potency will be different, so always use the dosage calculator to adjust the dosage as necessary.
I'd love to hear from you if you make this sauce and what you like to use it for.
With that kind of love that sticks,
CT
[sp_recipe]