When I fall in love, I fall hard and I fall fast.
After the farmer and I had our first date, I moved out of my house on the commune into his house on the commune the next day. (To be fair… he had the nicest house on the commune… it had doors!)
When I hear that people have been dating for months and haven't said "I love you" yet, I get confused. In my mind, if it wasn't love at first sight, it wasn't going to be love. So I can't imagine being with anyone for months without falling in love. It kind of seems like a waste of life to me.
I'm not a relationship/love coach, so this isn't a professional opinion, I just wanted to give you an insight into the way my mind works when it comes to love.
Because I am in LOVE with the Levo Oil Infuser. I'm sure I'll get some troll mail about how it's bad to be in love with an object, but I care not.
Because when you're in love, you give fewer f*cks.
It's one of the perks.
And I hesitated to write about a cannabis gadget using the "L" word, but when I brainstormed for this review the word "love" came up so many times that I knew I wasn't going to get around using it.
Levo Oil Infuser Review
You guys probably know that I'd never review something I didn't like, but love is a really strong word.
I like that the Nova is an easy way to effectively decarboxylate my cannabis.
I like that the Firefly 2 came from the future to make microdosing so simple and tasty.
But… you guys… I LOVE the Levo.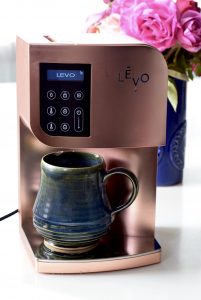 My husband (that guy from the commune) has pointed out how bizarre my relationship with the thing is becoming… It's not like he doesn't have the evidence:
I'll go full on minimalist and won't let anyone leave anything on the counter, but the Levo stays because it's too gorgeous.
I wipe fingerprints off of it every day, while my toddler has oatmeal in her dreadlock.
It's the only thing I have EVER saved the box for.
I have a special drawer dedicated to its accessories.
And yeah, all of that just sounds like grownup stuff (aside from the oatmeal dreadlock).
But do you know what's not grown up stuff?
Patting my Levo on the "head" for a job well done every time I see it and I don't think anyone else is around.
Introducing people to it as soon as they step in my house.
Keeping a batch of infused vegetable glycerin in the machine for 3 days because I LOVED that I could just wander up, press a button and pour infused vg it directly into my tea.
It's true. The Levo became my on demand warm cannabis infused vegetable glycerin dispenser there for a minute. And I'm sure you probably shouldn't do that for some reason (unnecessary wear and tear?)… but yeah… you should if you get the chance… Because if the apocalypse happens tomorrow, you'll be glad you had that experience.
One morning, it got really chilly in our house and the vg had thickened up so I couldn't dispense it into my morning coffee without reheating it. I made a little sad face, mumbled that it was too cold and turned it on.
The farmer saw this and couldn't help himself, "That is literally the most white girl problem I have ever heard of… 'Ohh noooo… my hot marijuana machine isn't warm yet.'"
But my Levo didn't make fun of me. It just warmed up that vegetable glycerin and poured a little in my cup.
It gets me.
Now, I know that those first exciting feelings of love fade over time.
In just a few months, the farmer and I went from making out under the flowering plum trees to wanting to kill each other while driving across the country in a 1969 lifted camouflage Subaru Brat.
Now, the Brat was one of the only other objects I've ever loved in my life. She had a hula girl strapped to the front and the Hulk glued to the back and it turns out that -while it was the COOLEST car ever- it wasn't the most practical car.
It also turns out that in a loving relationship you shouldn't make unilateral decisions like buying a lifted Subaru Brat… especially when you can't drive said car because she's a stick, with no power steering, and gigantic tires. You literally had to be the Hulk to drive it. Alas, I have the upper body strength of the hula girl.
But I also know that (unlike a lifted camo Subaru Brat), even when the novelty is gone, the Levo has staying power.
It makes incredibly easy, potent, delicious oils and sweet tinctures at the touch of a button. Because the Levo doesn't grind up your plant material (like some of the other infusion devices) it makes the tastiest, most beautiful oils and sweet tinctures on the planet. VG and olive oil are two of the infusions that (IMHO) are hard to get the taste right on when you infuse them with cannabis. They are both delicious when infused using the Levo.
Clean up is another place where the Levo really shines.
With the herb press, you don't even need to touch the plant material to squeeze out any leftover goodness, and when it comes to sticky infusions like vegetable glycerin or honey, that is a huge blessing. I'm pretty sure I joked about dipping my hands in tea to get off the infused honey in the past and I'm so glad that I don't have to live that joke anymore. Now, I just dip the pod into a pot of hot water or into a huge cup of tea without turning into human fly paper (see below).
As for the rest of the parts, you can toss everything in the dishwasher and move on with your day.
I've tested sooo many other infusion methods and I'm just telling you that once you experience the cleanliness of a Levo, it's hard to go back.
And the design… I mean… look at this thing.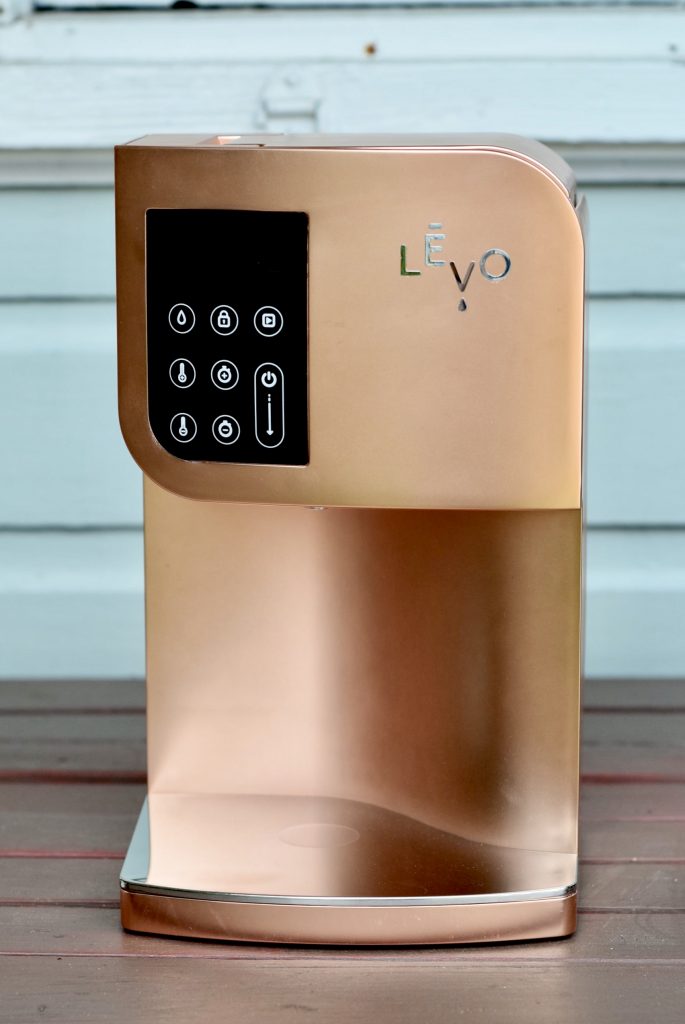 What I really love about the Levo and the company that makes him (cars are girls, appliances are boys… and I'll probably get troll mail for assigning inanimate objects gender roles) is that they're constantly designing new things that add to the functionality of the device.
The Power Pod and the Herb Press came out this month and they make the Levo a no brainer for me to recommend. They also have these great silicon cube trays for easy storage and dosing.
Unlike some of the other infusers out there, the Levo uses a magnetic stirring mechanism that doesn't aerate your ingredients. This increases shelf life and also means that the Levo is far and away the most quiet infuser on the market.
Let's take a break from our love story and I'll walk you through using a Levo step by step so you can see just how simple it is.
Using a Levo
Fill your pod with herbs or THE herb 😉

Place the pod and the magnet in the infusion chamber (I don't know what it's actually called).
Pour in your oil, honey or vegetable glycerin.
Press start and then set your desired temperature and time (Levo has a handy guide for that).
When it's done, press any remaining oil or sweet tincture out of the pod using the herb press, rinse the pod out and put it right into the dishwasher.
Place a container under the machine and press the little raindrop button to dispense your infusion directly into whatever jar or bottle you'd like to store it in.

Remove the infusion chamber and put all of the parts in the dishwasher.
Wipe it down, give it a kiss, tell it how much you appreciate it, etc.
Pros + Cons
Now, I know that you guys are used to my pros and cons lists when I do reviews, but I'm not going to do that here. Because the only cons I could think of up until this point have an easy solution.
Here's the deal on the pod size. The pod that the Levo comes with is pretty small. I think it fits about 4 grams when I weighed it. Then you have to use 2 cups of oil to reach the top of the pod. If you use cannabis that is 15% THC, that means that each teaspoon will be about 6mg THC.
So in order to make oil that is potent (like 12mg/teaspoon), you have to do a double infusion OR you have to use 1 cup of oil and fill the pod halfway and do that again for another cycle.
When I first tried the Levo, it was also a bit difficult to squeeze out the plant material and there was a lot of good stuff left in there.
The solutions?
Enter the Power Pod and the Herb Press. The Levo folks came up with a pod that is twice the size of the original and makes it easy to make more potent infusions in one cycle. The Power Pod is an extra $9.99 and I would suggest that if you're going to get a Levo, you need the Power Pod. It's worth it to make more potent infusions without having to reload the pod every time.
The herb press is simple genius and it gets every last drop out of the material while it's still in your pod. So again… easy clean up. It's also an extra $9.99, but if you're making more than a couple of infusions a year, it's worth investing in.
The Magical Butter vs. The Levo
After writing this post, a bunch of readers wanted to know which was best: The Levo or the Magical Butter? If you're torn, you can read more about that HERE.
After a couple of years experimenting with both, they still both have a place in my kitchen, so you'll have to check it out and see which one is best for you. [In a nutshell: Large batch/heavy use? The MB2. Small batch/home use? The Levo.]
Conclusion
Overall, I think for the price, the Levo is the best small batch home infuser.
I've tried so many methods and infusers and can honestly say that this is the only company that really put some thought into infusion and made it perfect for the home cook who loves to experiment and create small quantity/high quality batches.
I think that's what makes it so loveable. It's unique. It's easy. It makes the most flavorful oils and sweet tinctures. It keeps my kitchen clean. It's quiet. And it's beautiful.
I think me and it should probably get a room.
Questions? Comments? Feedback? Tell me about it below!
Much love,
Corinne