When I first made these edible marshmallows with just 3 ingredients (plus Cannabis), I knew they were going to be a hit.
I've made more batches of these marshmallow edibles than any other Wake + Bake recipe. I typically create a recipe and move onto the next one or create new versions of that recipe. But I kept coming back to this classic, simple, organic recipe over and over again.
These fluffy, healthy(ish), portable marshmallow edibles have gone with me on road trips, to dinner parties, and have been universally loved.
I had no idea that when the Wake + Bake website broke and the Cannabis marshmallow recipe disappeared from this post that I would get so many emails and DMs looking for it, but it makes sense.
It's a simple staple edibles recipe that you'll want to create again and again.
The natural marshmallow recipe below contains just 3 ingredients: water, gelatin, and maple syrup.
Add a little alchemy and some cannabinoids and you've got The Supernatural Marshmallow: a Cannabis infused, organic, natural, no-BS edible that will likely become a clutch edible in your Cannabis kitchen as well.
Jump to:
Why Make Simple Edible Marshmallows Instead of Buying Them?
How to Make Marshmallows with 3 Ingredients
Supernatural Marshmallows: An Organic Cannabis Edible Marshmallow Recipe
Calculating Edible Marshmallow Dosage
Why Make Simple Edible Marshmallows Instead of Buying Them?
I know what you might be thinking once you scroll down to that recipe and see candy thermometers and temperatures. You might think, "it'd be easier to buy a bag of marshmallows, add some Cannabis, and call it a day."
I'm here to say, that as a person who struggles with complex recipes and has burned herself during almost every attempt of making Cannabis candy, these edible marshmallows are a great recipe for beginners.
And there's really good reason to make your own – especially if you're using Cannabis as medicine or to help you feel better.
As many of you know, reading labels and researching ingredients is my love language. So when I saw this stuff on the label of conventional marshmallows, I headed down the rabbit hole.

Blue 1 – Increase in rate of glioma tumors in mice (from the Center for Science in the Public Interest).
Tetrasodium Pyrophosphate – an odorless, white powder or granular solid. It is used in household and industrial cleaning compounds, as a water softener, metal cleaner and food additive, and for oil well drilling. Hazardous Substance List because it is cited by NIOSH. (from NJ.gov)
Need I keep going?
Marshmallows are notoriously filled with nasty ingredients, and every time I think about making rice crispy treats, I stop at the shelf and give them all a longing glance. But I already know that it's going to be a pass.
Even the ones in the health food stores that proudly announce their vegan, gluten-free, non-GMO-ness contain things like sugar and carrageenan.
Carrageenan is in a lot of vegan items, and is billed as a safe seaweed derivative. "Because of the acknowledged carcinogenic properties of degraded carrageenan in animal models and the cancer-promoting effects of undegraded carrageenan in experimental models, the widespread use of carrageenan in the Western diet should be reconsidered."
Plus, when you get those vegan marshmallows at home, they don't really taste good and the texture for rice-crispy-treat-making is no bueno.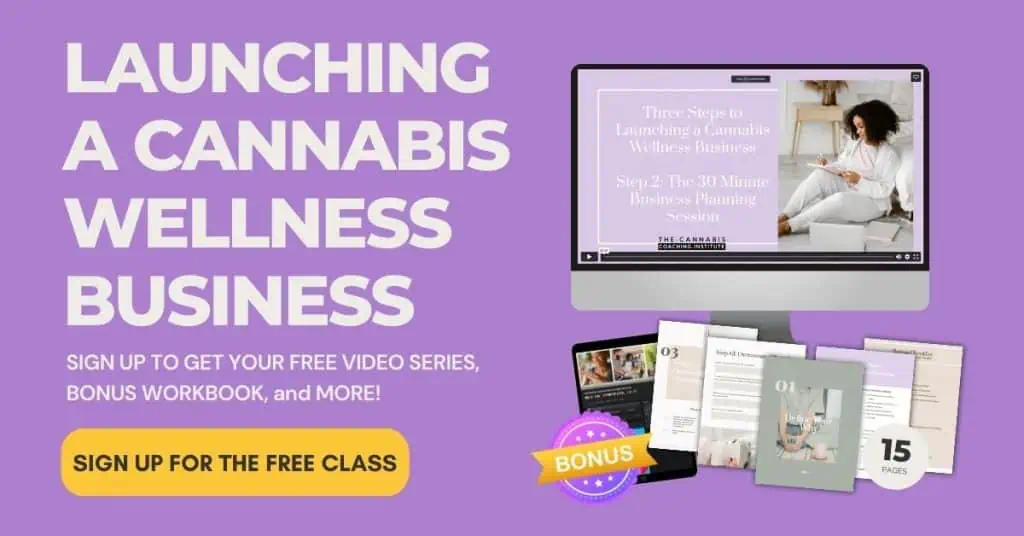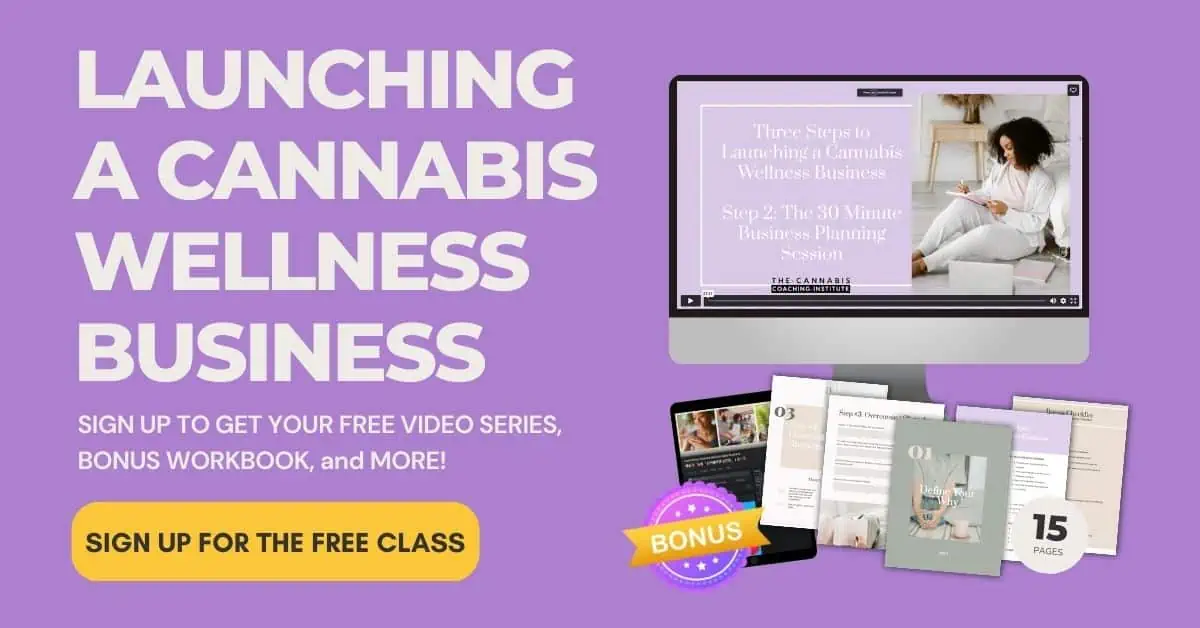 Enter the Supernatural Marshmallow: A Simple 3-Ingredient Edible Marshmallows Recipe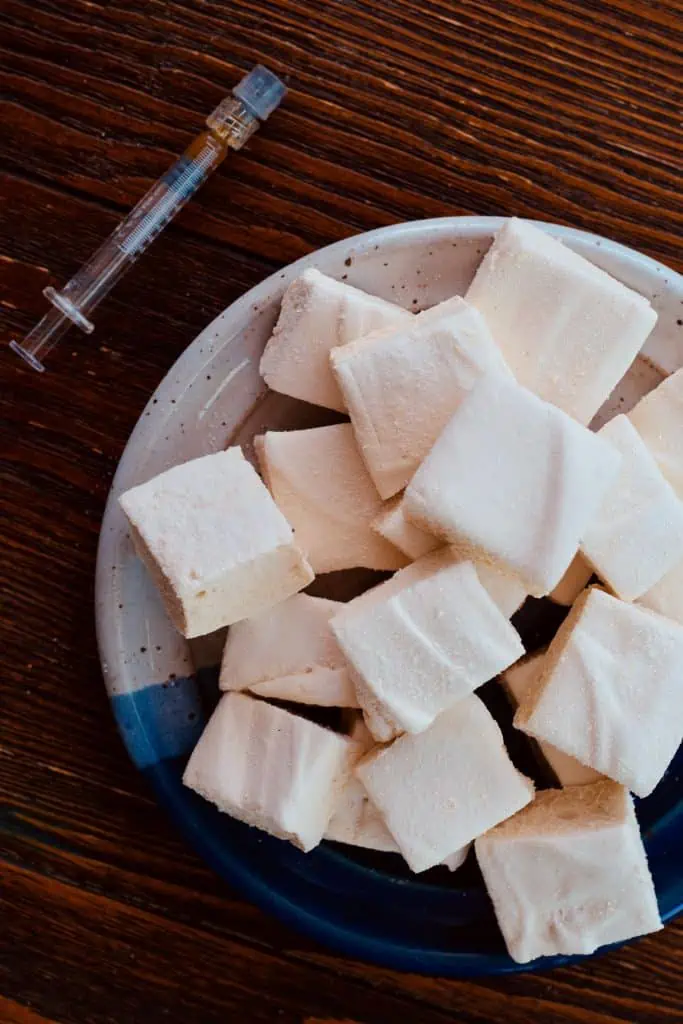 I mainly wanted to make these weed marshmallows to make rice crispy treats that tasted like real rice crispy treats.
I've made several versions in the past (like this Cannabis rice crispy treat recipe) but none of them really tasted like the classic marshmallow based ones.
This marshmallow edible has also found its way into many a cup of hot cacao, coffee, and right into mouths since then.
How to Make Marshmallows with 3 Ingredients
I was surprised at how few ingredients you actually need to make homemade marshmallows. With these three ingredients, you can choose to make them organic or all-natural.
You might be thinking, "how does water, gelatin, and maple syrup turn into marshmallows?"
There is a bit of alchemy/candy-making involved, but I promise that after your first couple of times, this recipe will feel like a breeze.
After you've tried it without Cannabis to get the hang of it, you can add Cannabis concentrate and create the dose and ratio you want for each marshmallow.
You can make these marshmallows plain, with CBD, THC, CBG or any other cannabinoid you have on hand.
This recipe uses FECO or RSO Oil – a Cannabis concentrate that is a whole plant extract.
Supernatural Marshmallows: An Organic Cannabis Edible Marshmallow Recipe
Supernatural Marshmallows: An Organic Cannabis Edible Marshmallow Recipe
Make these simple weed marshmallows at home with only 3 ingredients.
Print
Rate
Equipment
Stand mixer or deep bowl if mixing by hand

Parchment paper

Baking sheet
Ingredients
1/3

Cup

Cold water

1

Tbsp

Gelatin

1

Cup

Maple syrup

Cannabis concentrate
Instructions
In a stand mixer or deep bowl, combine the water and gelatin and set aside.

In a sauce pan, bring the maple syrup to a boil then reduce to medium heat.

Using your candy thermometer, monitor the maple syrup until it cools to 235 degrees Fahrenheit and remove from heat.

Slowly pour the cooled maple syrup to the incorporated gelatin and water mixture.

Add your desired dose of Cannabis concentrate and mix until stiff peaks form.

Pour the mixture onto a parchment paper lined pan and let sit for 4-12hours at room temperature.

Once the marshmallows have set, cut to your desired size and enjoy.
Note: so far, I've only made this using concentrates or infusing them by adding oil while making rice crispy treats. I'll test making it with oil directly into the marshmallow to see if you can get the same effect, but I think it may be a bit challenging and could totally throw off the texture.
Calculating Edible Marshmallow Dosage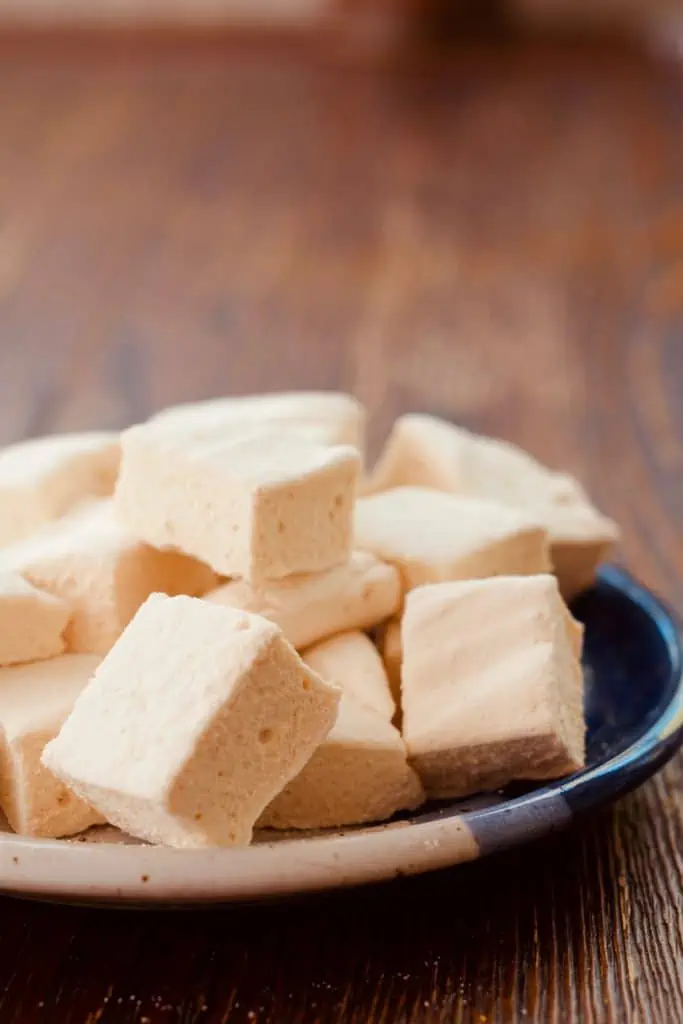 We get asked questions about dosage all the time, so we've created a dosage calculator for you to do your own math.
While the variables will change in your kitchen, here's an example for you to base your calculations on:
This recipe made about 40 1"x1" marshmallows in my pan, so I used 90 mg, which made each marshmallow about 2.25mg each.
Let me know in the comments what you try and what works for you.
I update the blog as often as possible with what I learn from new research and from you. Remember…we still have a lack of actionable research and we're all learning together. Sharing helps everyone!
Happy 420! I hope you love them!
With love,
Corinne