After several nights in the mountains… with a toddler… on a lumpy sleeping bag… in the rain… I'm so stoked to be back home with this Chill Rx Tincture. This is my favorite tincture these days and I'll never go on a camping trip without it again.
I put it in my Hippy Highball recipe (you can find it in Wake + Bake). I drop it under my tongue when I start feeling anxious. And I add it to my Cup of Calm on cool Colorado evenings.
It's delicious, calming and aromatic. Lavender is easy to find and pairs well with the distinct aroma and flavor of cannabis. Chamomile is a chill promoting herb. Catnip helps you embrace cat-like calmness and supports catnaps.
You can use your favorite cannabis tincture method or any of the tincture methods found in Wake + Bake. I made this one using a combination of the Water Bath and the Cupboard Chiller methods from the book (because I forgot to strain it for a couple of weeks and it chilled in my cupboard for awhile) and it's very potent and flavorful.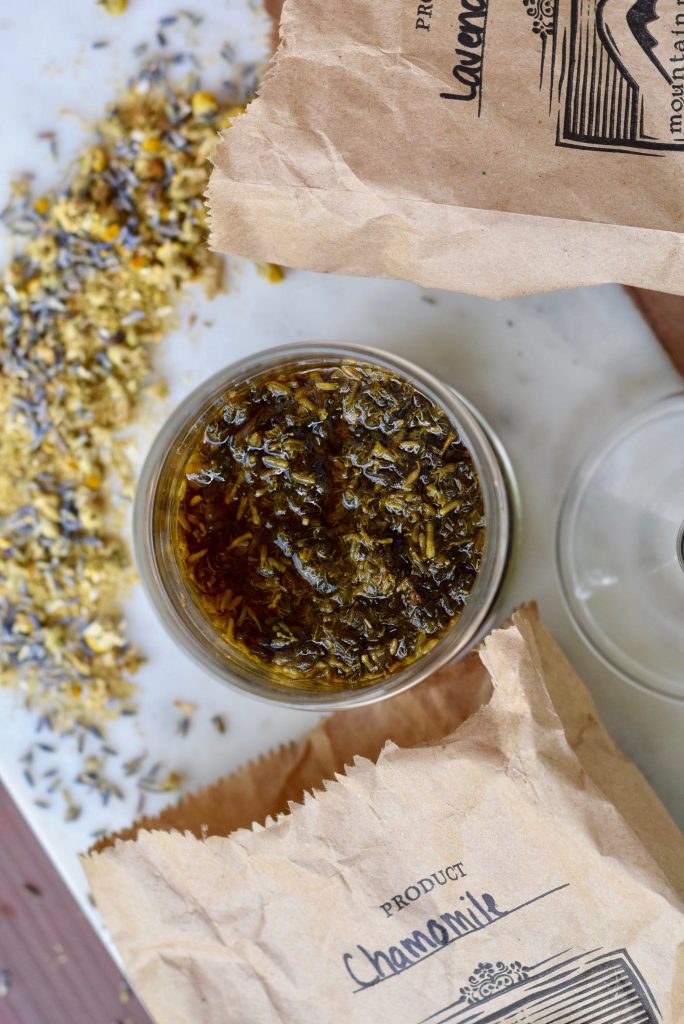 Chill Rx: An Herbal Cannabis Tincture Recipe for Promoting Calm and Reducing Anxiety
1. Using whatever cannabis tincture method you choose, combine:
1/4 cup 80+ proof alcohol (organic if possible… I use Cap Rock from Jack Rabbit Hill)
8 grams decarboxylated cannabis*
2 teaspoons catnip
2 teaspoons chamomile
1 teaspoon lavender
2. Strain herbs and pour into glass dropper bottles.
*If using hash or concentrates-
1. Combine in a mason jar:
1/4 cup 80+ proof alcohol
.5-1 grams decarboxylated concentrates or bubble hash
1 teaspoon catnip
1 teaspoon chamomile
1/2 teaspoon lavender
(optional – 1/4 teaspoon Kava or 3 full droppers of a Kava Elixir – I used Blissful Elixir by Earth Spirit Alchemy)
2. Strain herbs and pour into glass dropper bottles.
You can use the new Edibles Dosage Calculator to figure out how much THC will be in each dose of your tincture and add more or less cannabis or hash as desired.
I hope you love it! Let me know in the comments below 🙂
Much love,
Corinne
[sp_recipe]